Even though there were only 12 people at this couple's wedding, it was filled to the brim with gorgeous flowers! The Glasbern Inn hosted this lovely event and provided an amazing backdrop for the ceremony, reception and photos. The wedding photos, taken by Nina Lily Photography, looked just as lovely and bright as the couple themselves. She captured the day perfectly!
The bride carried a bright and airy bouquet that complimented her simple yet elegant dress. It was filled with cream roses, feverfew, light blue delphinium, silver dollar eucalyptus, lepidium, and nigella. It was so lovely and delicate and the bride carried it with an air of elegance.
Their ceremony arbor was an asymmetrical piece with a vertical and corner arrangement. It was filled with all the same flowers, with the addition of white chrysanthemums. It looked great against the backdrop of Glasbern Inn's lake.
The reception was a simple dinner with all the guests. The floral table settings were a bit different than all the other florals. Can you tell why? They're all faux flowers! We love when couples want to do something a bit different for their wedding and faux flowers are always a lovely choice. And they can last forever! They're a great keepsake for after your special day. These centerpieces had all the same color schemes as the real flowers, light blue, white, cream and greens, and looked so lush!
We had such a nice time putting together this couple's flowers for their special day. Wishing them all the best!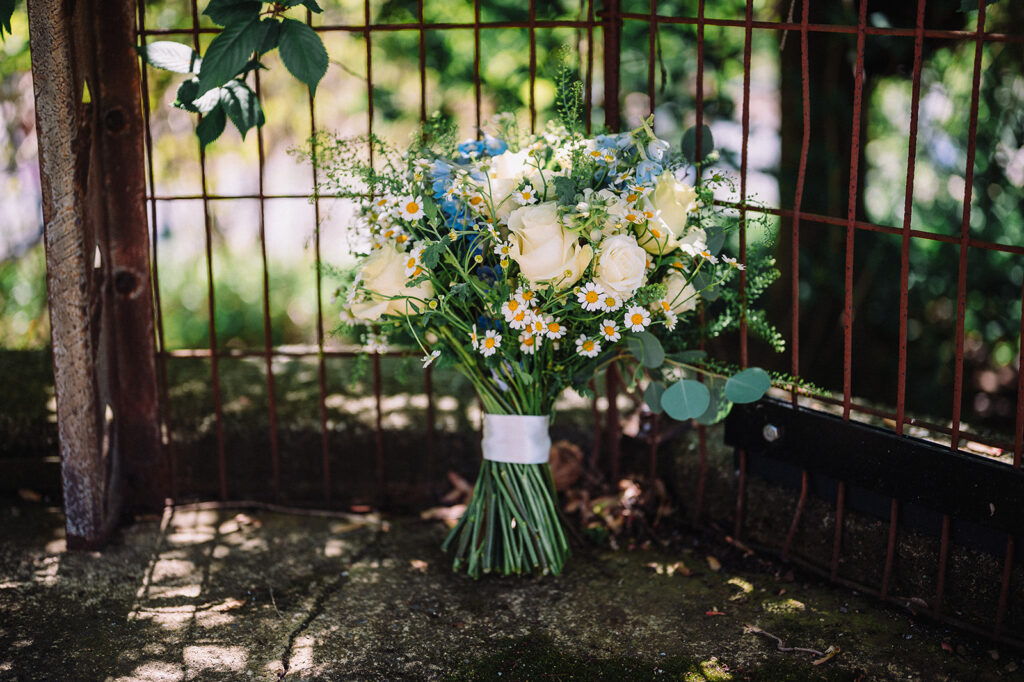 | Photography: Nina Lily Photography | Venue: Glasbern Inn |