Our featured couple today are Celina and Dennis, they had such a beautiful and classic inspiration for their ideal wedding décor! They chose to go with a blush, cream and gray/green color palette while also adding in a few succulents. Succulents are always so much fun to add into any arrangement! When we use succulents, we keep their roots on so you could always re-pot them and keep them forever as a memento of your special day!
Celina and Dennis had their ceremony at the glorious Packer Chapel on Lehigh's Campus. Which is the perfect location to use our gold hammered vases accompanied with a greenery and floral garland down the railing. As you can see, it really becomes the focal point in this huge chapel so it fills up the space nicely and all the attention will be on our bride and groom! We have done a lot of weddings at this venue and this is definitely one of the best ways to decorate this very large space.
Now we move on from the ceremony to the reception at Bell Gate in Coopersburg, PA. Such a wonderful venue tucked away in the rural areas of Pennsylvania for any couple looking for a modern take on a rustic event space. Celina and Dennis chose our lush floral spill for their sweetheart table and greenery and floral garlands for their centerpieces. You can also see that we repurposed the garlands from the staircase at the church to the ladder at their reception space. We love to make sure that you are getting the most out of everything that we make for you, so we will always try to take the beautiful pieces from the ceremony and use them in your reception.
Thank you so much Celina and Dennis for trusting us with your vision! We wish you all the best in your future together.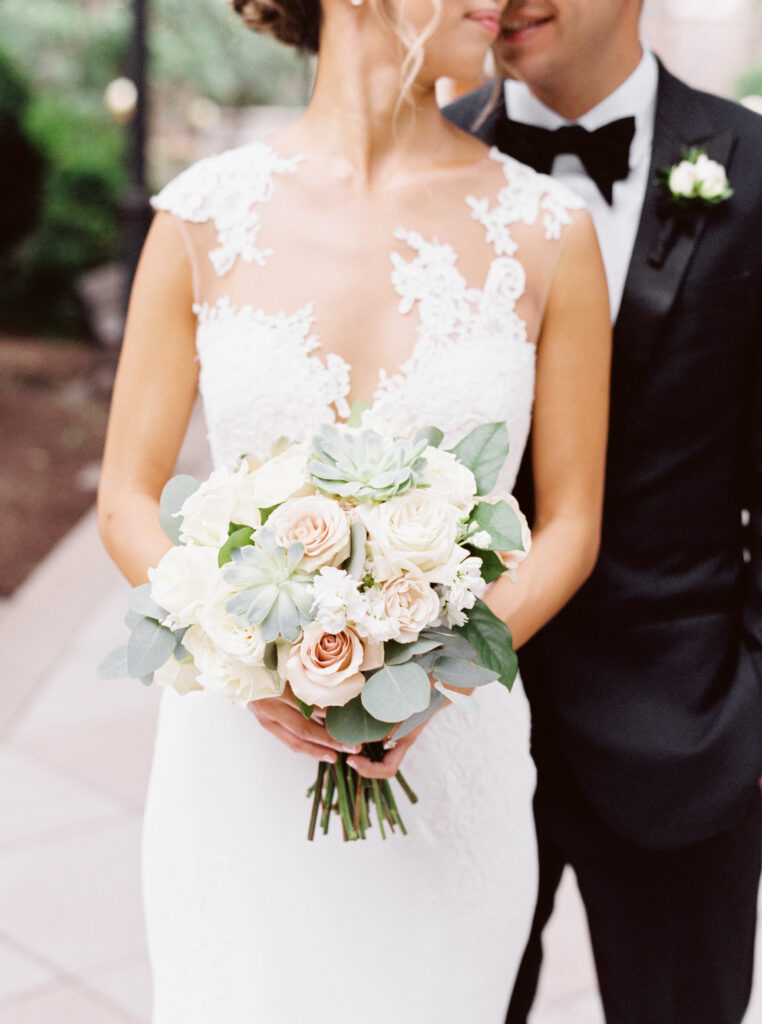 Ceremony: Packer Chapel Reception: Bell Gate