Can't decide on a venue for your wedding? We get it. With so many types of venues to choose, it's nearly impossible to pick just one! Kisa and Jose wanted something modern, intimate, and chic, but also traditional. So, they chose three different spaces for their wedding day!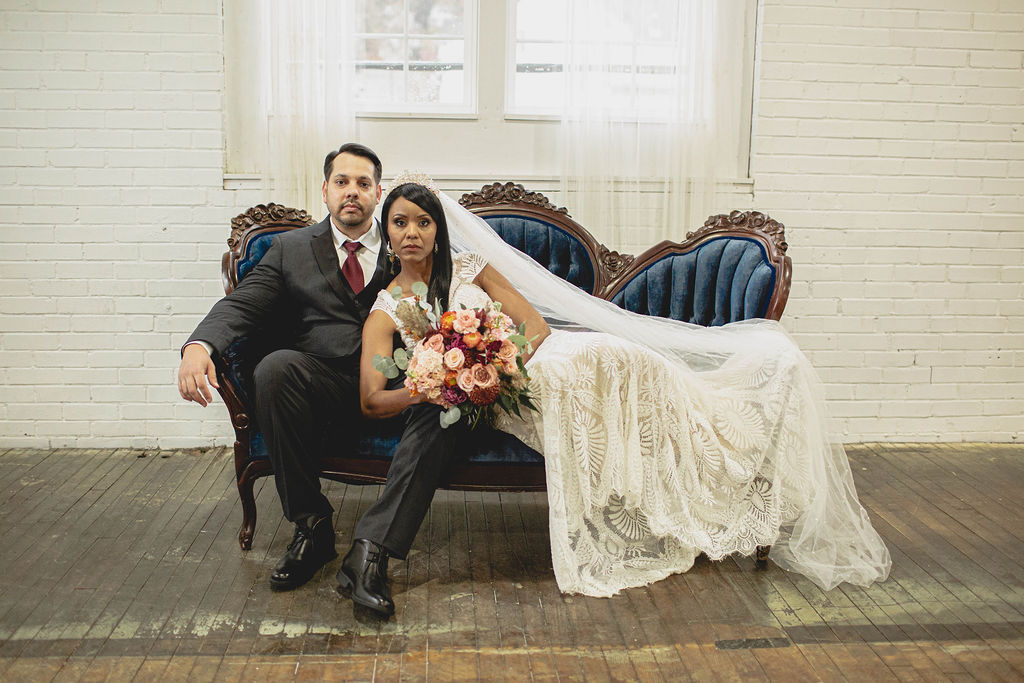 Their day started at Fox and Finch Studios, where they shared an intimate first look and couples' photos. This was such a great idea! They were able to have a private first look and then grab some gorgeous modern and intimate photos before heading down the street to Holy Infancy Church in Bethlehem, Pennsylvania, where they held their ceremony. After a beautiful ceremony, Kisa and Jose drove off into the sunset and over to The Hamilton Kitchen & Bar in downtown Allentown, where they had a stunning, industrial-chic reception! By choosing to have a multiple-venue wedding, they were able to get the best of both worlds; something modern and chic, and something traditional and serene.
First Look
Kisa and Jose arranged to have their first look at Fox and Finch Studios, right down the hall from us! The florals featured here are Kisa's textured bouquet, a bright silk and fresh flower arbor piece, and Jose's boutonniere.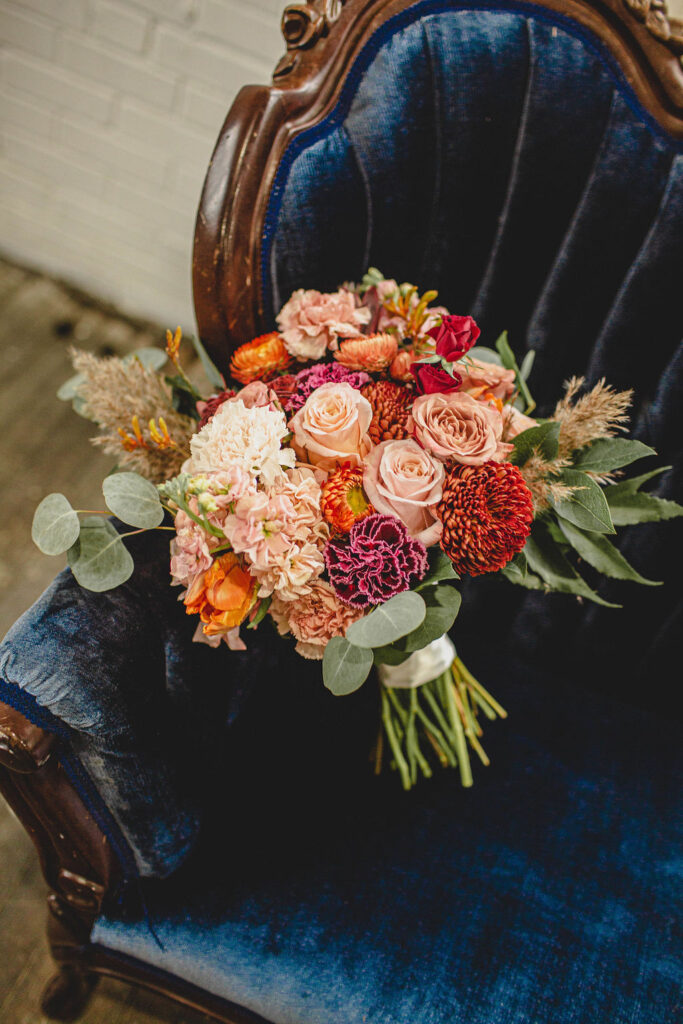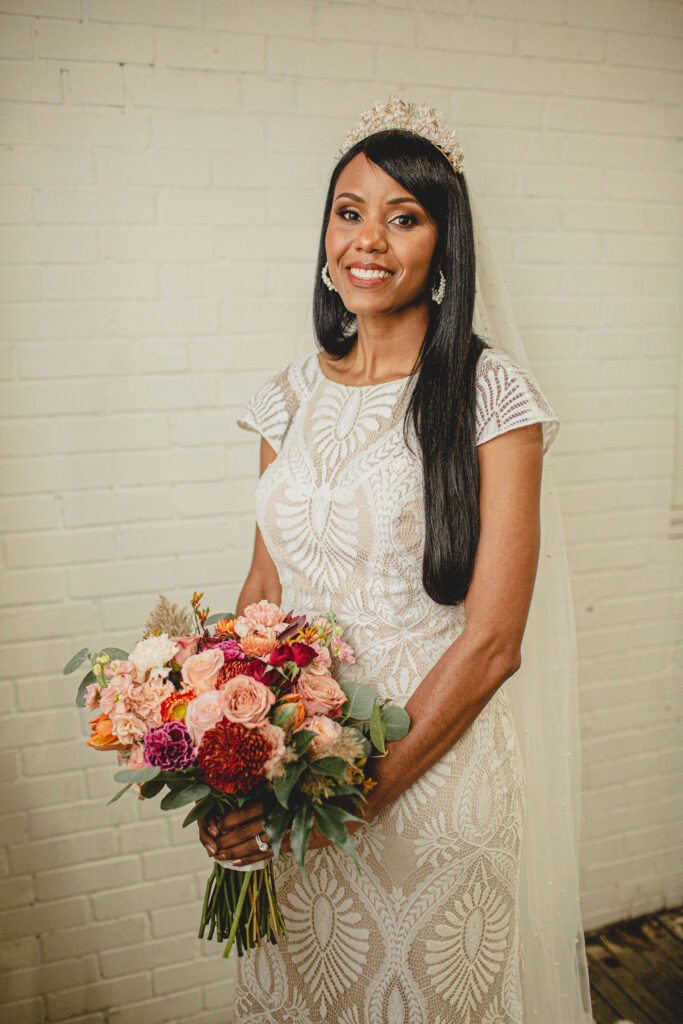 Kisa's bouquet had a loosely gathered, asymmetrical design with a ton of texture! Creamy carnations and peach roses, red-orange mums and orange tulips and strawflowers make up the bulk of this bouquet's florals. The magenta and burgundy carnations add an interesting pop of color that helps to break up the warmth and to ground this piece. Subtle grey-green greenery adds interest and movement to the softly rounded floral design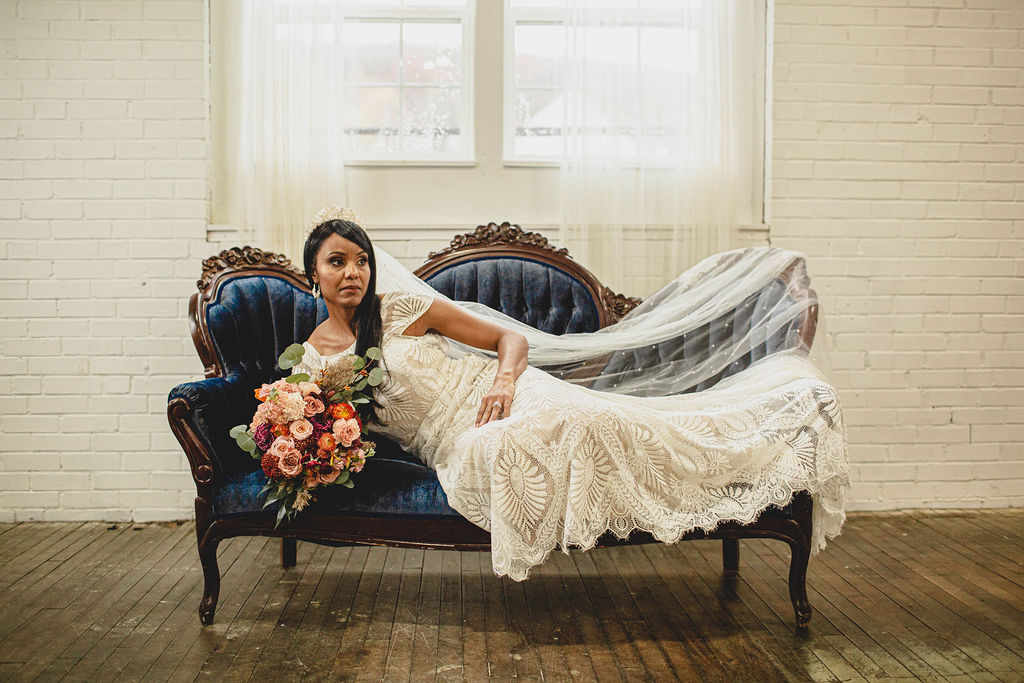 This triangle arbor, or triangle of loooove (as we like to call it) is one of our favorite pieces to design with. It's great for modern, simple, and boho-styled weddings. Because the triangle has a symmetrical shape, we like to counter it with an asymmetrical design. For Kisa and Jose's wedding, we designed the triangle with a silk floral piece, and a single velvet drape.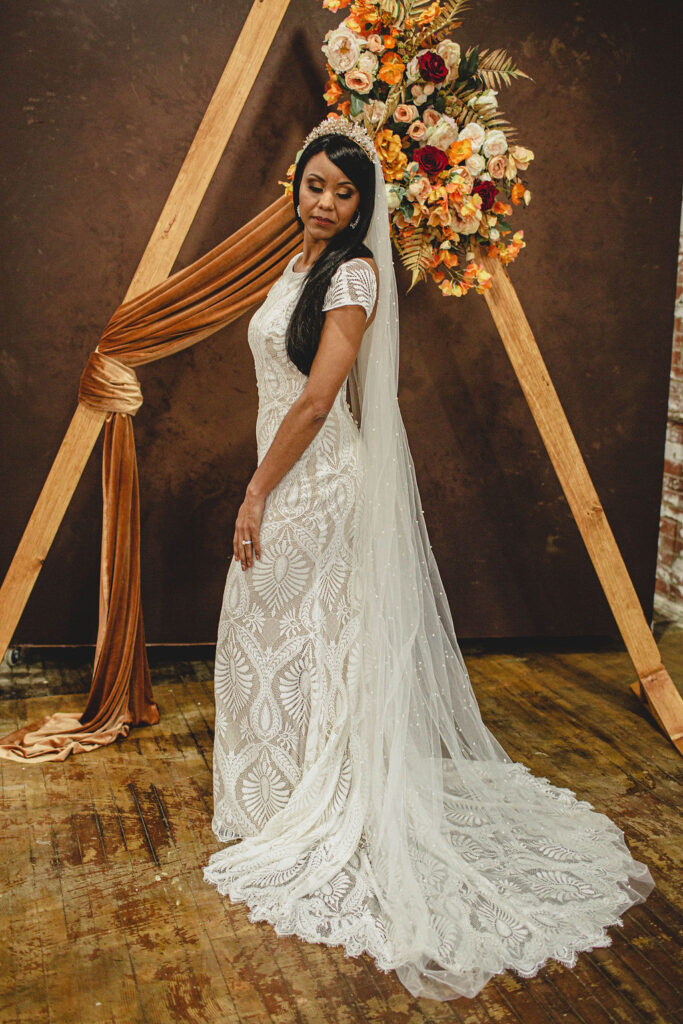 This floral piece is something we had designed in house, for our faux floral collection, Allium Everlasting. We already have it, so it makes a great rental. If we had to design this from scratch though, with fresh floral, the cost would be significantly higher. Sometimes we get requests for faux florals with the idea that they are more cost effective, when actually high quality faux florals that look realistic, can be double the cost of a real stem. The bonus? You can use it over and over again.
But why should you use silk flowers at all? Silks are great for withstanding the elements! If your wedding is on a smoldering, freezing, or super windy day, silk flowers will hold up much better than fresh.
This past year, we designed a wedding with three massive ceiling pieces using fresh and silk flowers to make their guests feel like they were dancing under an opulent garden of lush blooms. To create a look that would not have been feasible with all fresh florals because of the time of year, we were able to incorporate faux wisteria.
In Kisa and Jose's case we incorporated silk flowers into their arbor design to give it its brilliant color! Depending on the time of year you're getting married or the range of your color palette, we may use silk flowers to incorporate a specific flower or a specific color. We have some gorgeous peach and orange silks in our repertoire that just worked so perfectly for this wedding's color palette!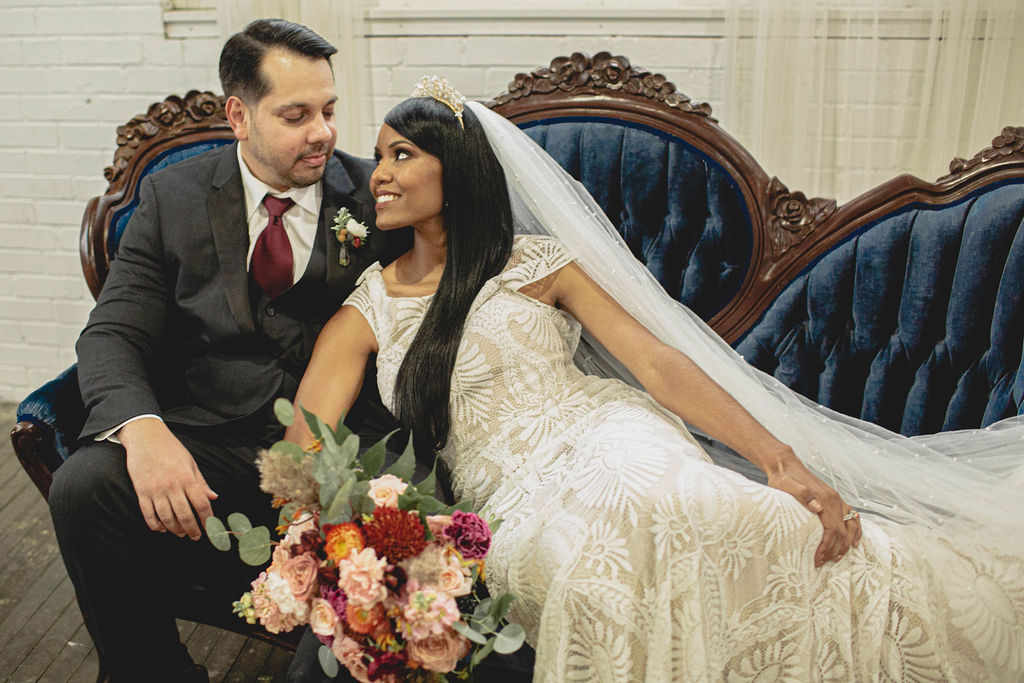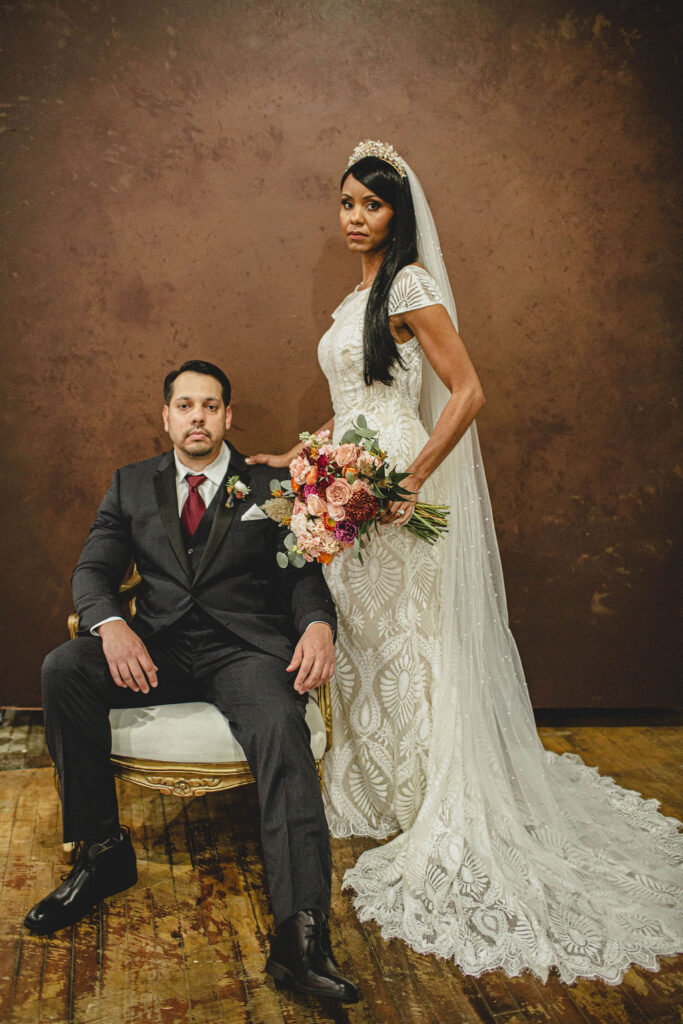 You'll notice that the triangle piece and Kisa's bouquet, though different, have elements of each other in them. The triangle features fresh roses from her bouquet, while the strawflowers in her bouquet bring in that pop of orange from the triangle piece, tying them both together.
Ceremony
Kisa and Jose held an incredibly beautiful ceremony at Holy Infancy Church in Bethlehem. Because their ceremony was traditional, we kept our design composed.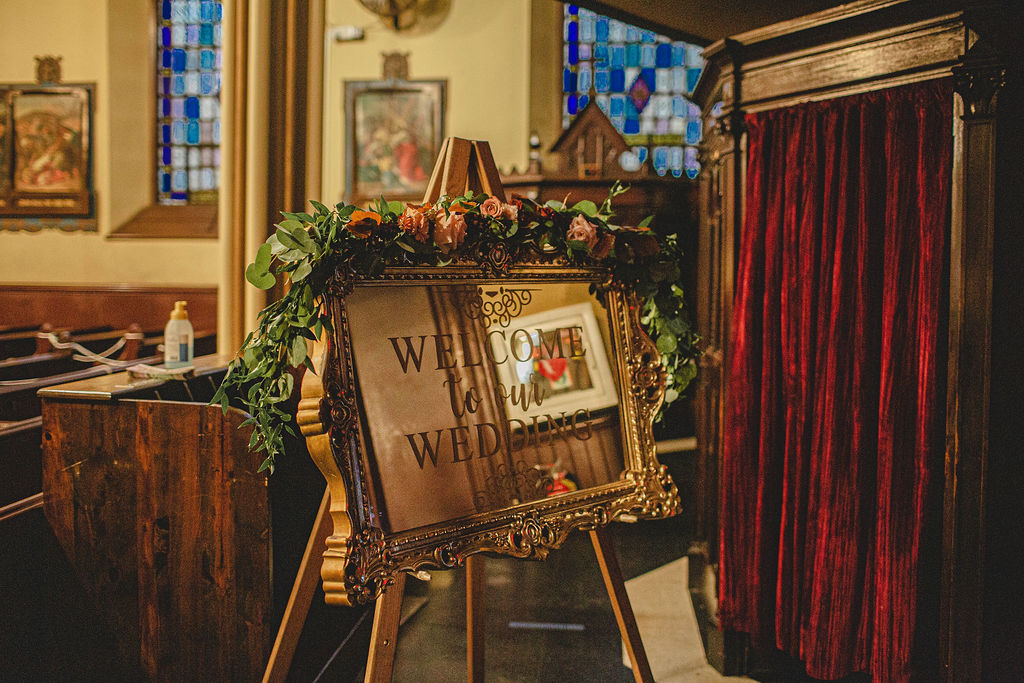 We added a simple floral garland to their welcome sign, with roses and other blooms featured in Kisa's bouquet.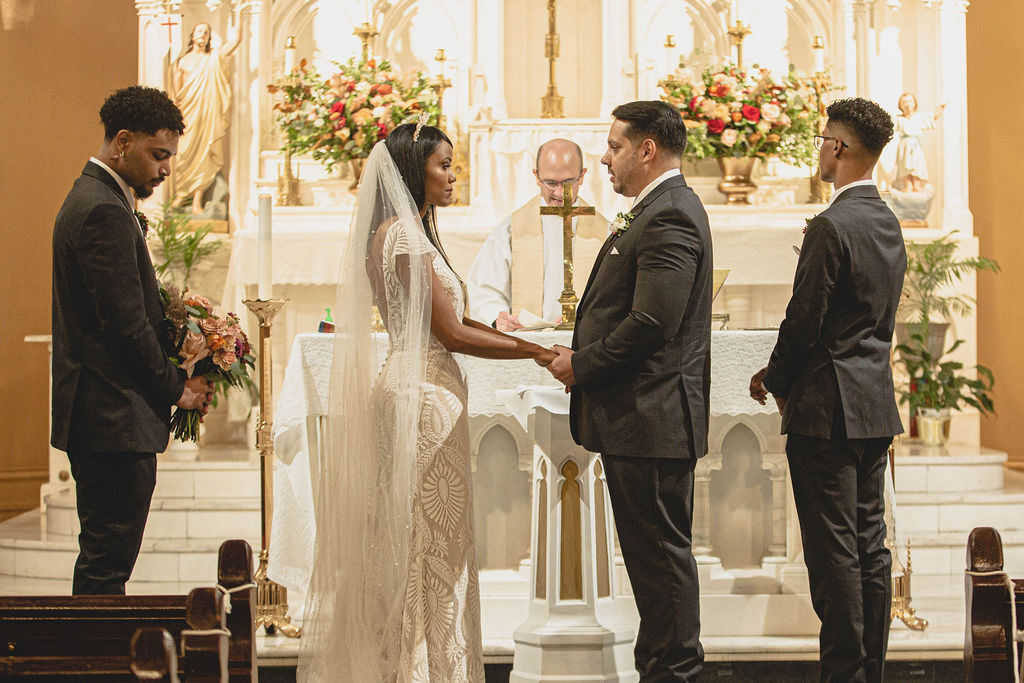 Keeping the symmetry of the altar in mind, we designed two altar pieces to frame the couple as they said their vows. These arrangements were designed in golden urns and consisted of the same florals used in Kisa's bridal bouquet. The only addition being more variety of greenery.
Reception
Kisa and Jose held their reception at The Hamilton Kitchen and Bar in downtown Allentown. This is the perfect venue for a chic reception and dinner party.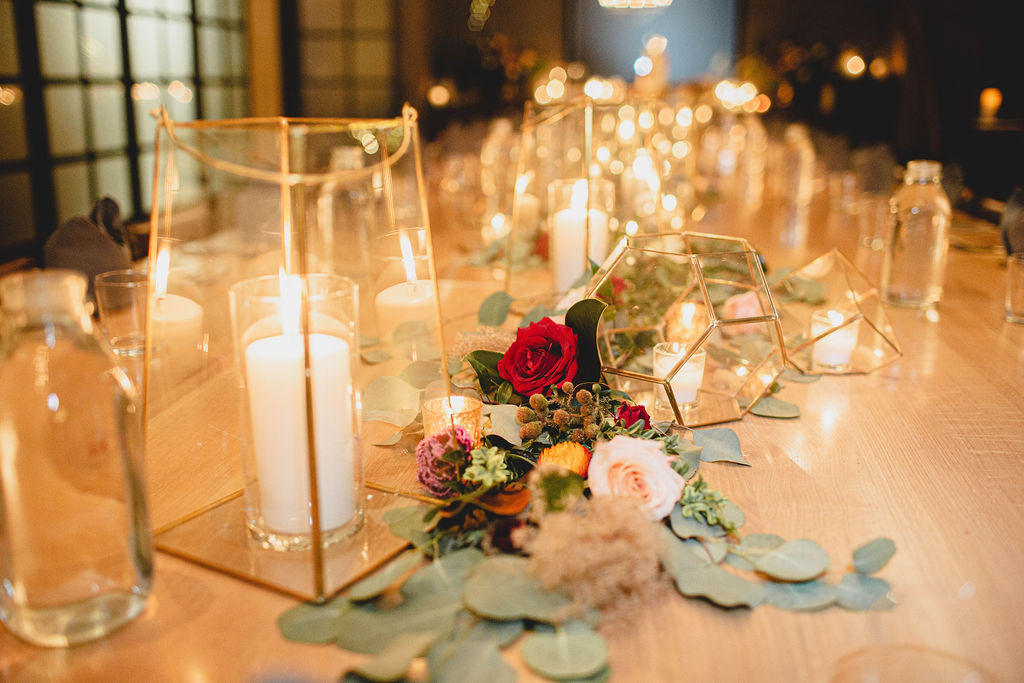 They had one long communal table at their reception. We love when we get to design tables like this, because we get to make some really pretty runners and spilling garlands. For this piece we started with an 18ft loose-laid greenery runner. We begin our design by placing the runner and adding votives and lanterns to the center. We live by the motto: the more candles the better! After placing the candles, we add florals to the garland to complete this intimate, chic table design. The spilling silver dollar eucalyptus gives this design pretty, playful movement, while the blooms and the gold lanterns offer a stunning elegance.
We then repurposed Kisa and Jose's ceremony urns for their cake table design. In fact, most of the wedding's florals ended the day on the cake table! This is a really pretty way to elevate your cake and make for some gorgeous cake-cutting photos!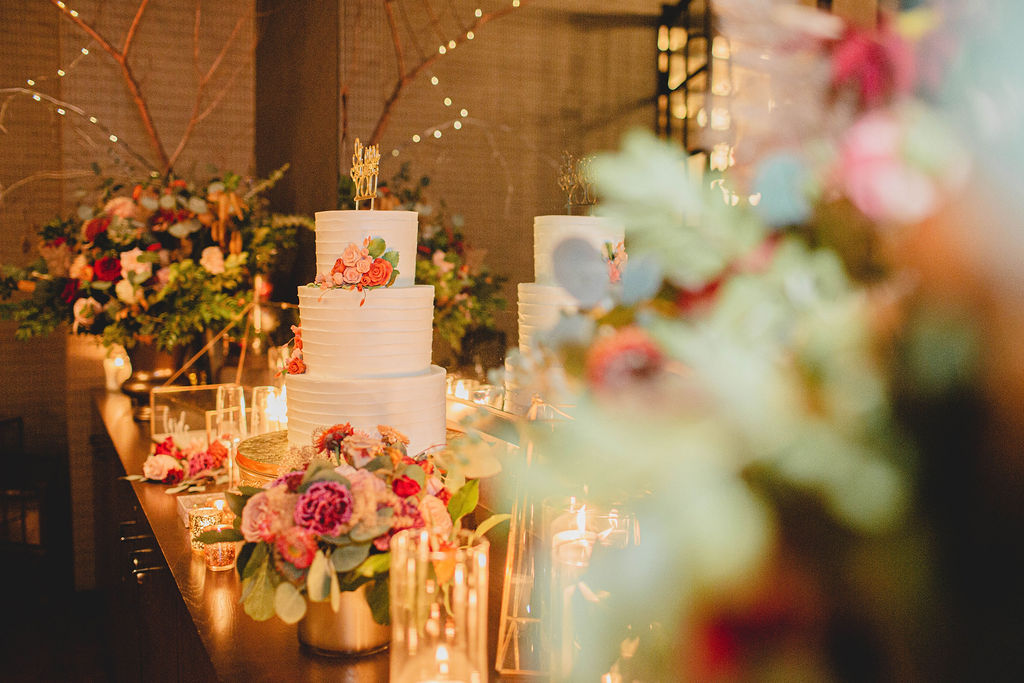 || Photography: Vanessa Guevara Photography || Ceremony Venue: Holy Infancy Church in Bethlehem || Reception Venue: Hamilton Kitchen || Portrait Venue: Fox and Finch Studio || Makeup: Makeup by Roxy || Hair: Guridy's Hair Salon || Cake: Custom Cakes by Adele ||