Stephanie and Gabe were married on a cool September evening at Durham Springs in Bucks County. As they said their vows in the afternoon light, the world seemed to stand still for a moment.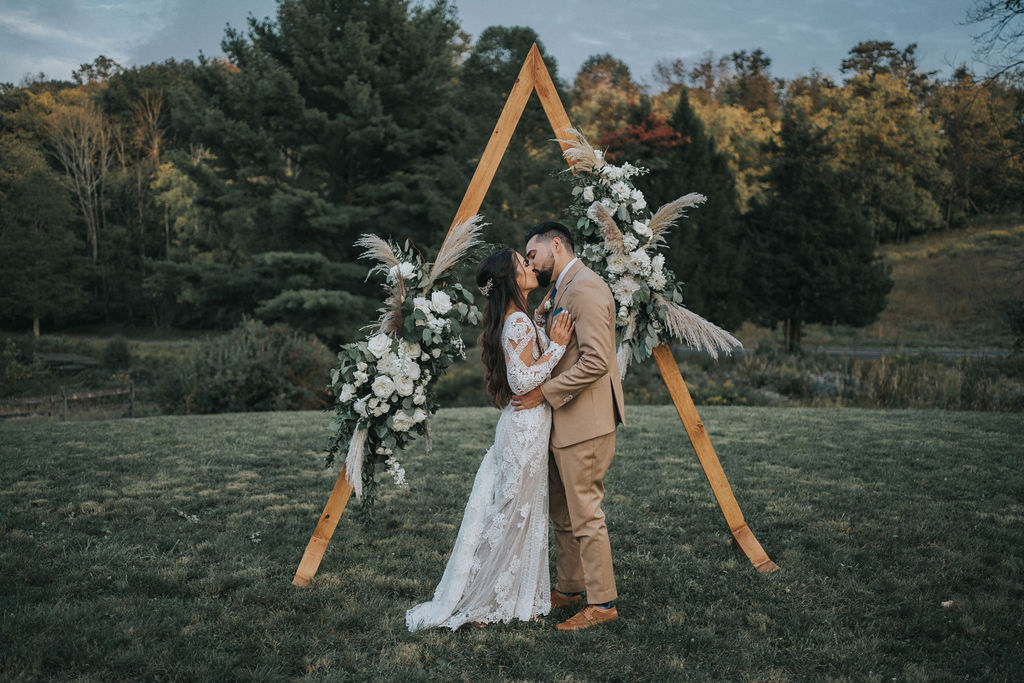 Stephanie and Gabe's wedding was all about gorgeous simplicity. The couple chose this modern triangle ceremony piece which we used from our good friends and neighbors, Fox and Finch Vintage Rentals. The triangle of loooooove (as we sometimes call it in the studio) really does offer the perfect structure to highlight Stephanie's natural, boho look.
Stephanie chose a loosely gathered bouquet with lots of texture and greenery! A neutral color palette of creams and greens, gave this wedding a simple, modern elegance that we all crave! As much as we love working with color, florals with a neutral color palette, give us the unique opportunity to really focus on texture and movement.
What gives this bouquet so much interest is the wide variety of florals and seeded and gunni eucalyptus. It features spray roses, local dahlias, stock, astrantia, scabiosa and polo and playa blanca roses. This bouquet is about half greenery, offering a more natural, organic look.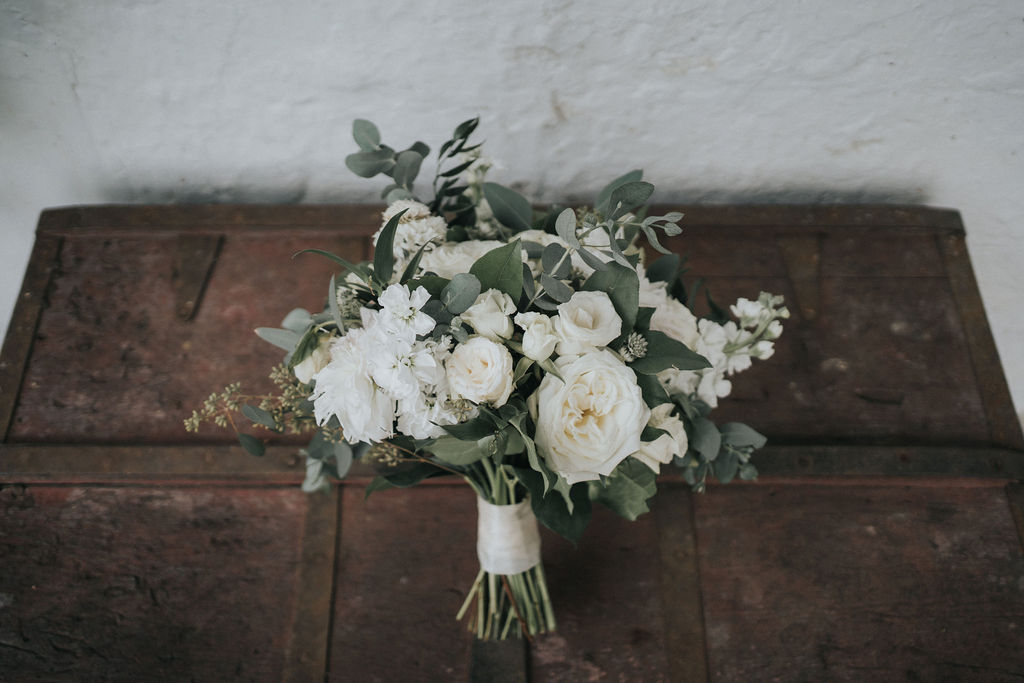 Aimee Blasko did an amazing job of capturing the pure joy shared by Stephanie and Gabe during their first look! Don't you love how he takes her bouquet, so she can twirl in the sunlight?! What a gentleman!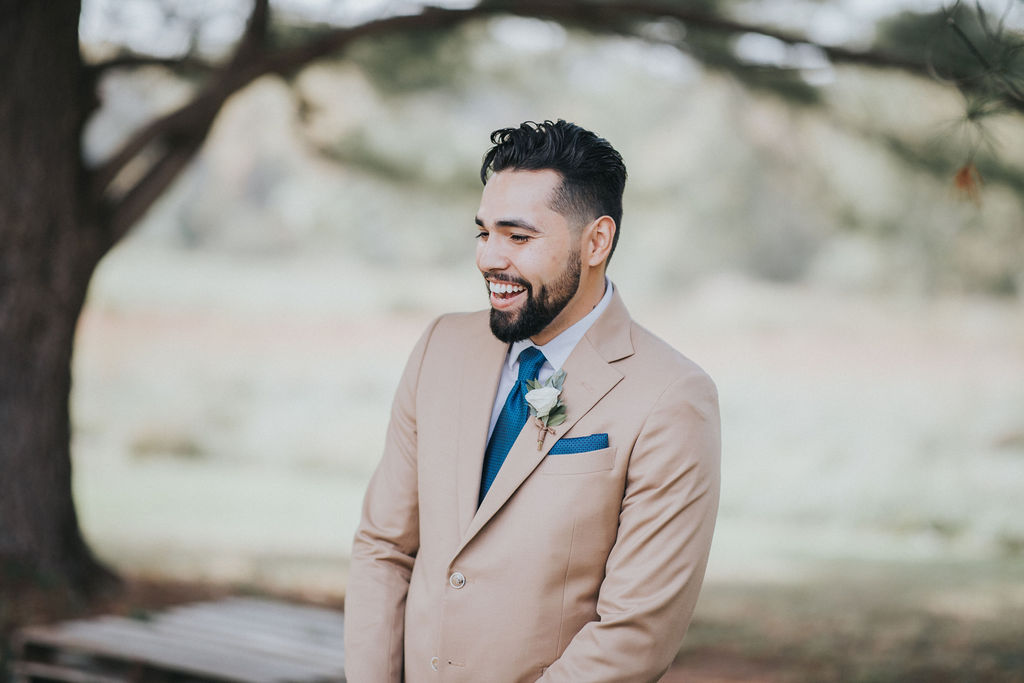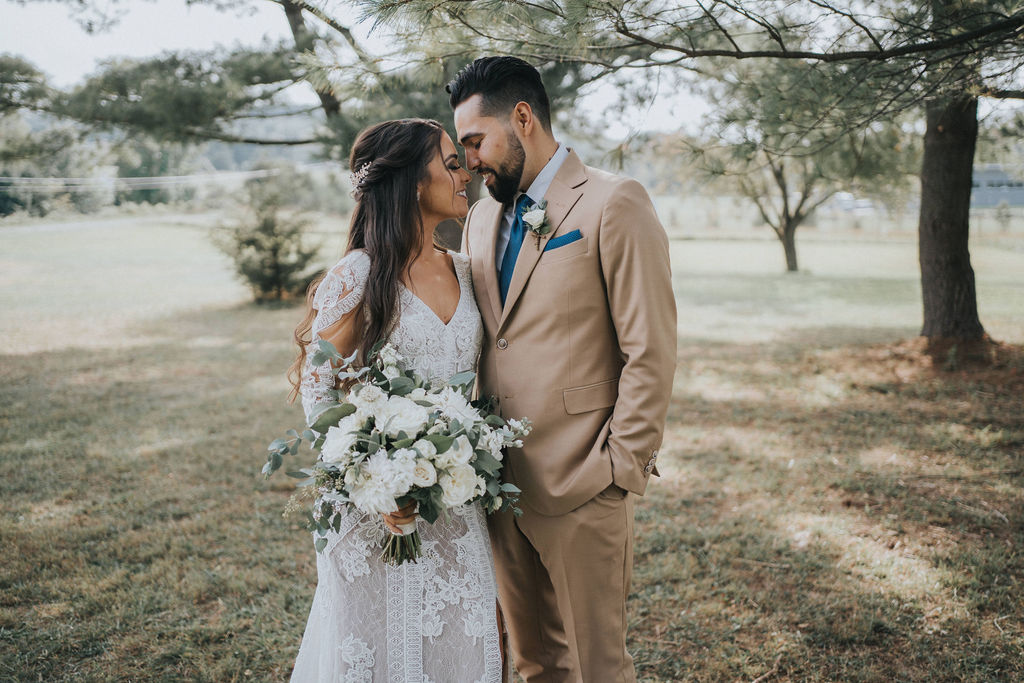 Aimee always seems to somehow capture both the quiet softness and the bold confidence of newly-wed lovers. Just look at these gorgeous shots of Stephanie and Gabe on the lovely grounds at Durham Springs.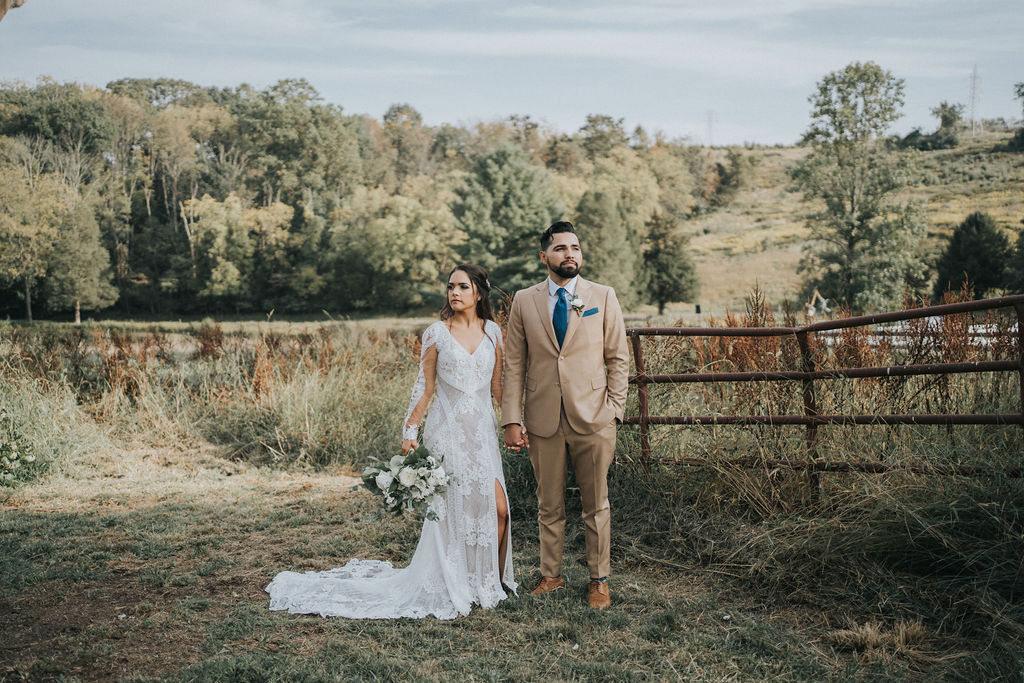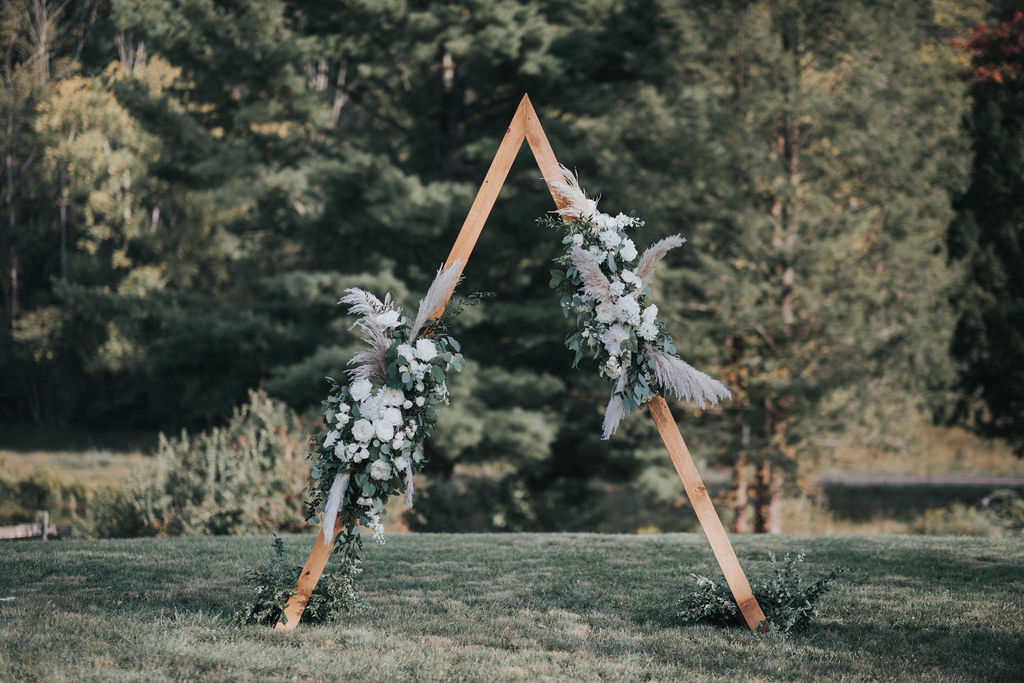 The bold, symmetrical lines of the triangle are perfectly balanced with an asymmetrical floral design. Stephanie and Gabe's ceremony piece features two arrangements and some lush greenery at the base to visually anchor the design. The pampas grass and huckleberry greens give this piece its boho feel.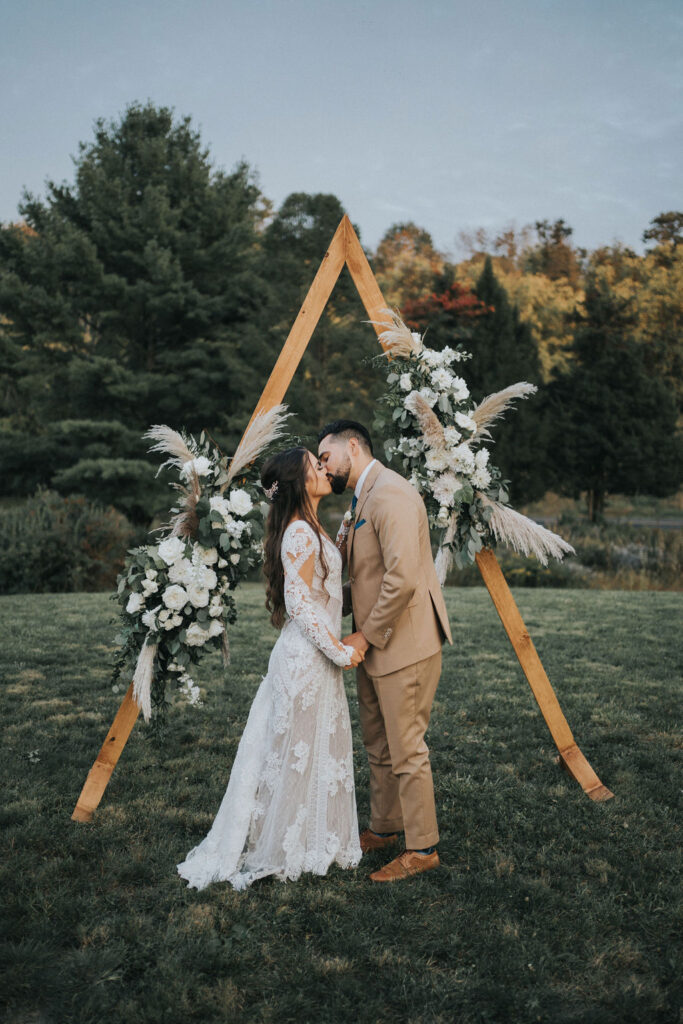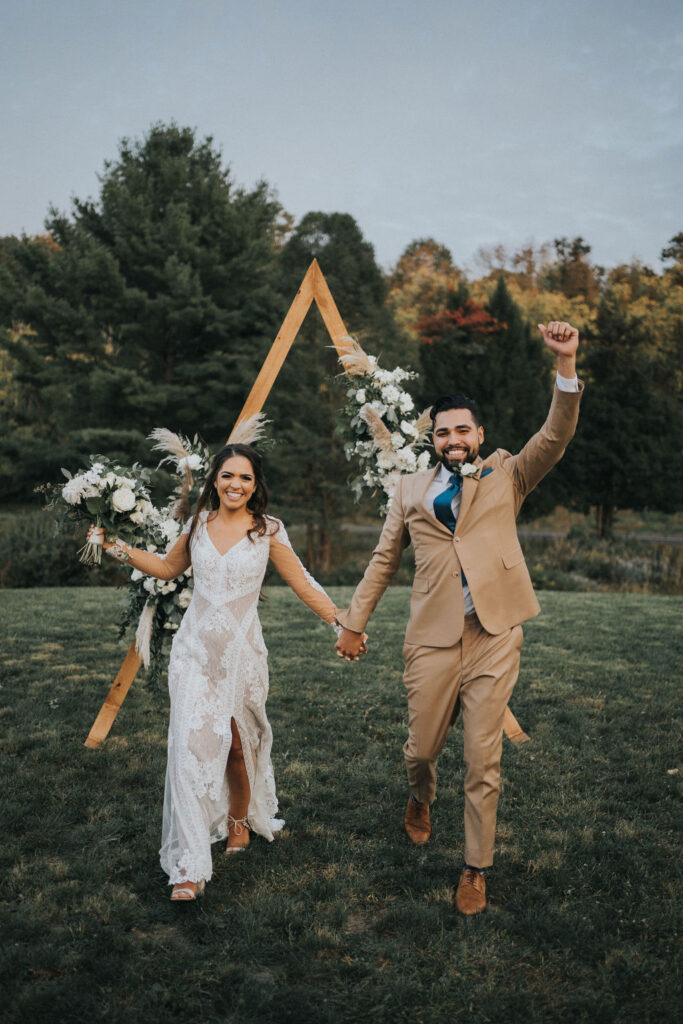 After a beautifully heartfelt ceremony, they shared a moment together in the tall grass, before gathering at the table with loved ones for their first meal as husband and wife!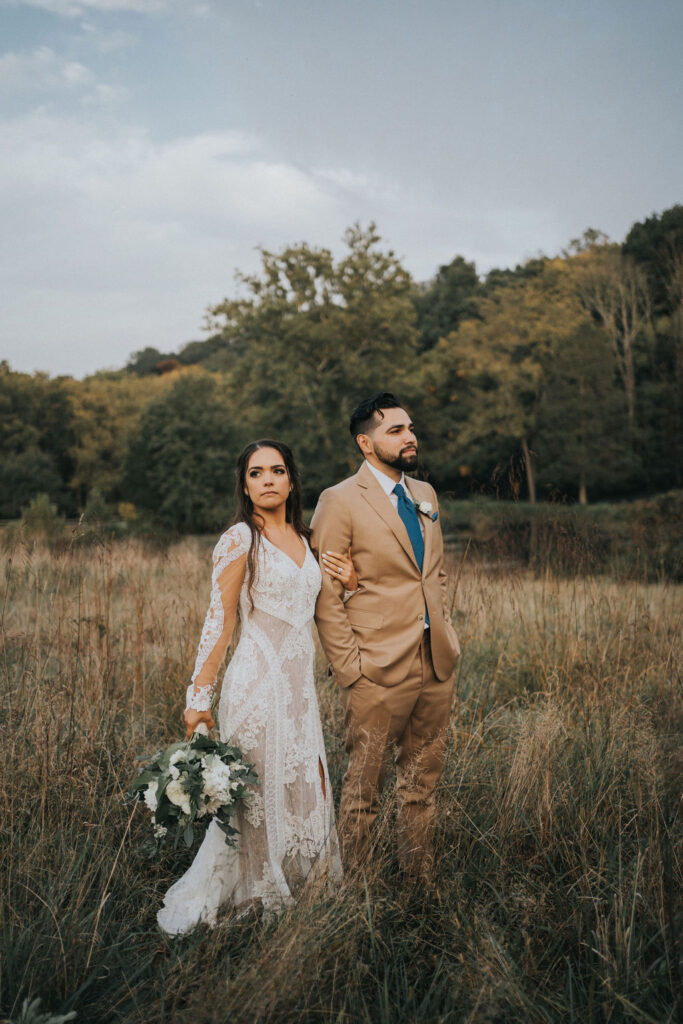 While they shared a private moment together, we were busy at work, carefully transferring the ceremony triangle and florals to the sweetheart table. We LOVE being able to design something that can be reused and have life beyond a 15 minute ceremony.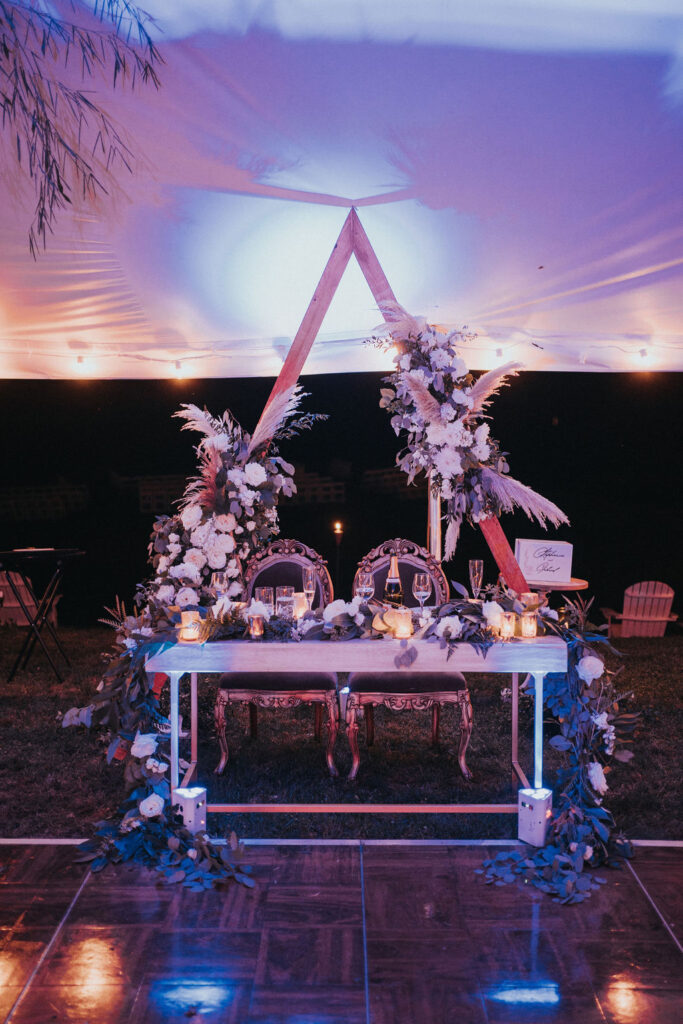 This wedding is a perfect example of the way a floral designer can bring a client's ideas to life. This all started with a few inspiration pictures and a general boho vibe that Stephanie and Gabe wanted for their wedding. We got to take those ideas and push them further to create a design that felt personal, and expressed who they were as a couple and set the scene for an incredible PARTY! This is perhaps my favorite part of what we get to do-start with little inspiration and create something beyond what our couples might have dreamed was even possible.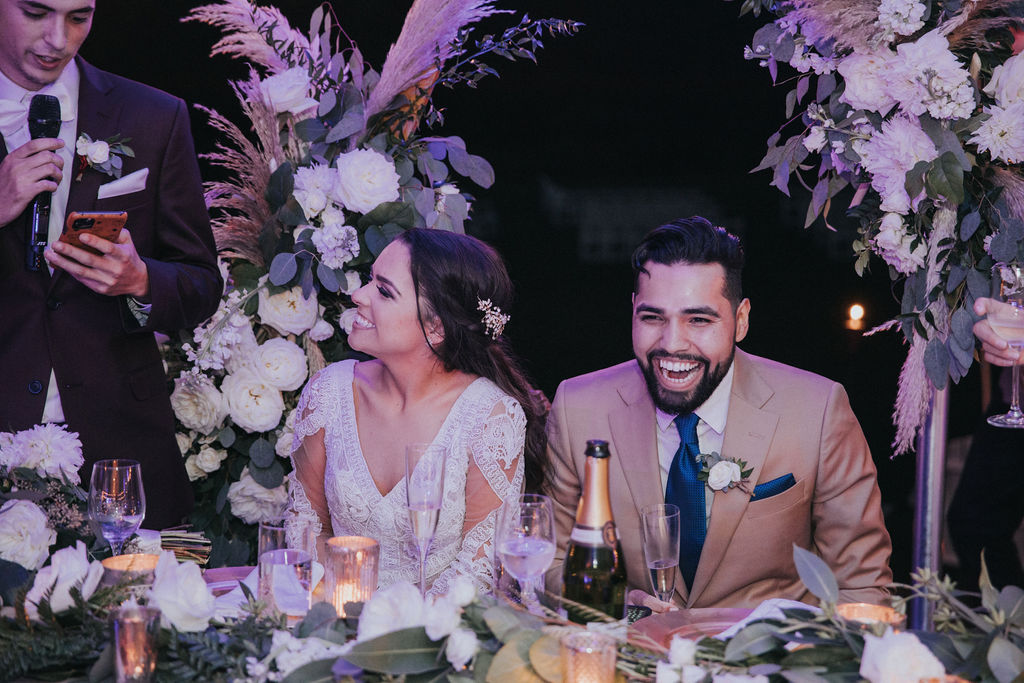 || Photography: Aimee Blasko || Venue: Durham Springs || Rentals: Fox and Finch Vintage Rentals || Cake: Cake and Corolla || DJ: DJ's Unlimited || Dress: Willowby by Watters || Hair/Makeup: Alisha Nycole + Co. ||
More inspiration:
Lush Greenery and Soft White Florals Completed the Romantic Look for Amanda and Forrest's September Wedding…
Katie and Cody's Autumn Country Chic Wedding
Tea Inspired Microwedding in the Poconos
Winter Weddings: Naturally Beautiful Muted Color Palettes