Ellen and Glenn were married on a sunny September afternoon at Glasbern Inn in Fogelsville, PA. Their burnt orange, peach, and cream color palette celebrates the transition of the seasons from summer to fall.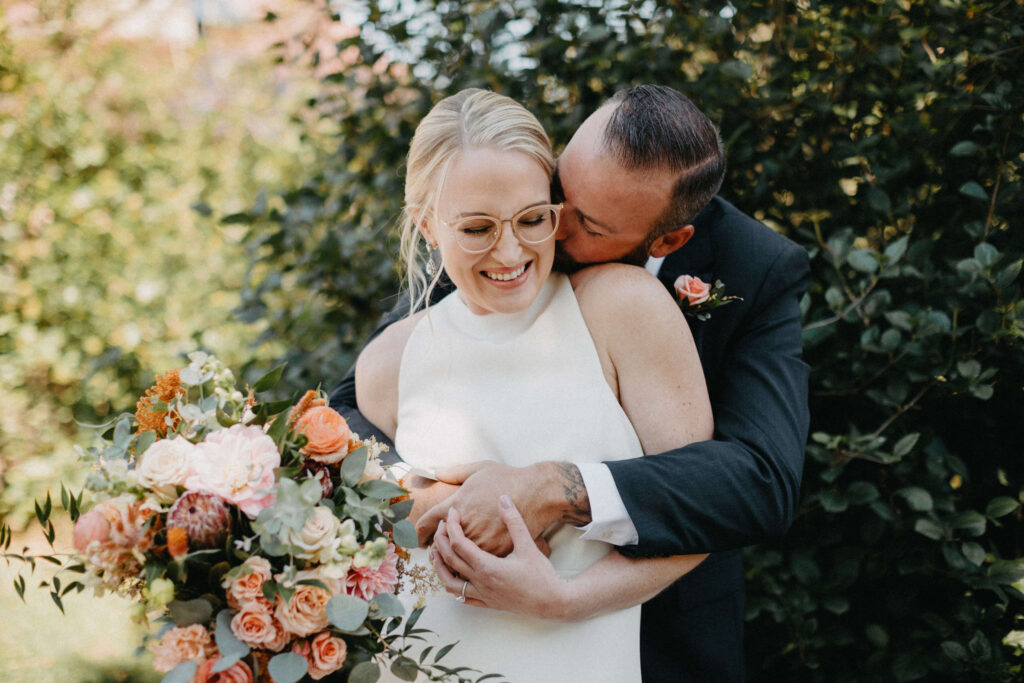 The secret to crafting a cohesive color palette is utilizing transitional colors. Notice how the burnt orange flows into the peach, which flows into the creamier tones. A few additional colors like blush, grey-green, and that deep magenta in the protea, add range and interest to Ellen and Glenn's florals. This bouquet's exquisite natural look is created by coupling softer blooms like blush dahlias, cream roses, and peach ranunculus, with more textured elements like copperhead amaranth, protea, and white stock. This loosely-gathered and slightly asymmetrical design gives it just enough of that wild, organic floral design that we embrace.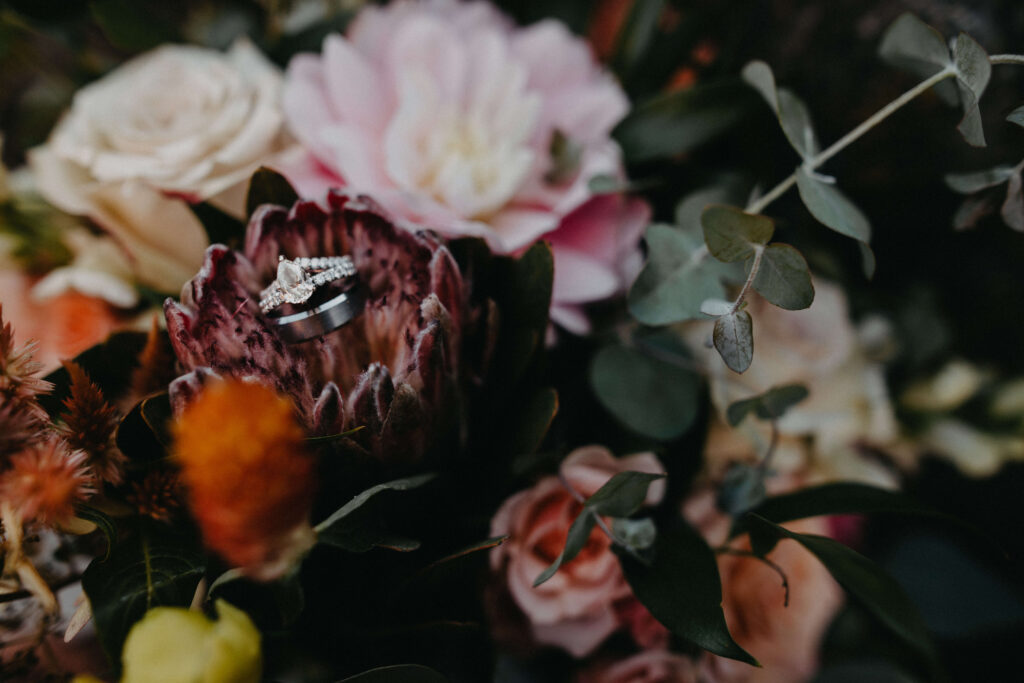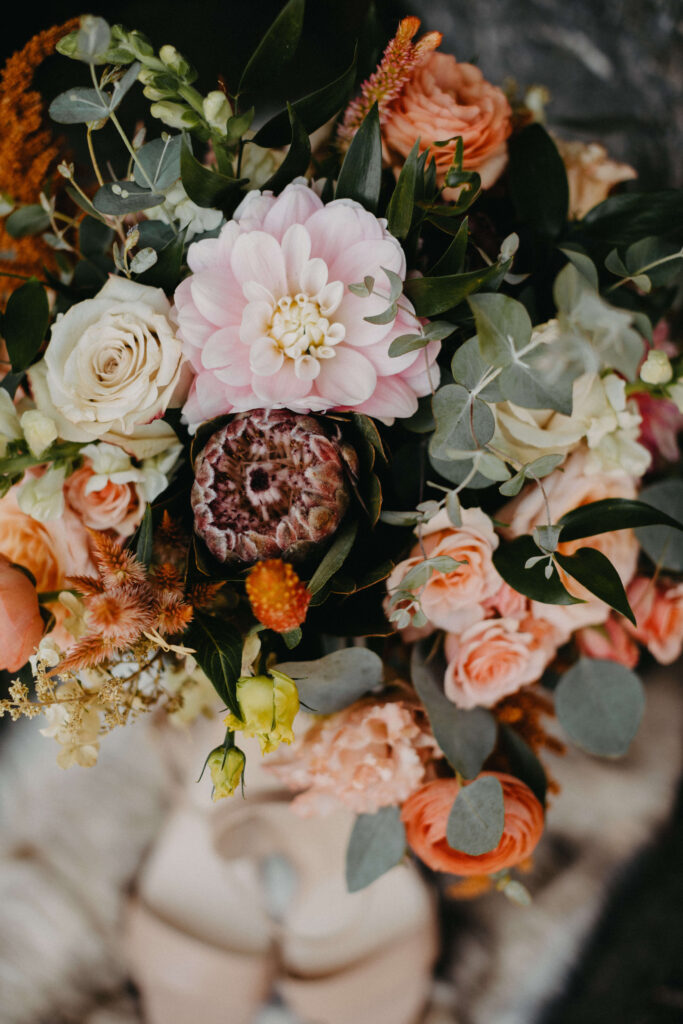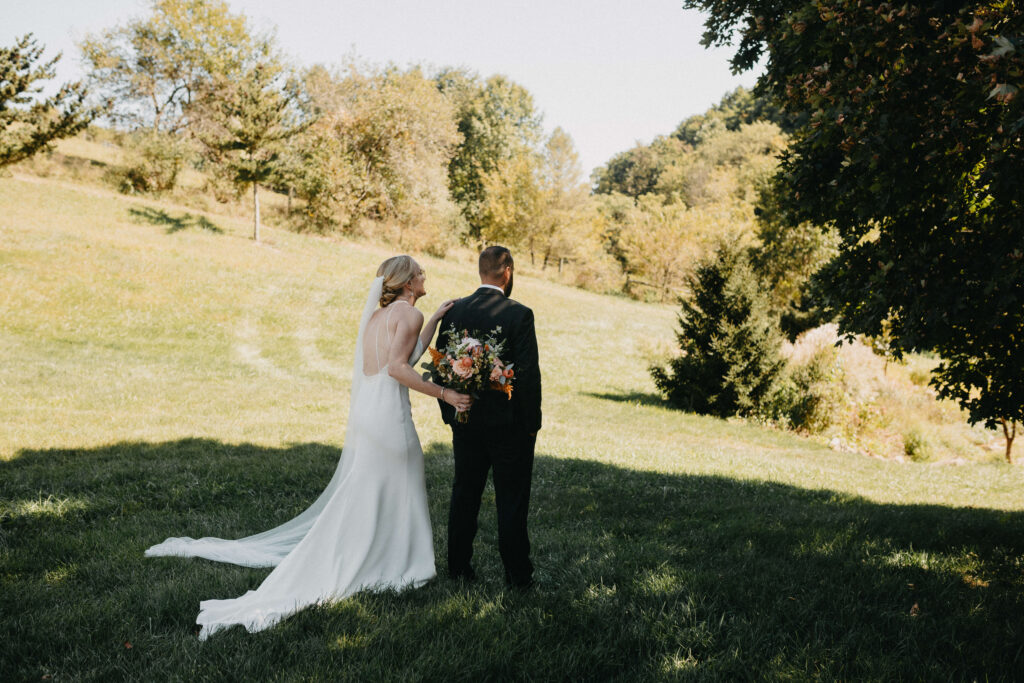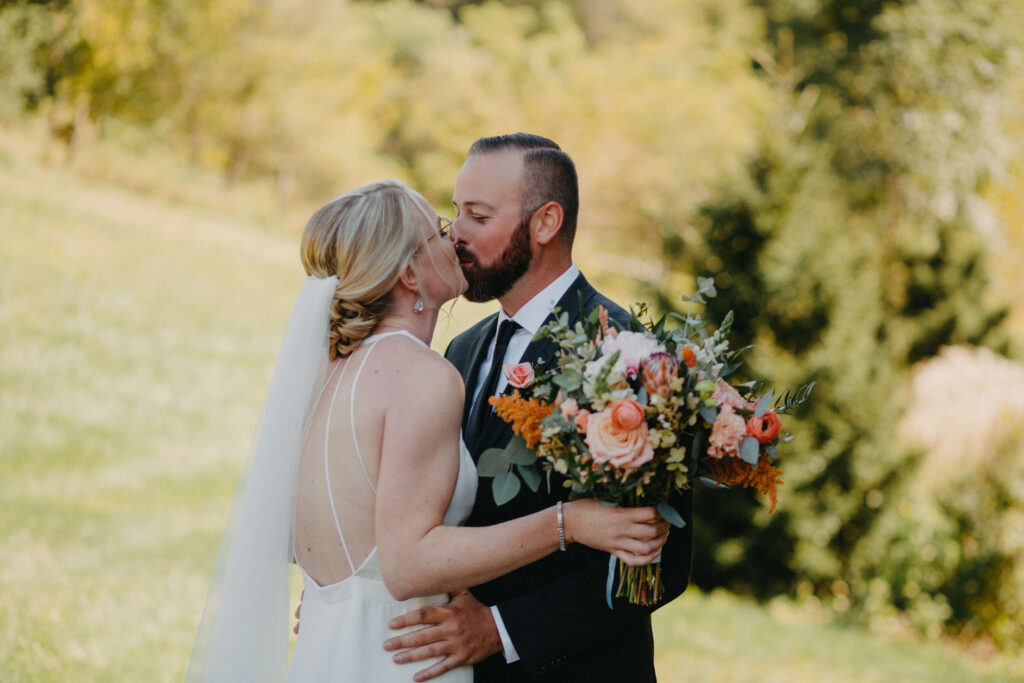 Carolyn Jorgensen does an incredible job capturing the spirit of Ellen and Glenn's wedding day. She knows exactly how to work that natural light! And her unique editing style compliments all the intimate, natural design elements featured in this remarkable September wedding. From Ellen's dress, to the florals, to Glasbern's awe-inspiring reception space and grounds, Carolyn tells the whole story through her beautifully composed imagery.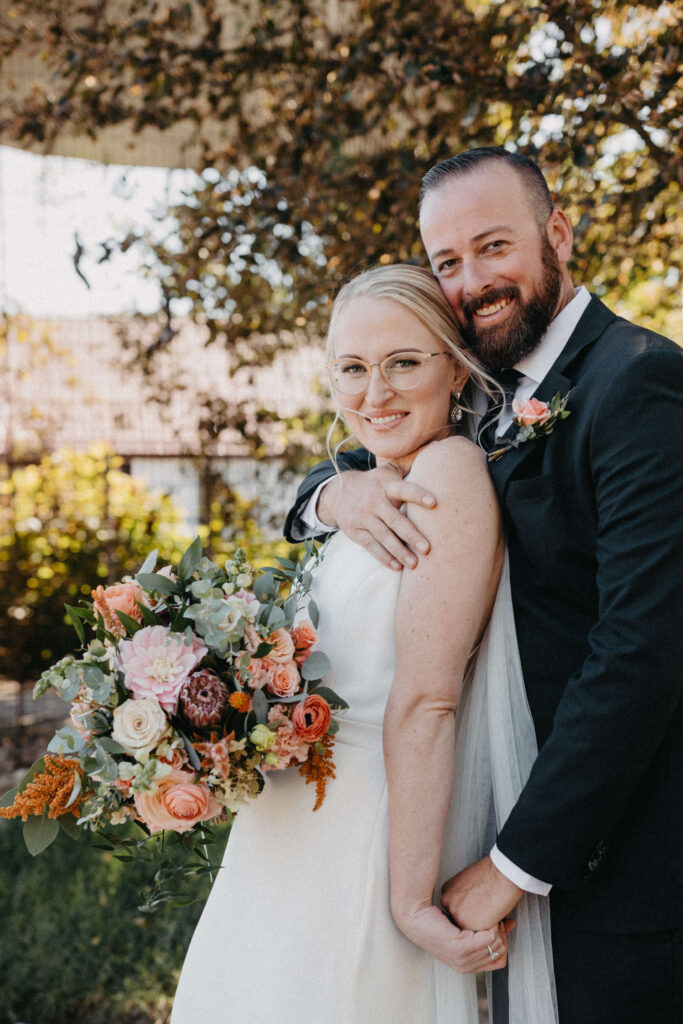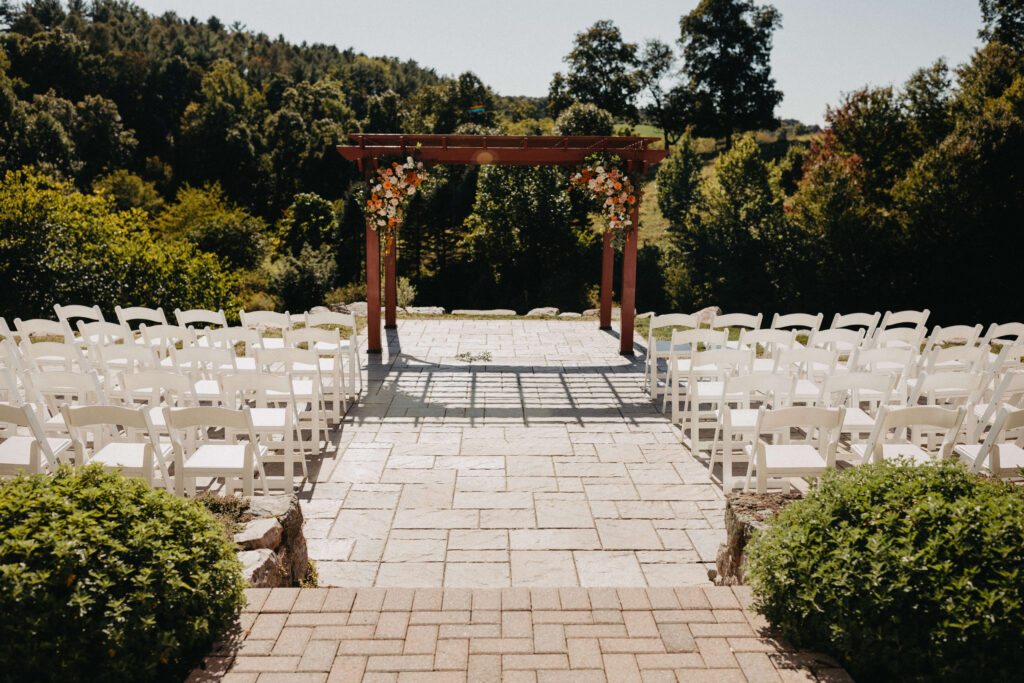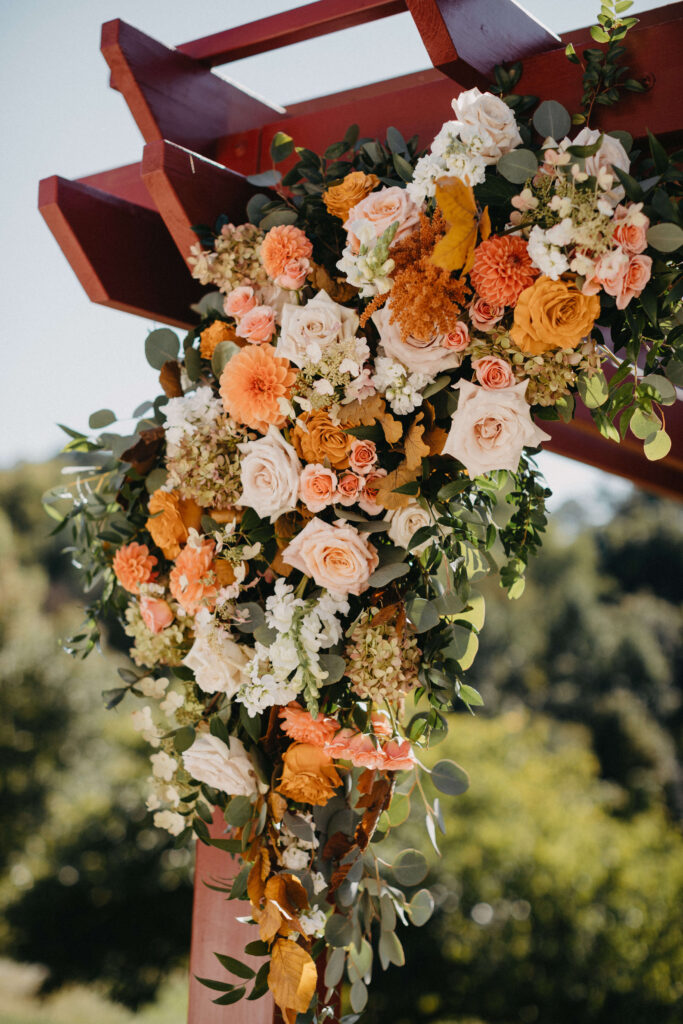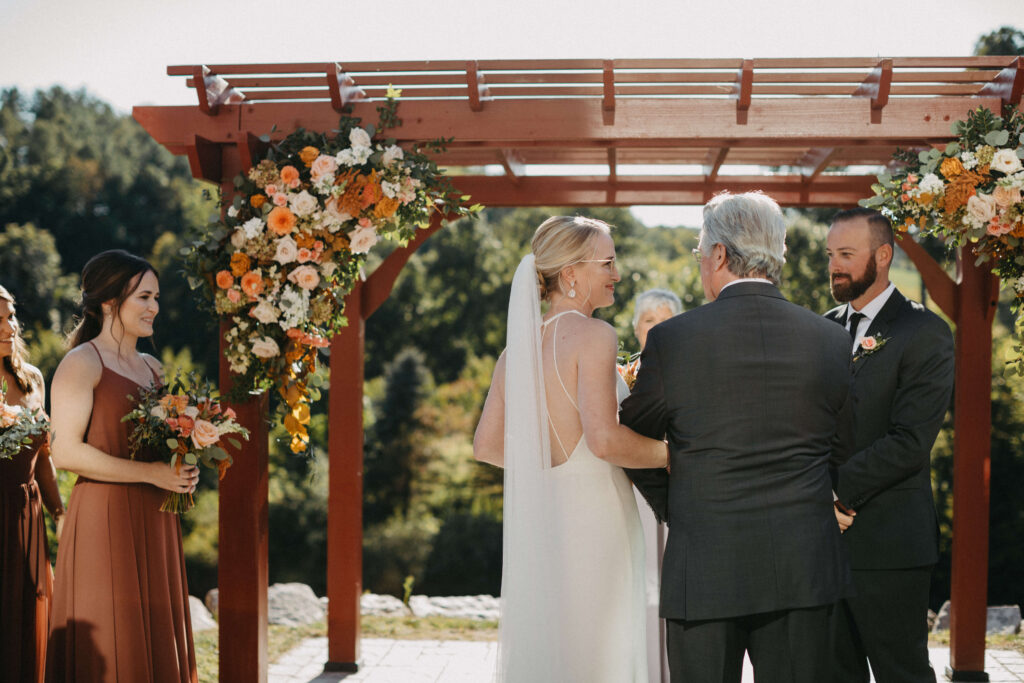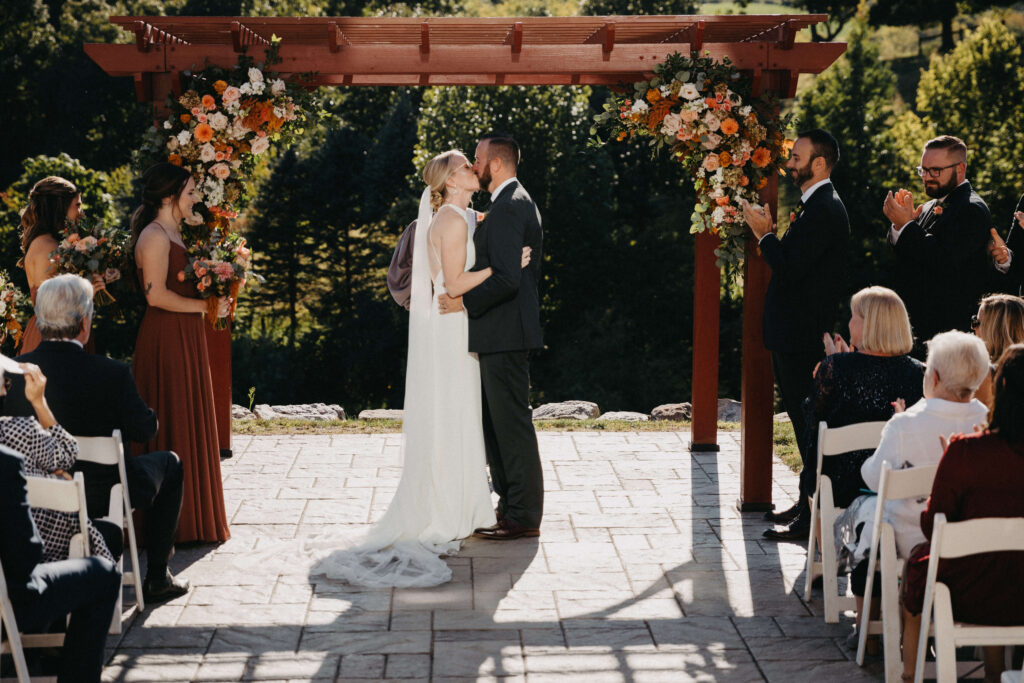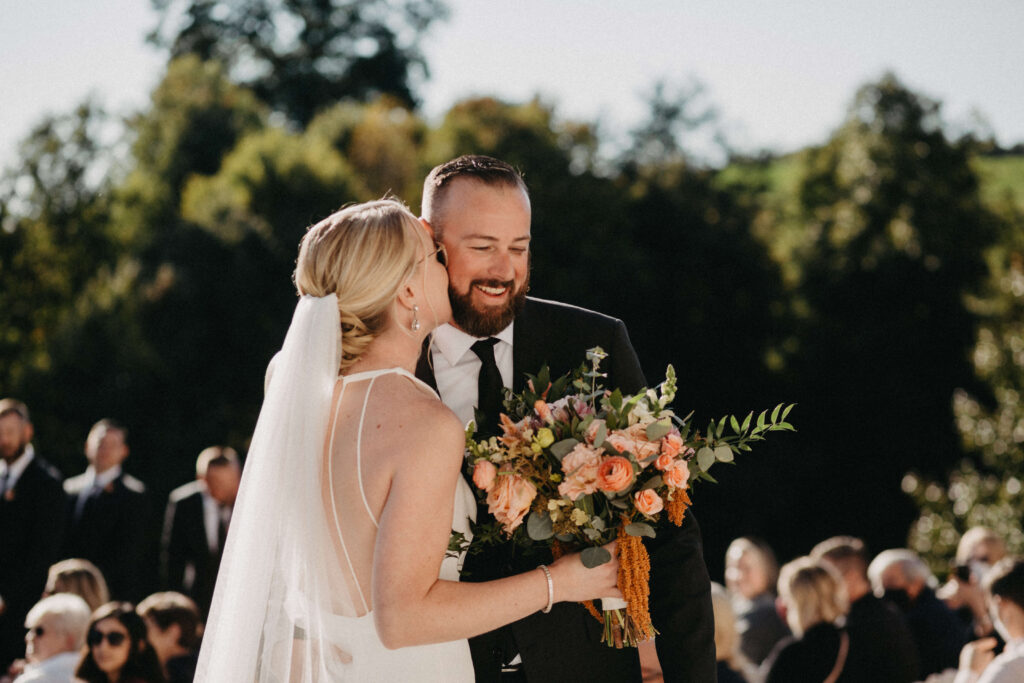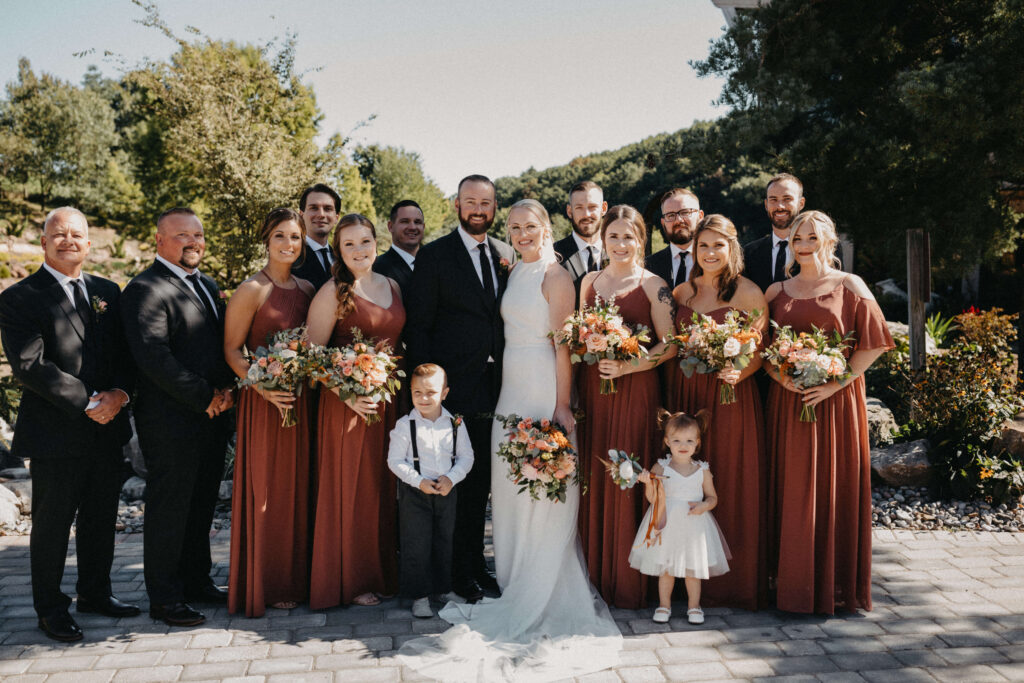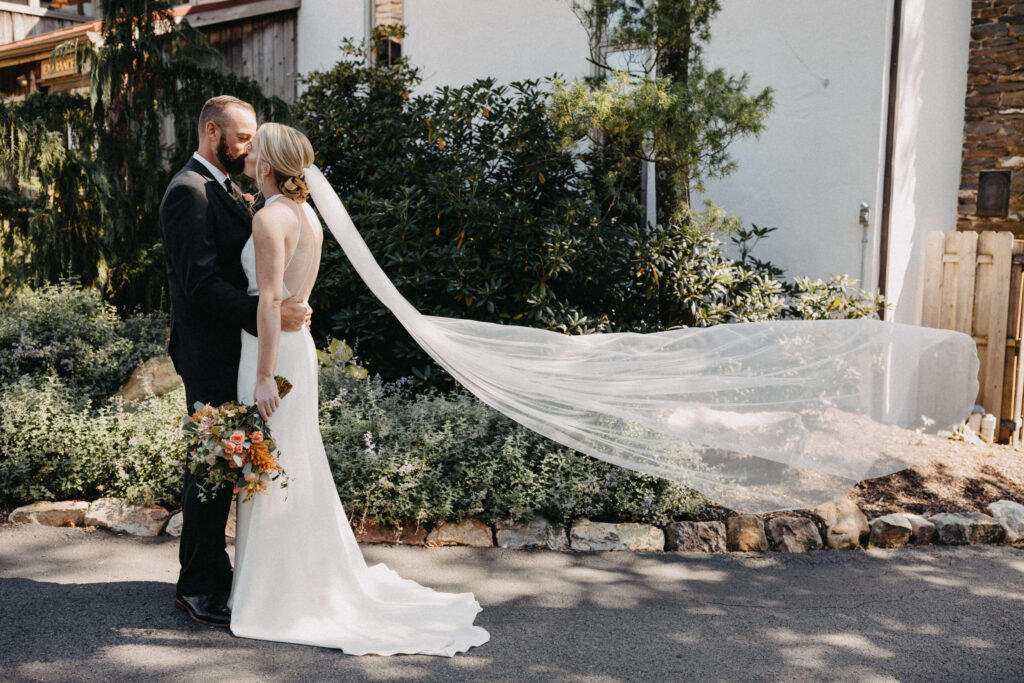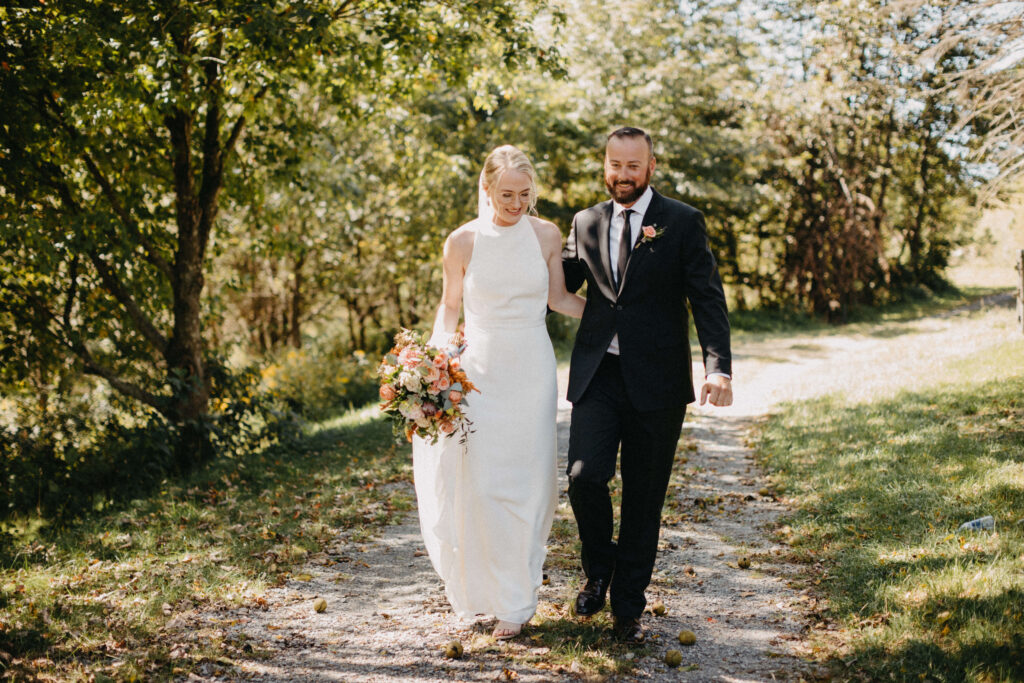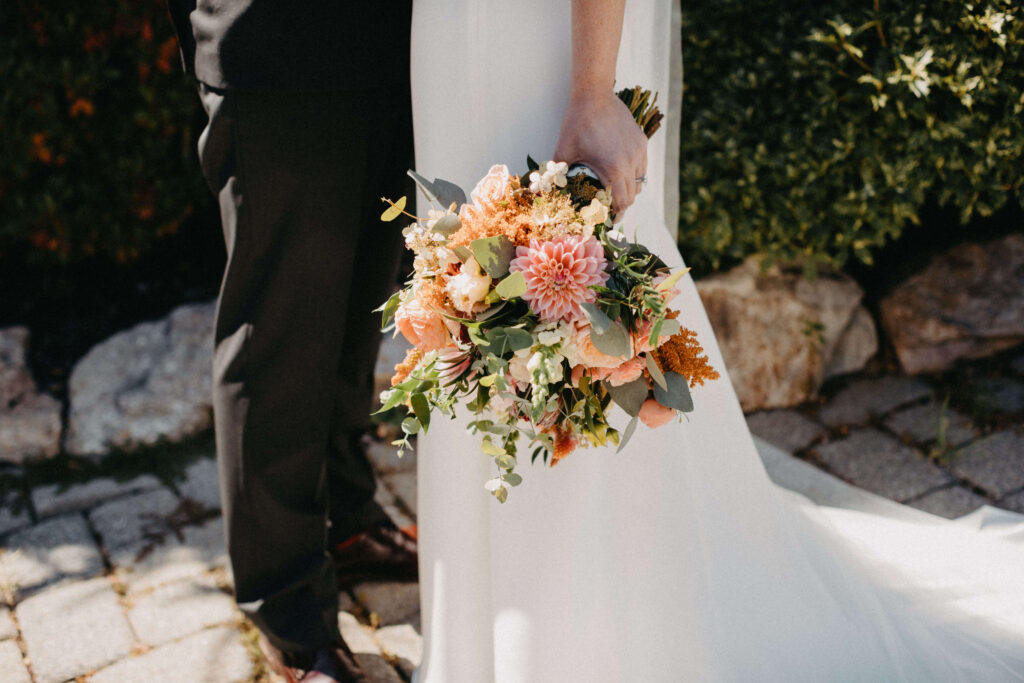 We love being able to repurpose florals from the ceremony to the reception. Ceremonies are so short. With guests enjoying your florals for maybe 30 minutes, tops. When we repurpose those pieces, they take on a life of their own in the reception space. This significantly increases the mileage you get from your investment, as your ceremony pieces are often the most costly. At Ellen and Glenn's wedding we transferred the arbor pieces to the sweetheart table. We also repurposed the bridesmaid bouquets as table centerpieces, along with some additional decor.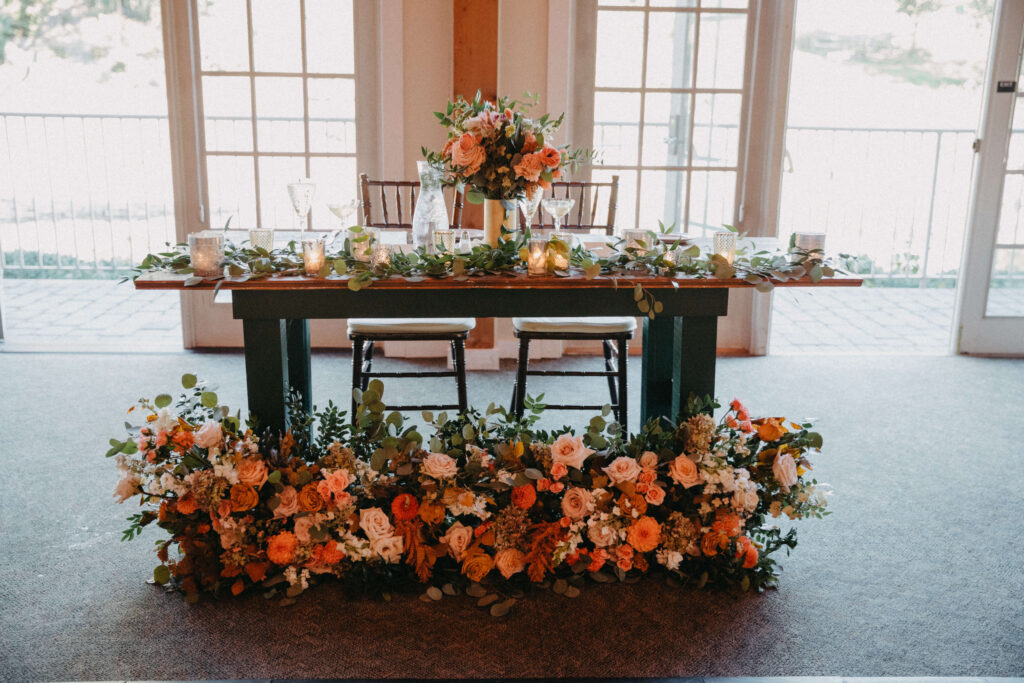 On the arbor design, you'll notice that we position the florals to hang down slightly to bring your attention towards the couple as they say their vows. Once repurposed for the sweetheart table, we flip the piece so that the florals reach up towards the couple as they toast. It's these little details that make for a seamless transfer. Your guests would never guess that these are the same ceremony florals!
Ellen and Glenn's wedding had a lovely balance of florals and greenery. While the bouquets and arbor pieces were bursting with dazzling blooms, the reception ceiling piece featured lush, overflowing greenery. Balancing the florals and greenery in this way offers an elegant and natural charm that brings harmony to any design.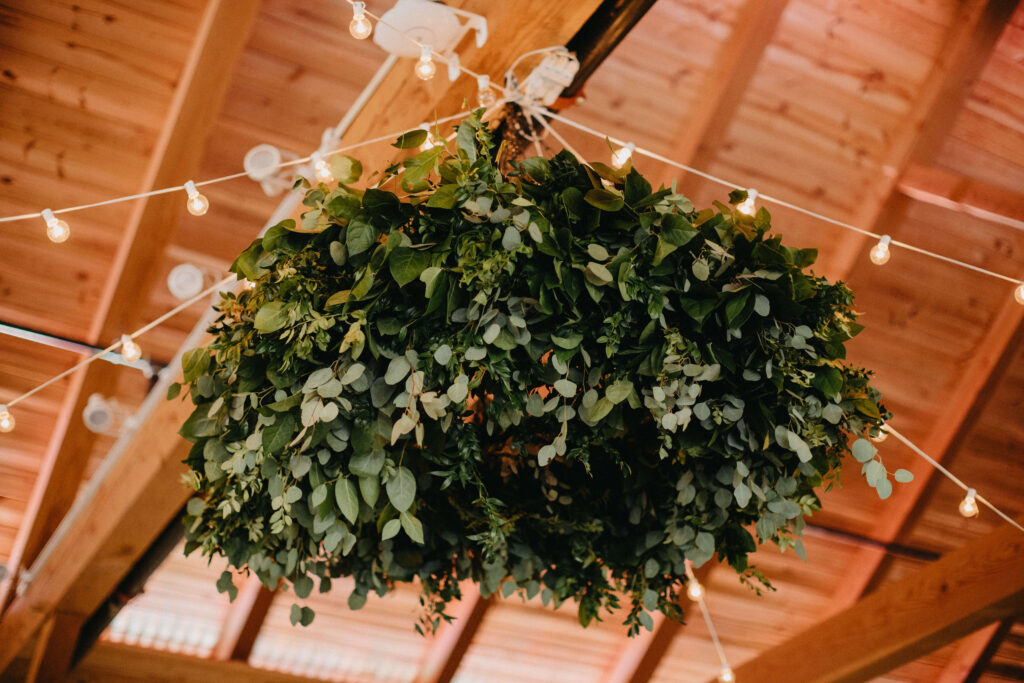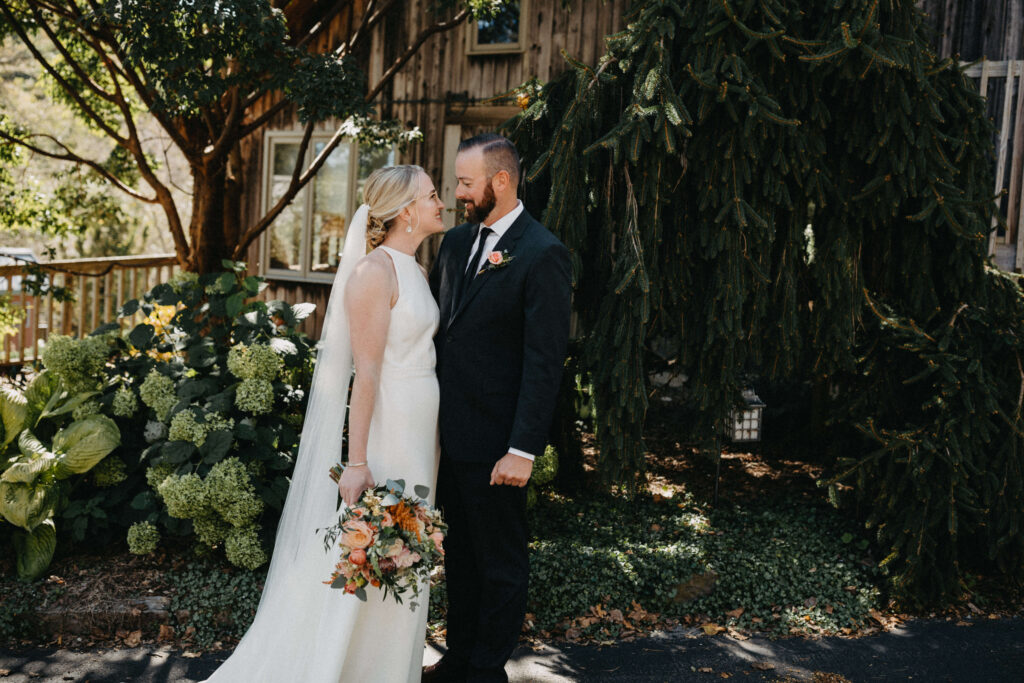 || Photography: Carolyn Jorgensen Photography || Venue: Glasbern Inn || Hair: Up Your Do || Makeup: Tara Pinto Makeup || Baker: The Crumbs Company || DJ: East Coast Event Group Inc. || Signage: Sage Design Co. || Invitations: Peacock Design Paperie ||
More inspiration:
Rustic Autumn Wedding in the Crisp Mountain Air
A Dreamy Springtime Poconos Microwedding
Modern, Rustic and Mauve Wedding: Devin and Shawn
Rustic Green, White, and Blush Wedding
Gorgeous Simplicity: A September Evening Wedding