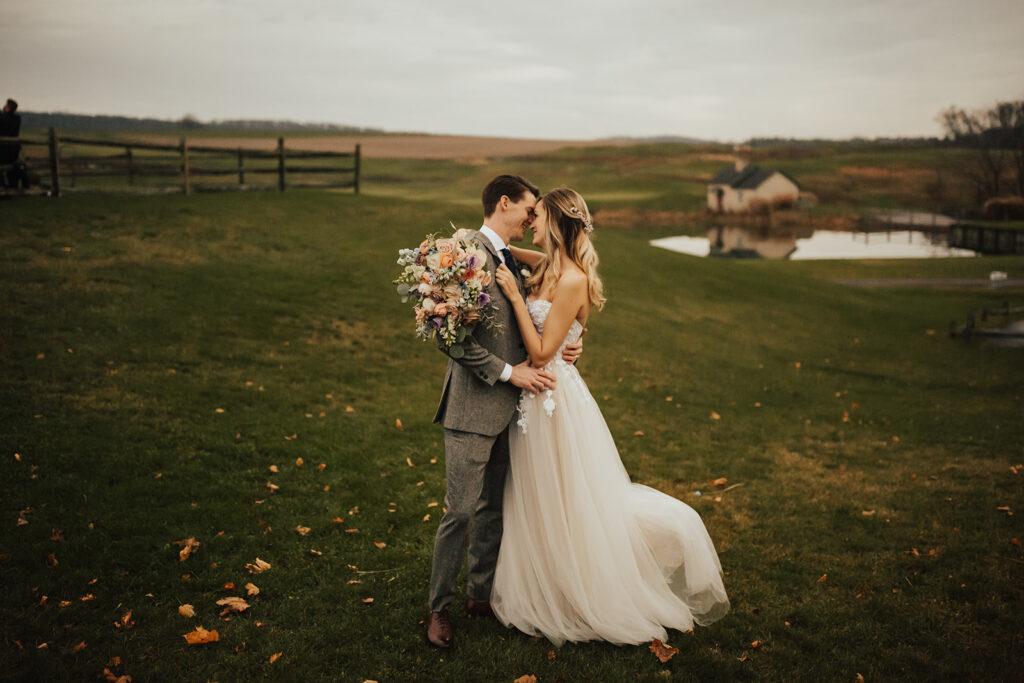 There are so many ways to use florals on your wedding day. The possibilities are truly endless.
Kara and Fuery's wedding incorporated so many of our favorite pieces to design. From a spilling table runner, to vignette florals and three lavish ceiling pieces, their wedding was steeped in luscious blooms. Their wedding had a rustic, whimsical feel to it with a nod toward Celtic tradition. It evoked a truly magical feeling of storybook wonder and curiosity.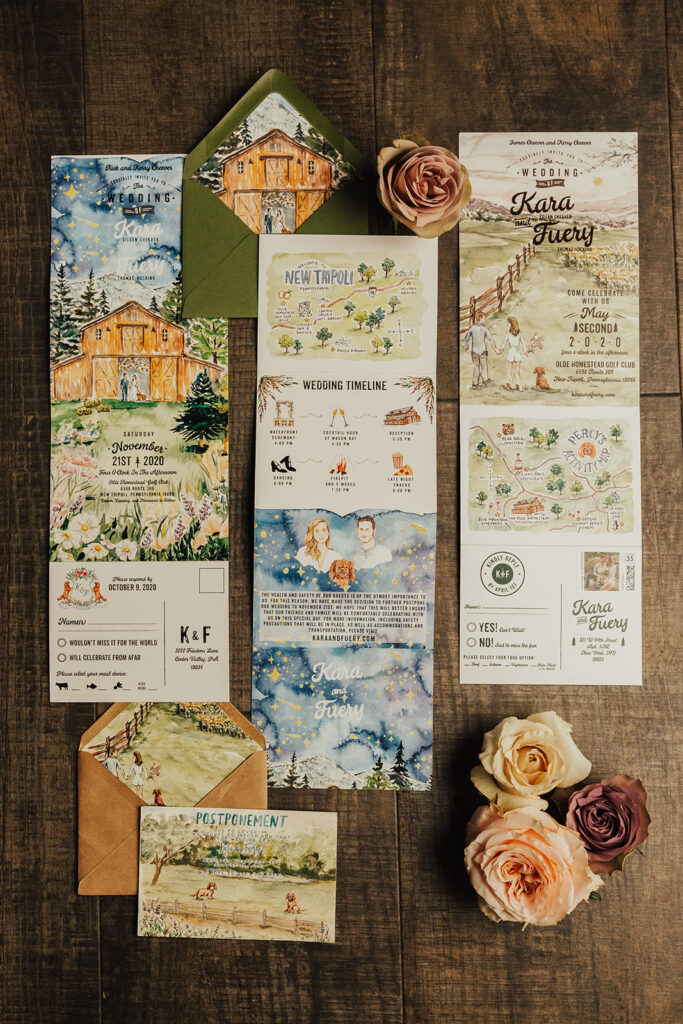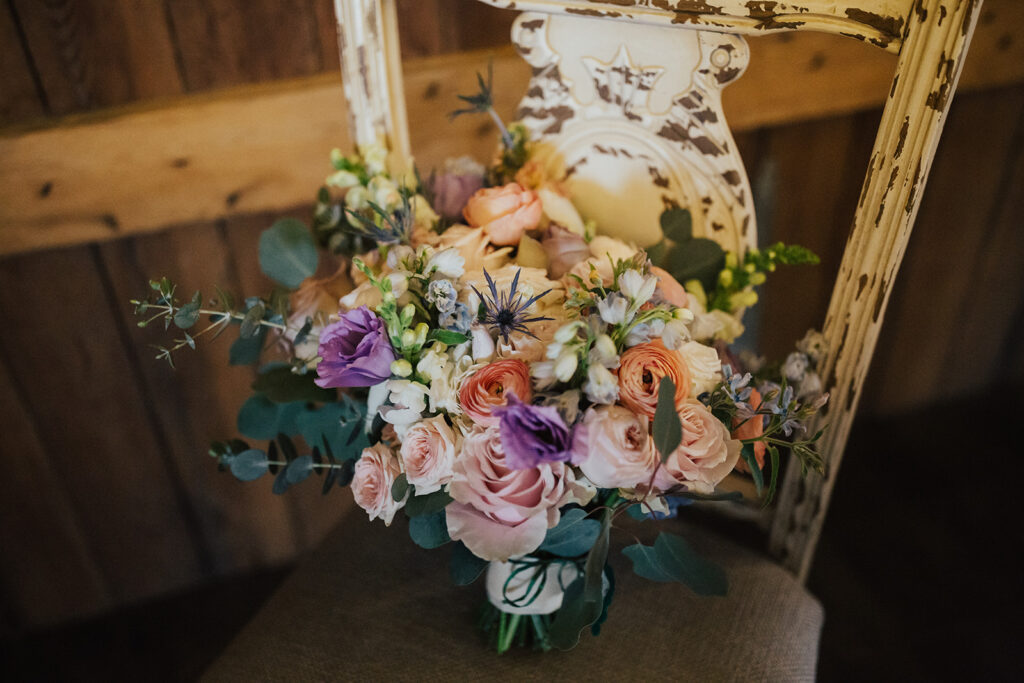 Bridal Florals
Kara wore a pretty wax flower hair piece. This piece was kept simple to accentuate her lovely cascading bouquet. Kara's bouquet had a wild and organic, asymmetrical design, with a small cascade. It had a pretty and playful color palette. Although mostly soft pastels, this bouquet actually had quite the range of color; from soft peaches and creams to bold lavender and even dusty blues.
Delicate garden roses, orange ranunculus, and purple lisianthus make up the bulk of the florals in Kara's bouquet. These blooms give it that pretty, soft look, while the delphinium, stock, eryngium, and eucalyptus give it its texture, movement, and wild feel.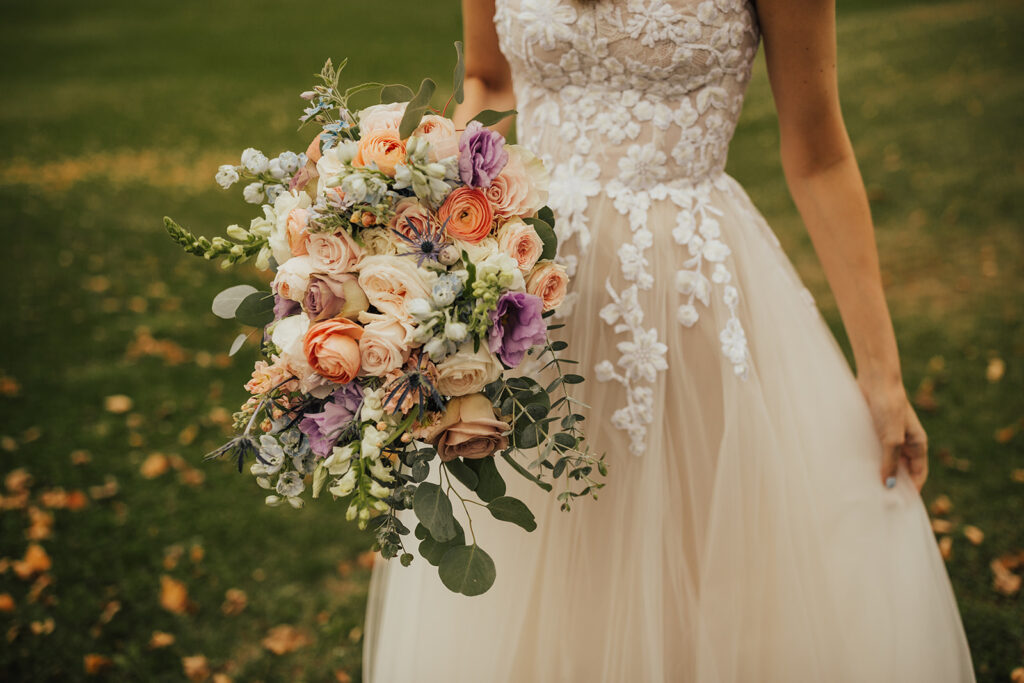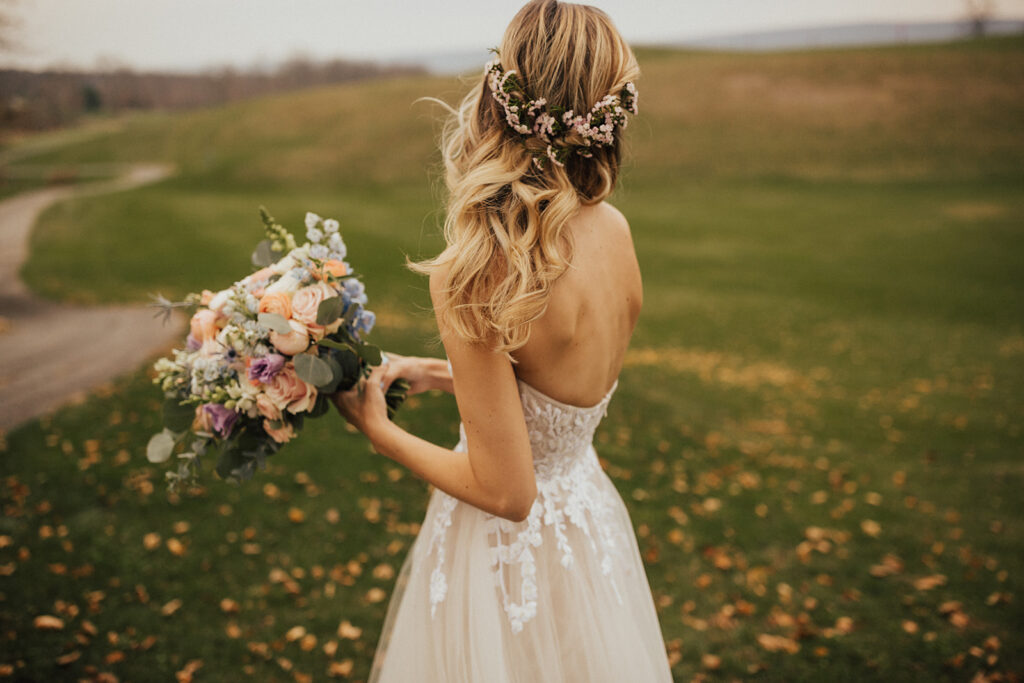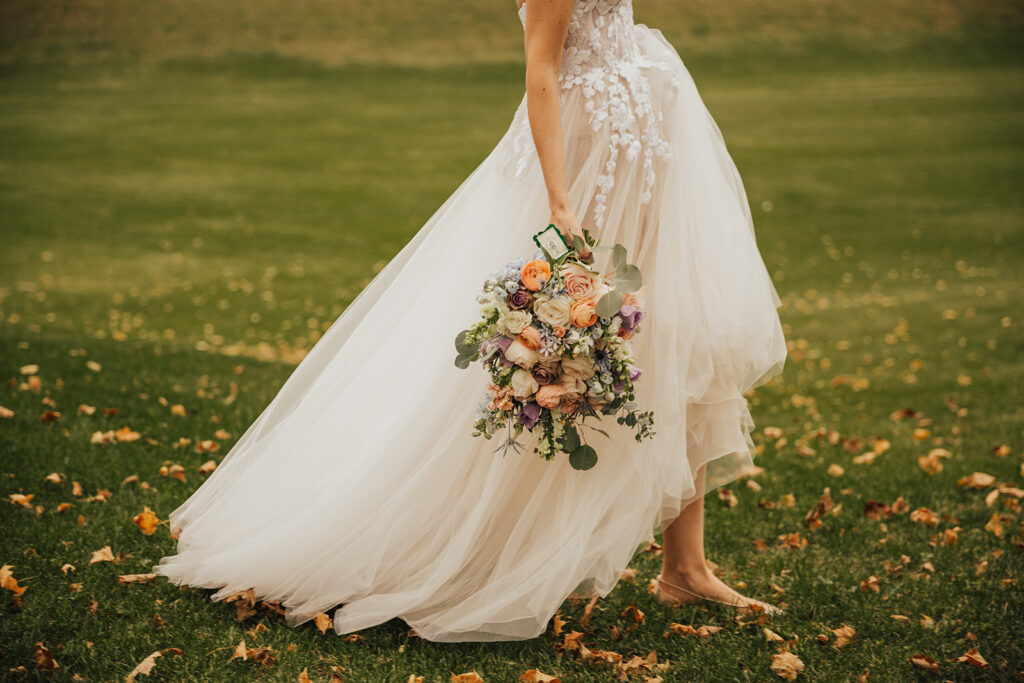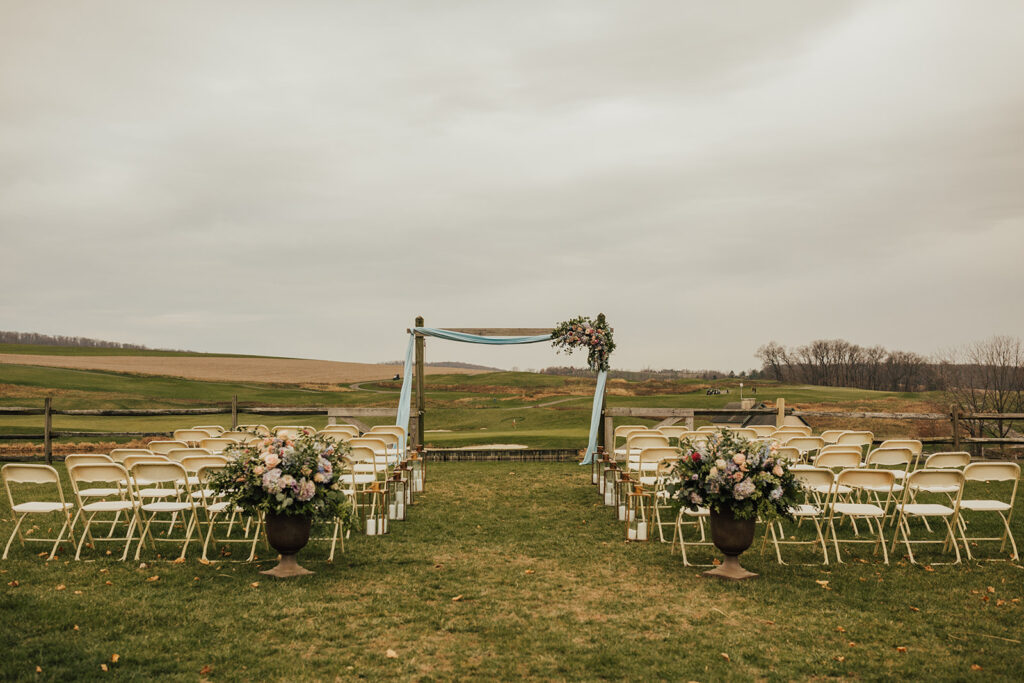 Ceremony Pieces
Kara and Fuery's ceremony florals create a balanced composition by utilizing both symmetrical and asymmetrical design elements. One corner piece embellishes the arbor, while two large urns create a grounding focal point for the ceremony.
This arbor design was all about color and patterns! The large garden roses and hydrangeas gave it a big, bursting feel, while the long eucalyptus sprigs create wild, wandering patterns. These design elements make this piece feel whimsical and playful, while also retaining a pretty and composed design.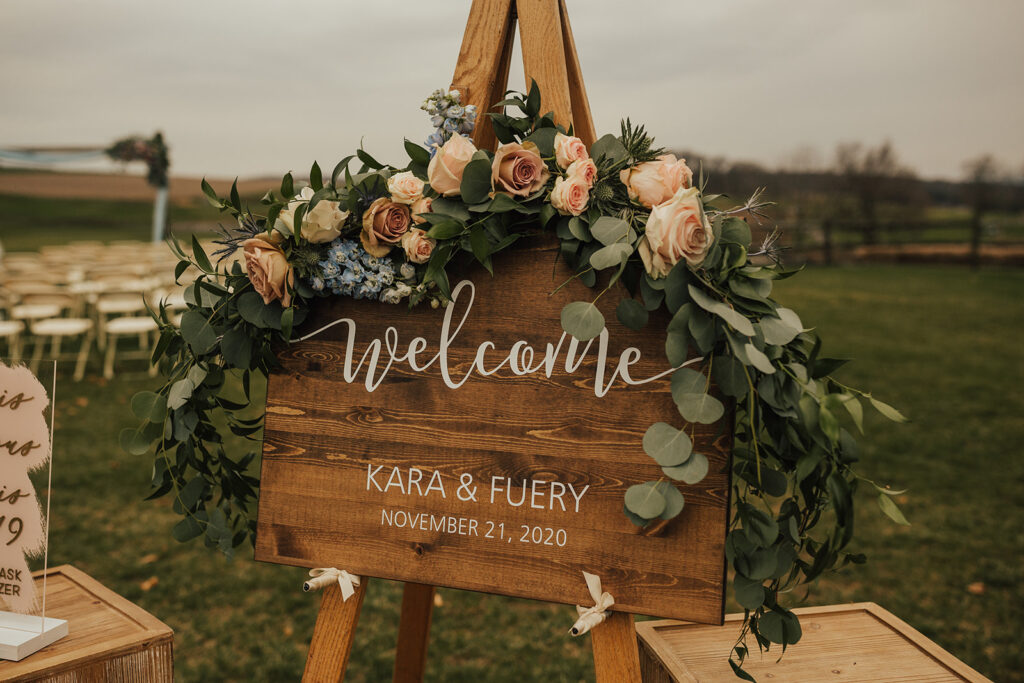 We used a small floral swag to frame their welcome sign. This piece is mostly lush greens, with a few roses and a pop of delphinium. Wedding and event florals are all about balance and focus. So by keeping the welcome sign swag simple, our attention is focused on what matters most: the aisle! The focal point urns draw you in, and the arbor piece offers a fresh pop of whimsy and wonder!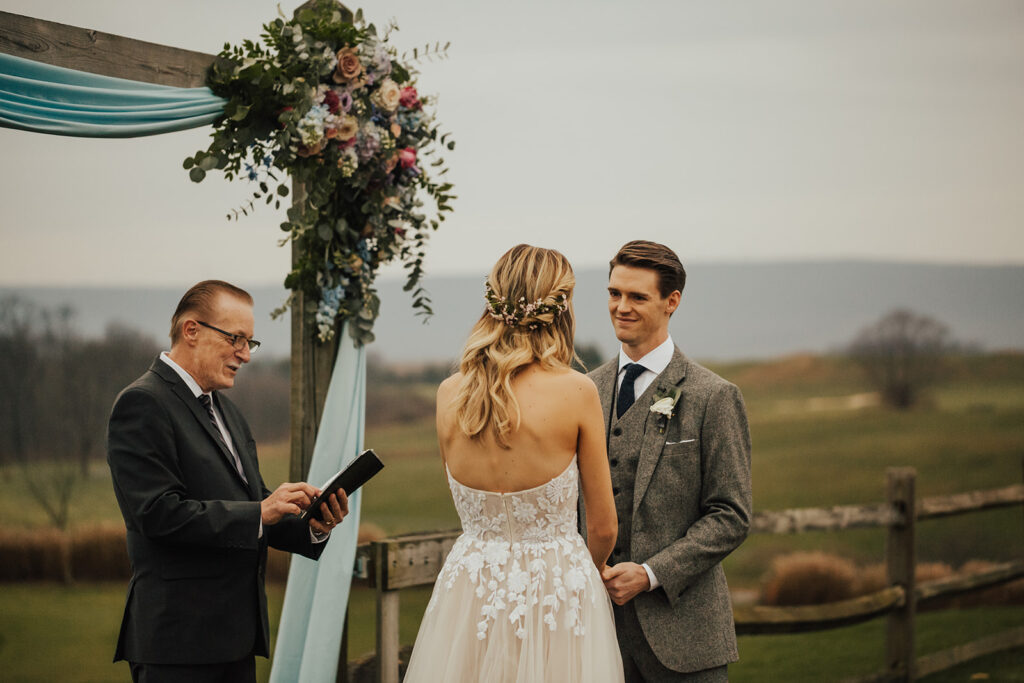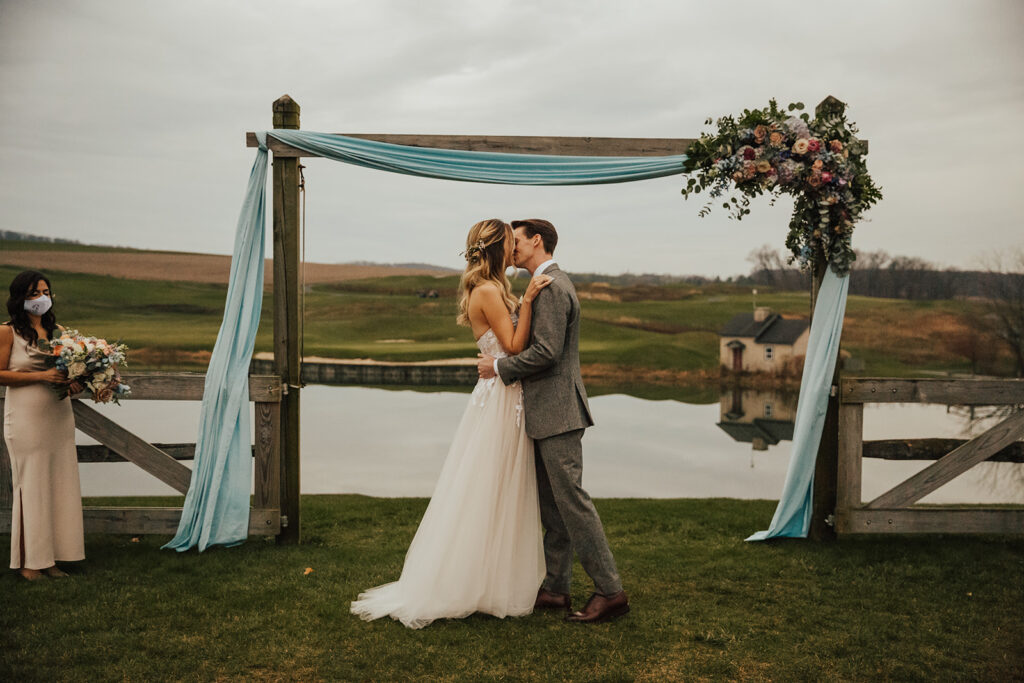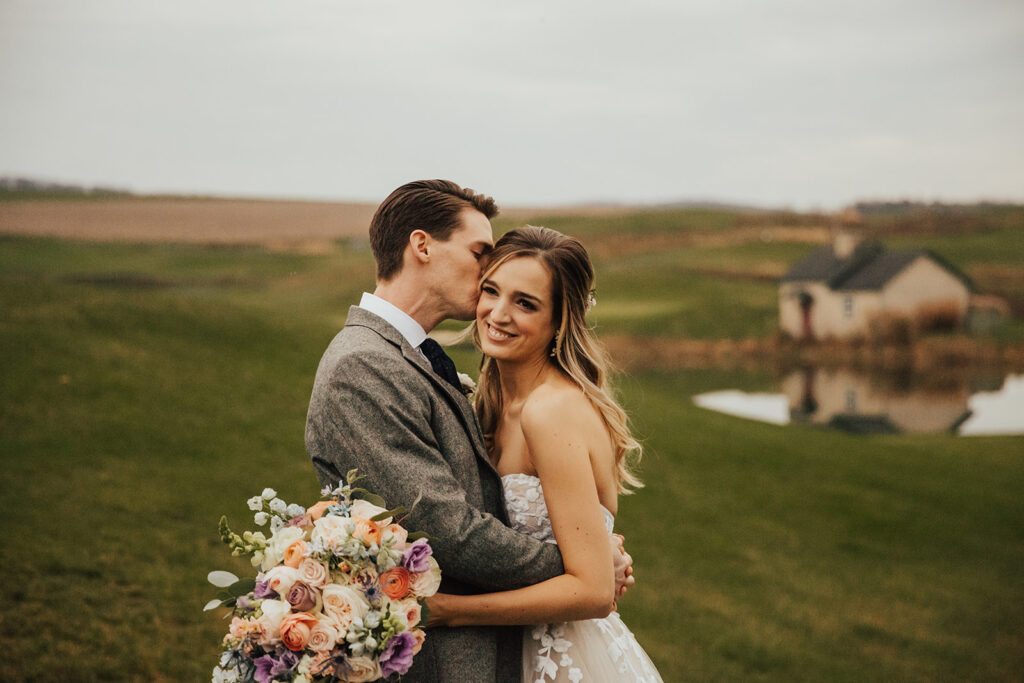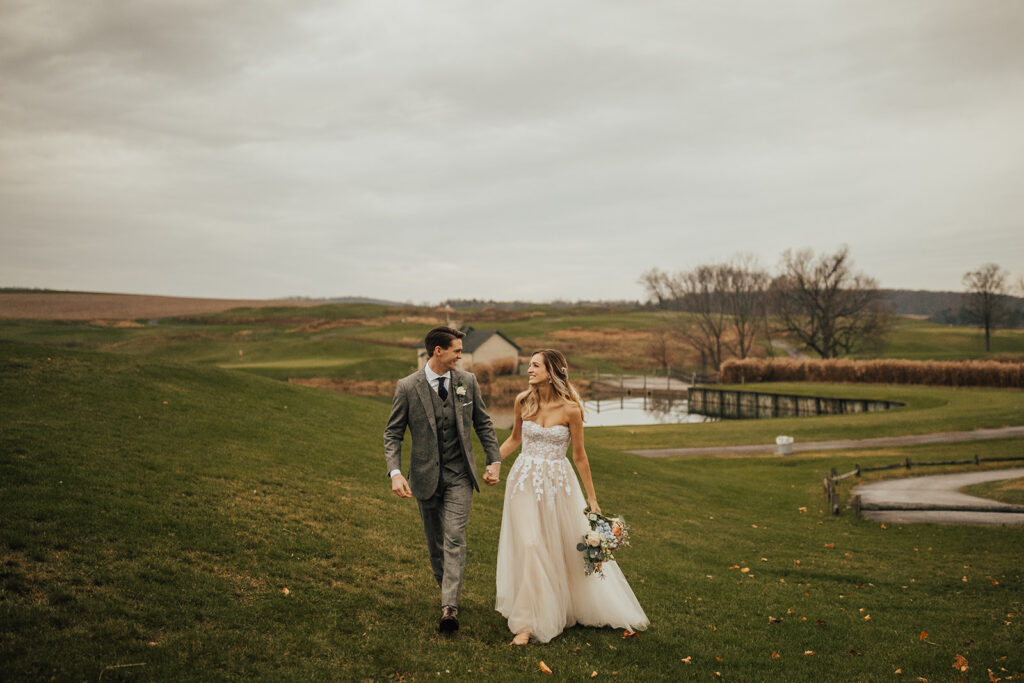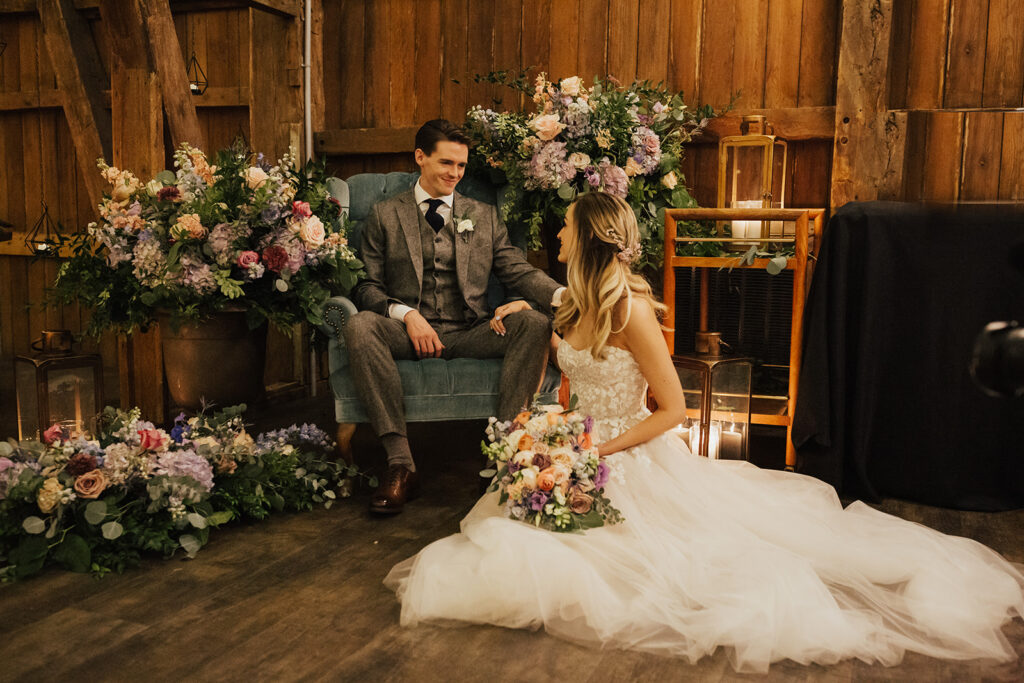 Vignette Florals
We often tell couples to think about where you want your first look or post-ceremony photos to be and add florals there! Kara and Fuery had their ceremony pieces repurposed as vignette florals inside the barn at the Homestead Golf Club, where they held their reception. Not only did these pieces make for stunning photos, they also made for the ultimate guest experience! Their guests were able to literally lounge in a garden of blooms. What could possibly be more luxurious than that?!
Reception Florals
Kara and Fuery's reception florals filled the barn with enchanting elegance and wonder. Our team installed large hanging pieces over the dance floor. We started with three 5 ft circles of greenery, then meticulously fastened delphinium, stock, and faux wisteria to hang down over their guests as they danced the night away!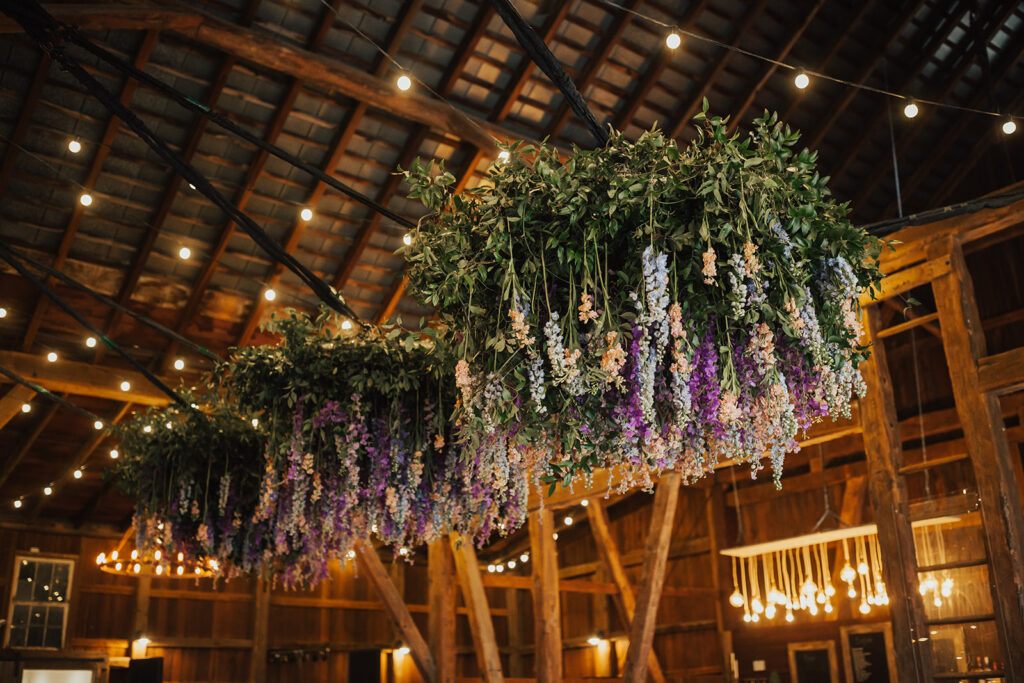 The couple's reception florals also included cocktail table bud vases and a few centerpieces. We then repurposed the welcome sign swag as memory table florals.
Dinner Table Centerpieces
Kara and Fuery's table pieces were no less magical than the rest of their wedding. Full table swags spilled over each of the farm tables. Similar to the welcome sign swag, these centerpieces consisted of mostly greenery and were adorned with delphinium and roses. Spilling table runners like these add elegant movement to the room and spark conversation at the table.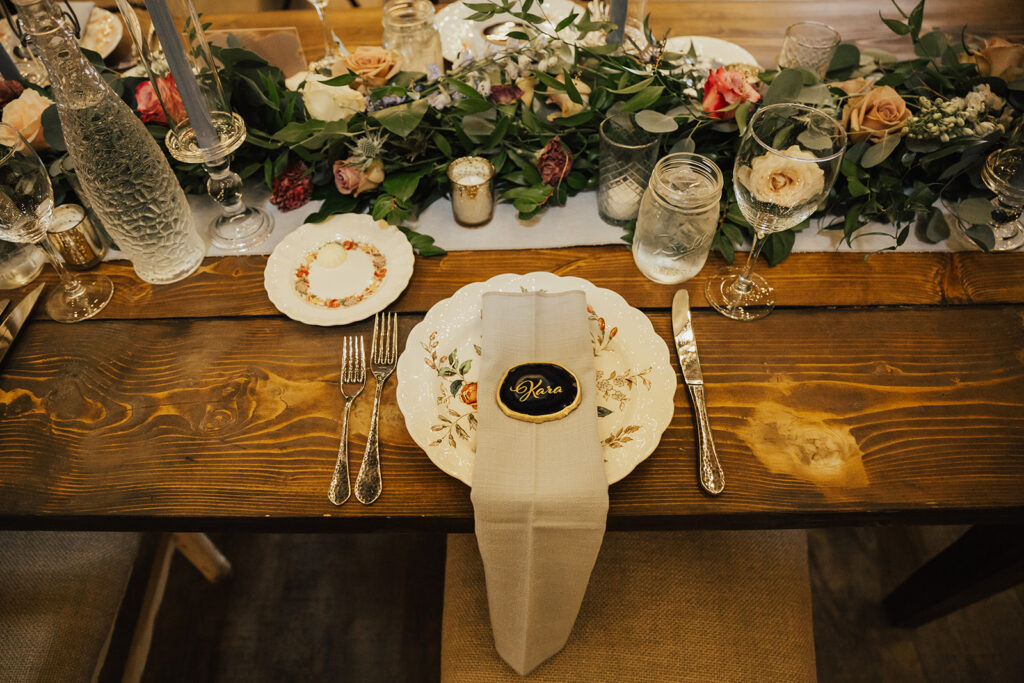 Designing the florals for this wedding was truly a florist's dream come true! Forever Photography NY did an incredible job of capturing the pretty, rustic feel of Kara and Fuery's wedding.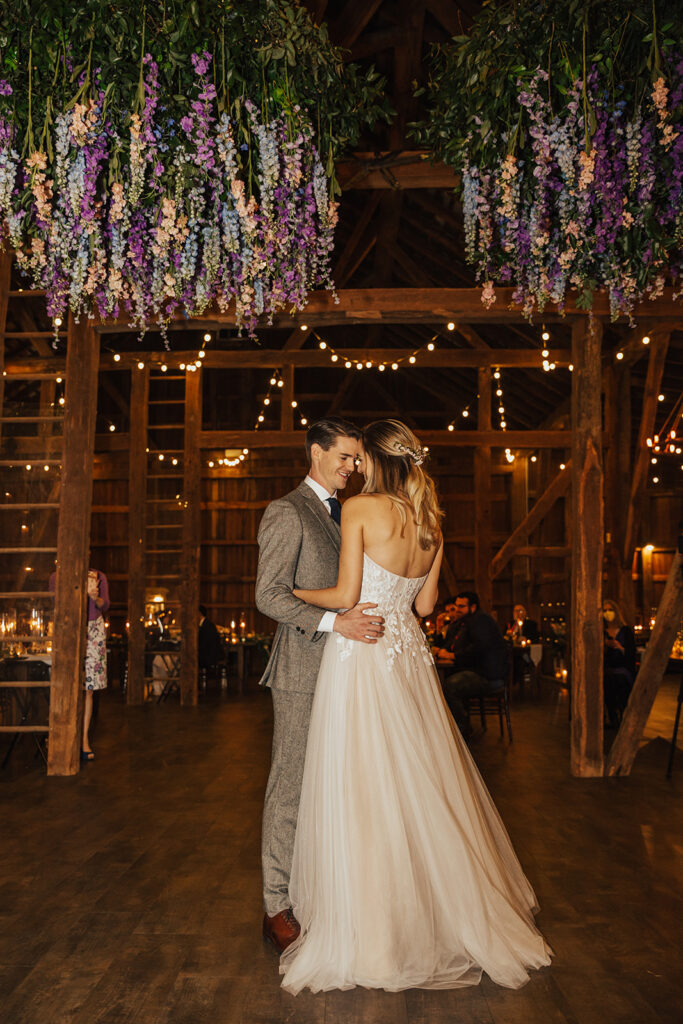 || Photography: NY Forever Photography || Venue: Olde Homestead Golf Club || Hair/Makeup: Makeup by Roxy || Stationery: Wide Eyes Paper Co. || Baker: The Farm Bakery and Events ||
More inspiration:
Lush Greenery and Soft White Florals Completed the Romantic Look for Amanda and Forrest's September Wedding…
Tea Inspired Microwedding in the Poconos
Garden Party Elegance: Liz and Matt's Romantic August Wedding