It is always an extreme honor to be able to participate in (the now 4th) Creek Dinner hosted by Alisa Tongg and Bacon & Lox Society. This year we are thrilled to announce that our Creek Dinner was featured on The Venue Report. Alisa asked us several questions about our process and inspiration, so we wanted to share them here as well so you can get the full picture! To read more about other collaborators be sure to check out the article on The Venue Report as well.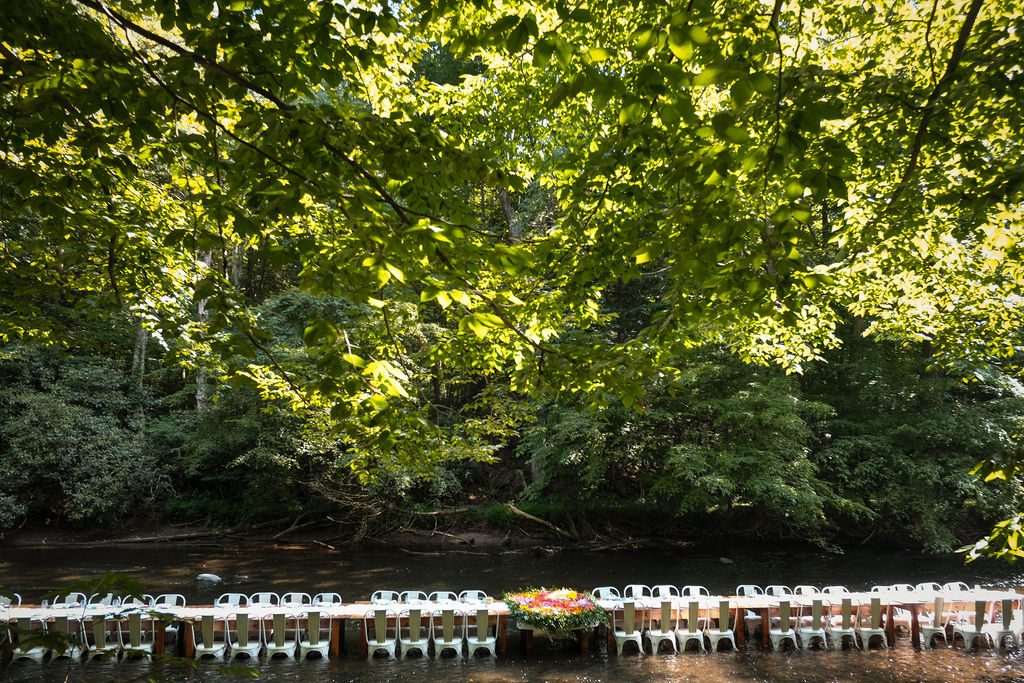 What did you bring to /make for the gathering?
We did all of the floral design for the dinner in the creek. This included a large scale water table of all florals in the center of our run of tables, and floating circles of blooms in the creek itself.
What was your vision?
In the past we've done a lot of overhead design at the long table. This year we really wanted to create something low that still had a lot of visual impact. We were so inspired by the mandala meets Rorschach ideas that Nicole from Rabbit Rabbit started to put together. So, we really wanted to articulate that in bloom form.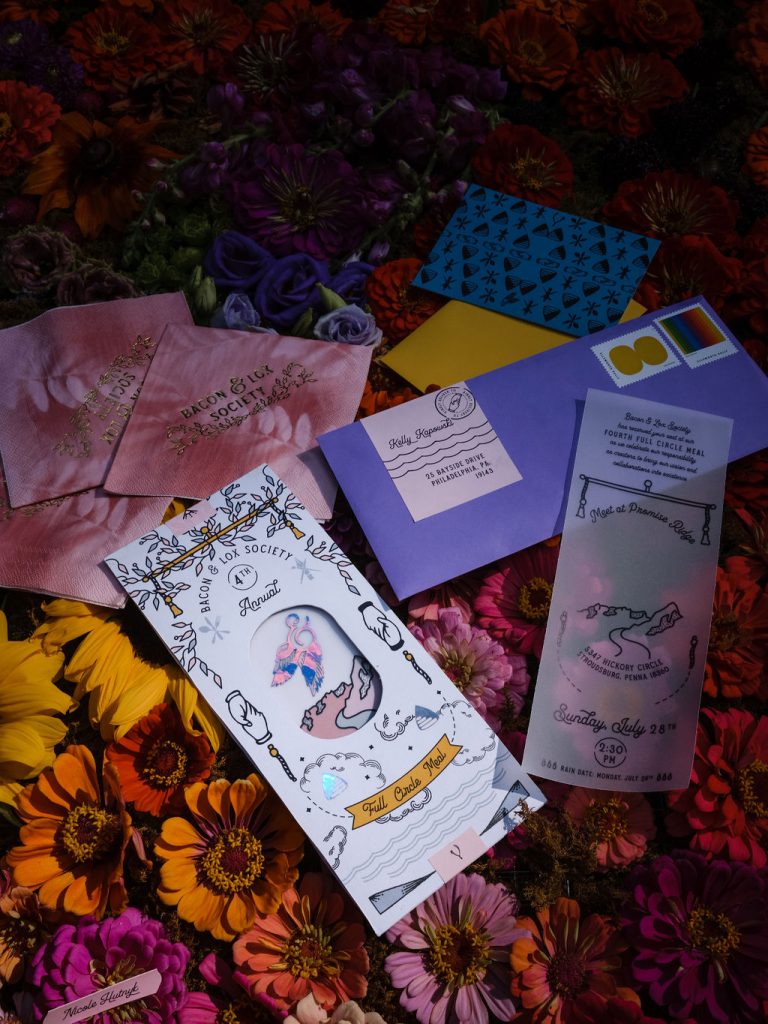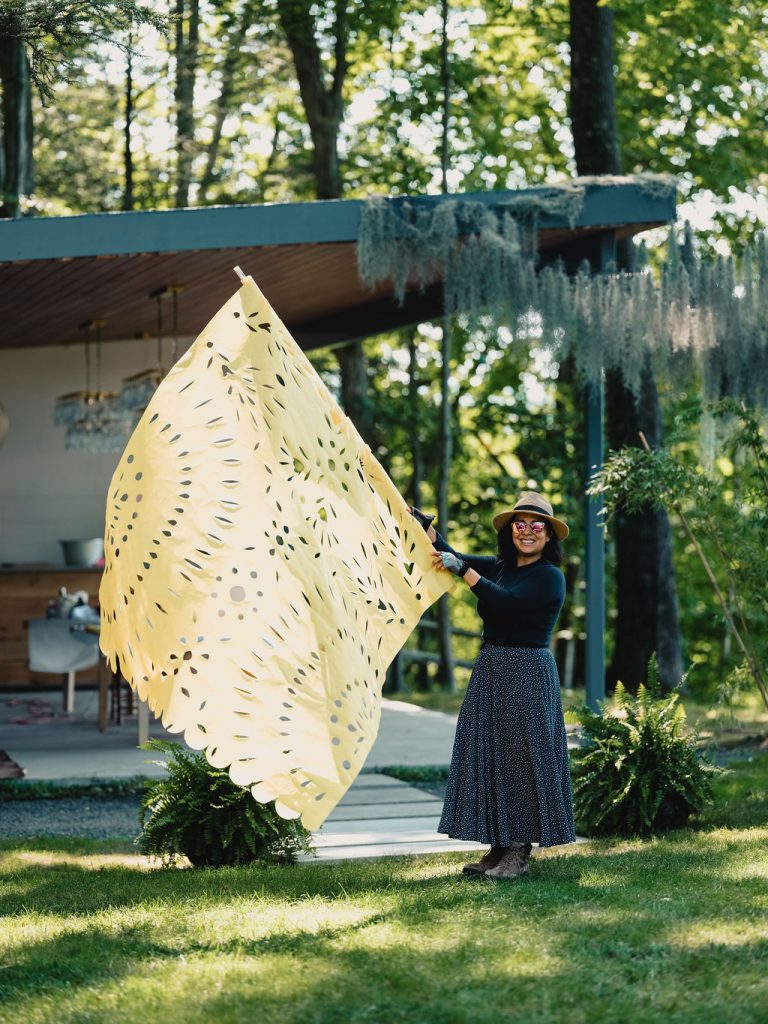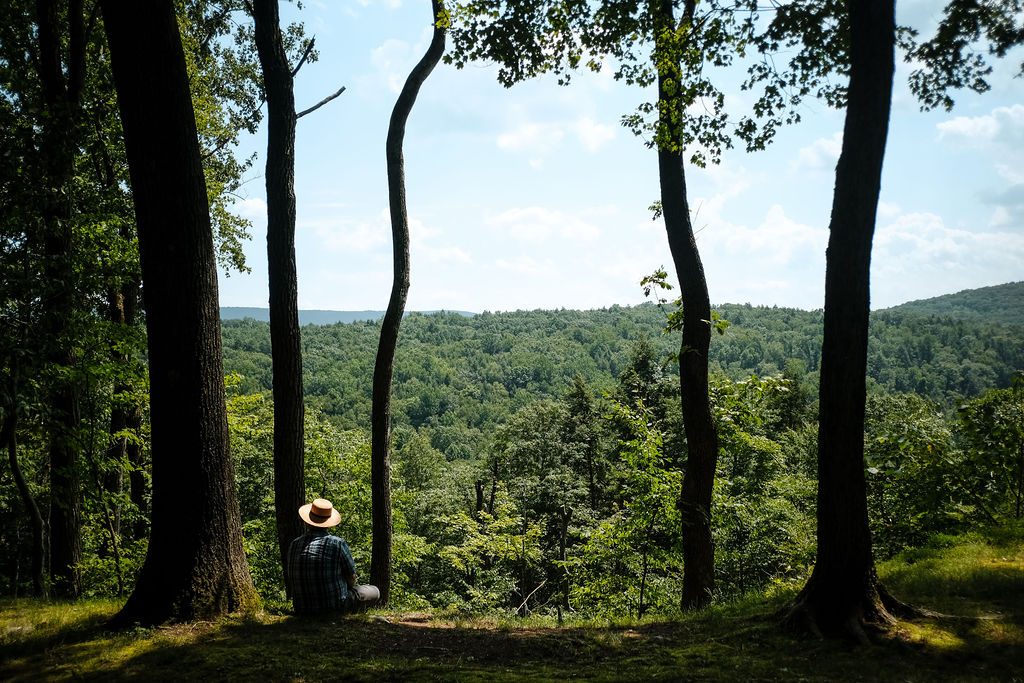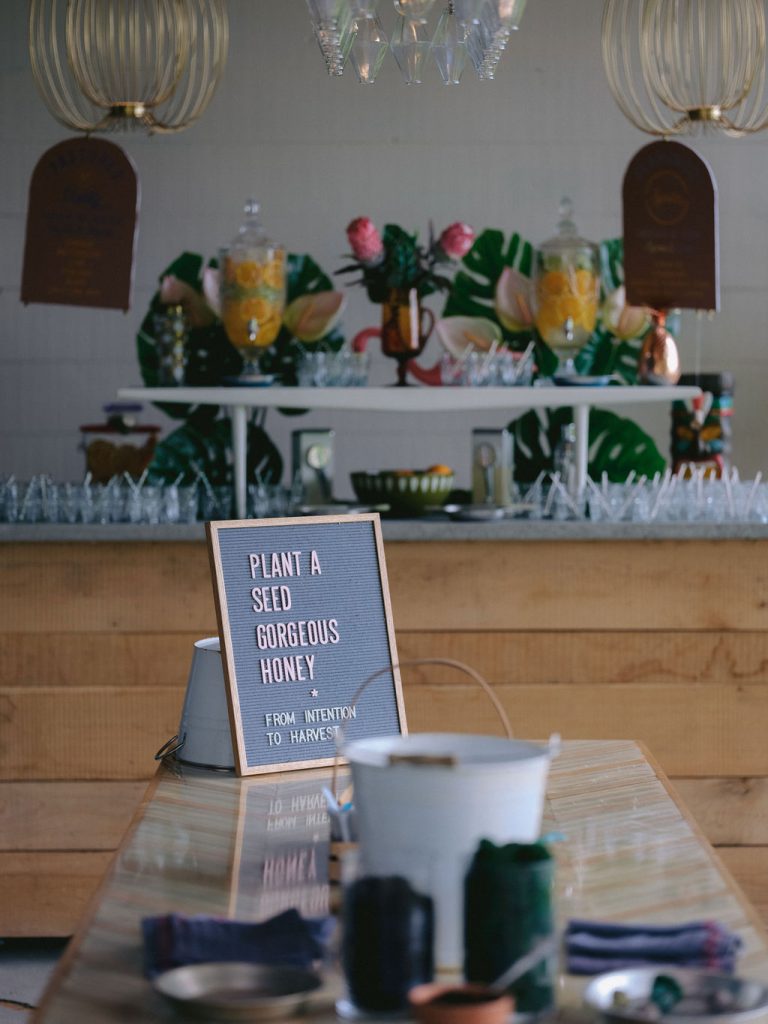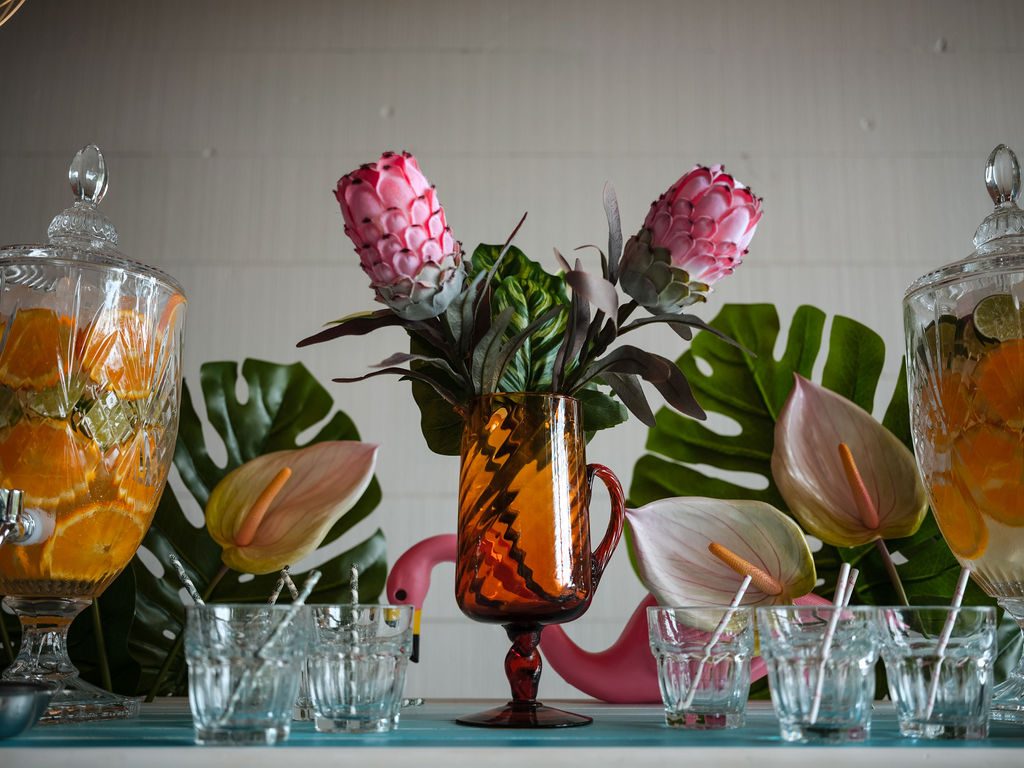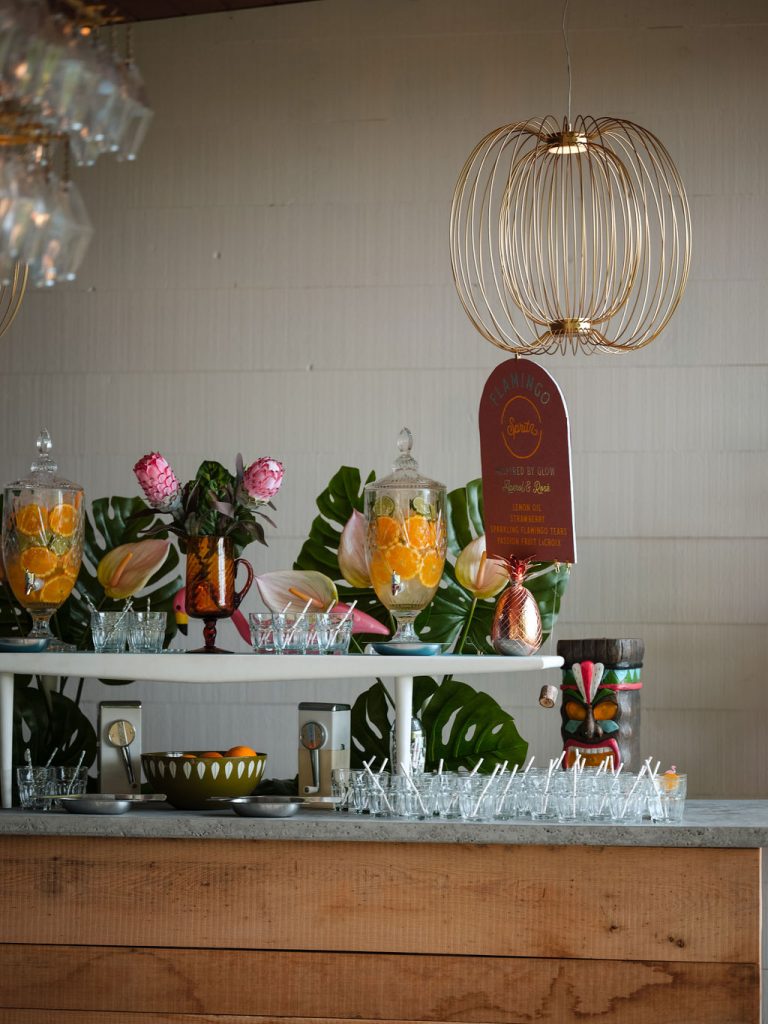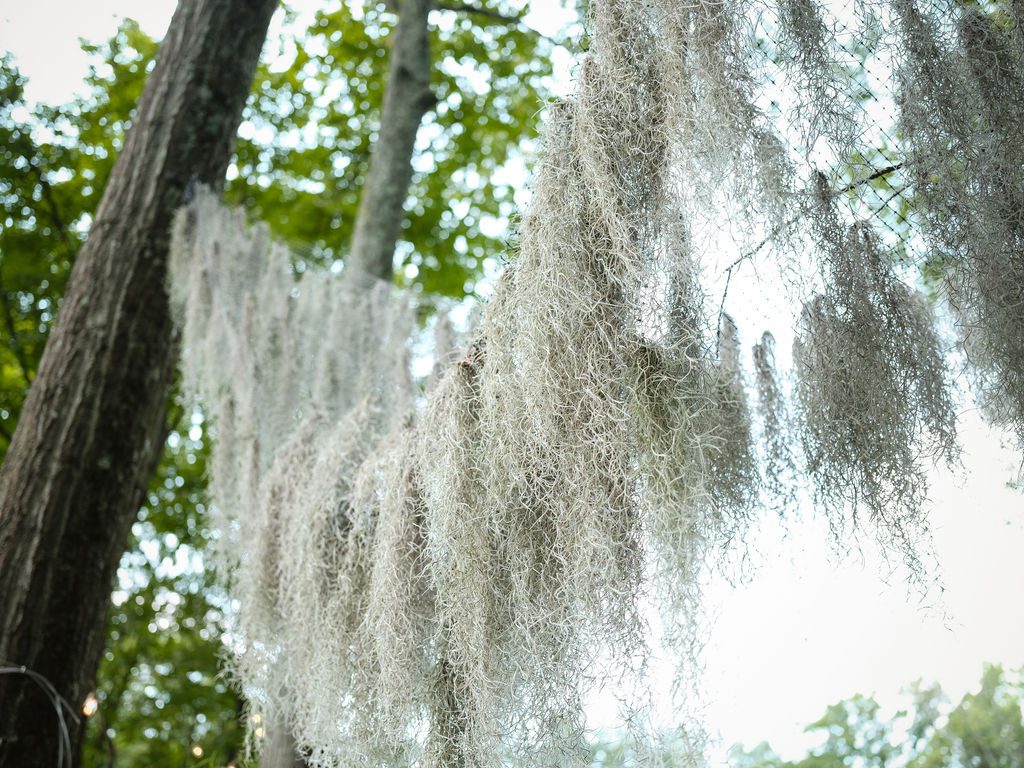 What initially attracted you to collaborate on a Bacon & Lox Society event?
I've known Alisa, the founder of Bacon & Lox for quite some time. She always brings together such an joyful group of people who live life to the very fullest. For me, having an opportunity to not just collaborate with, but experience the event together is so key-and keeps me coming back to design year after year.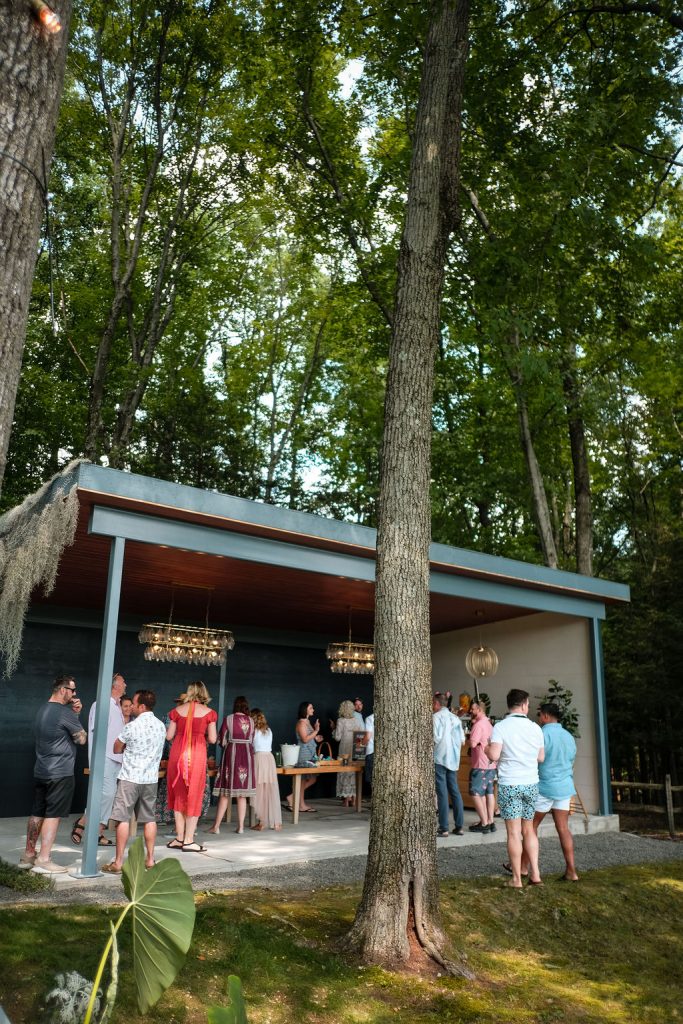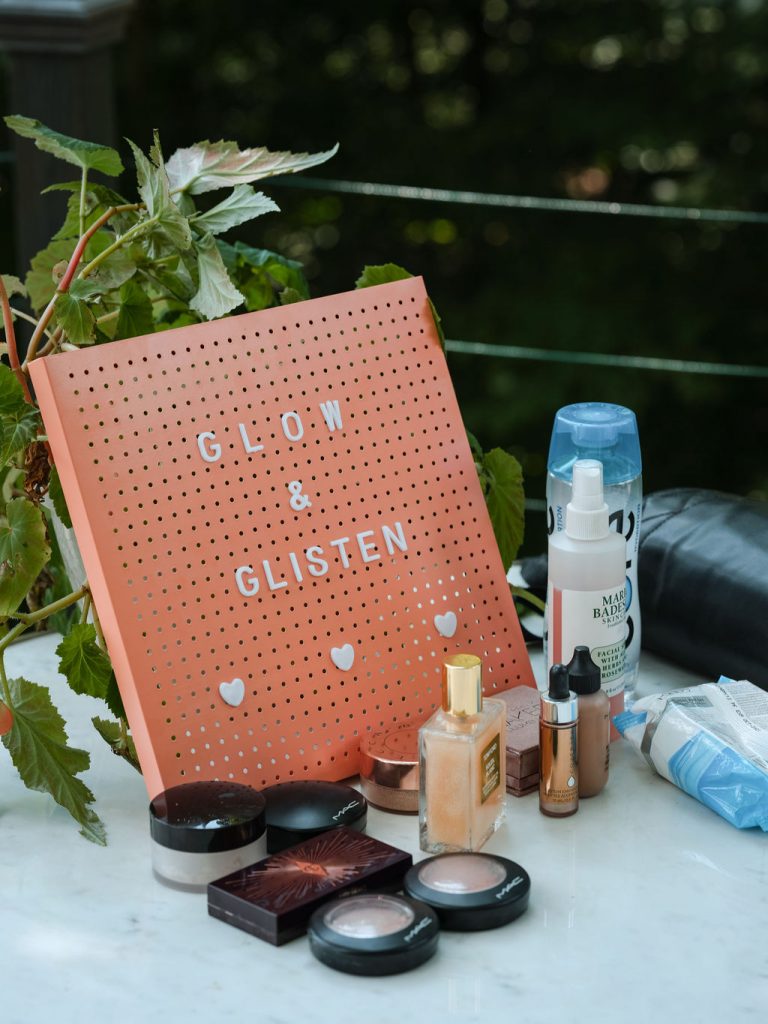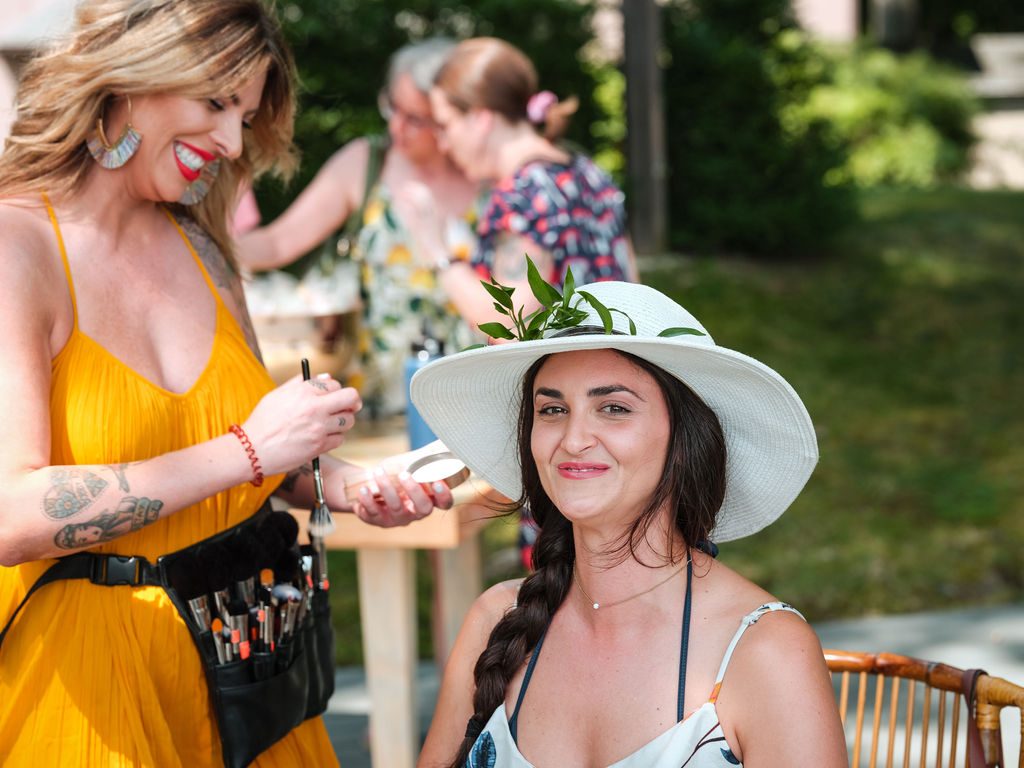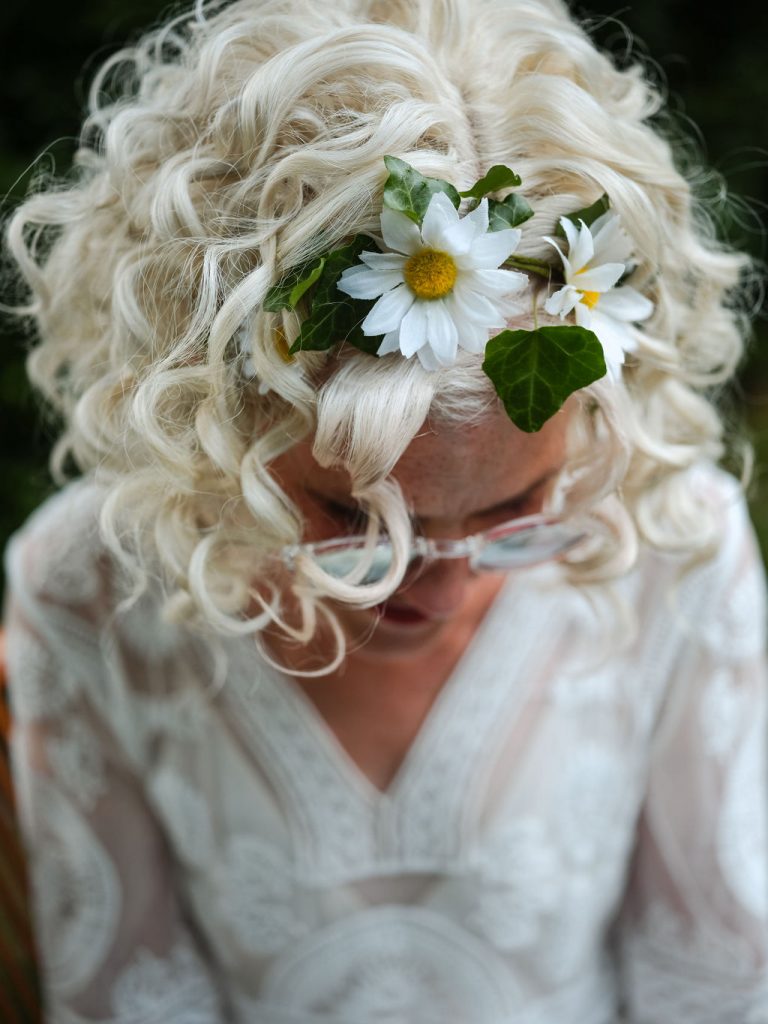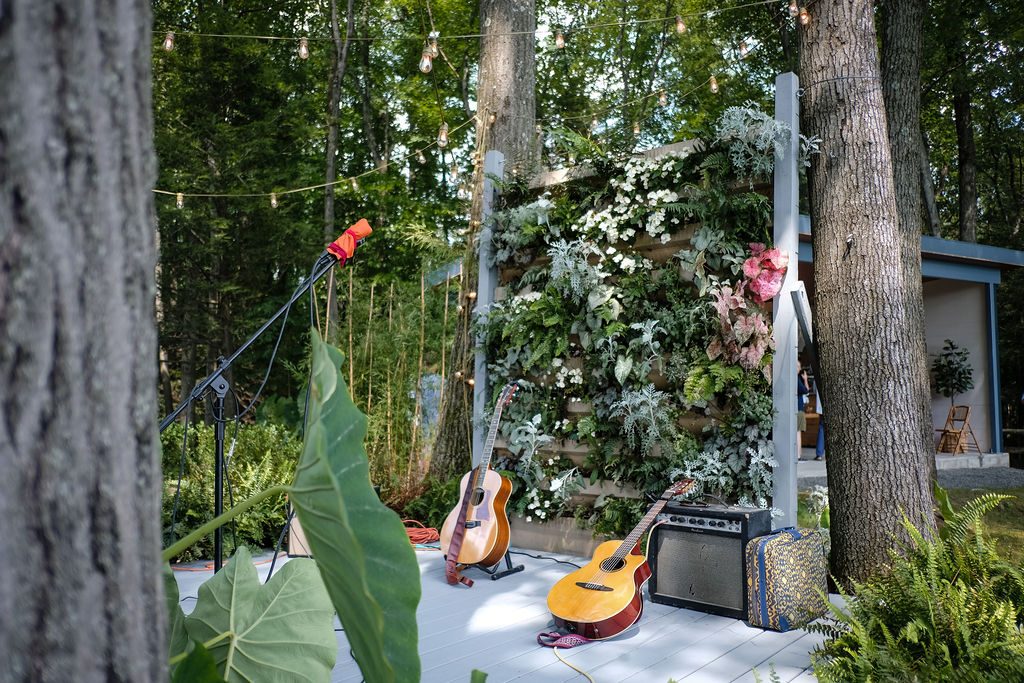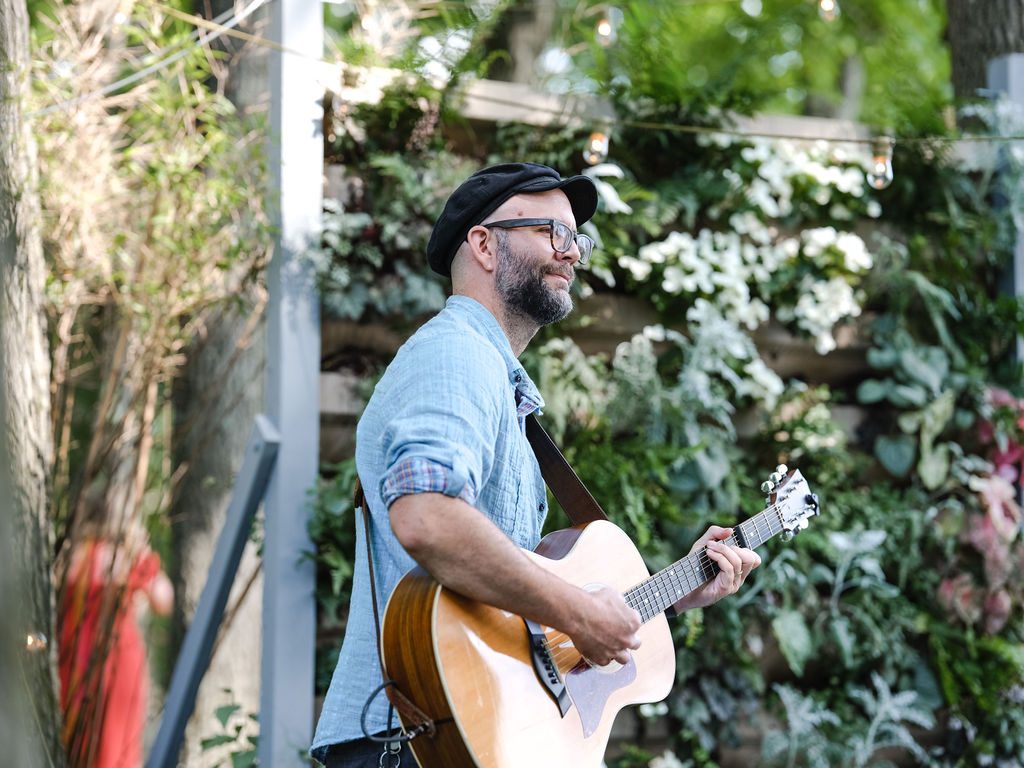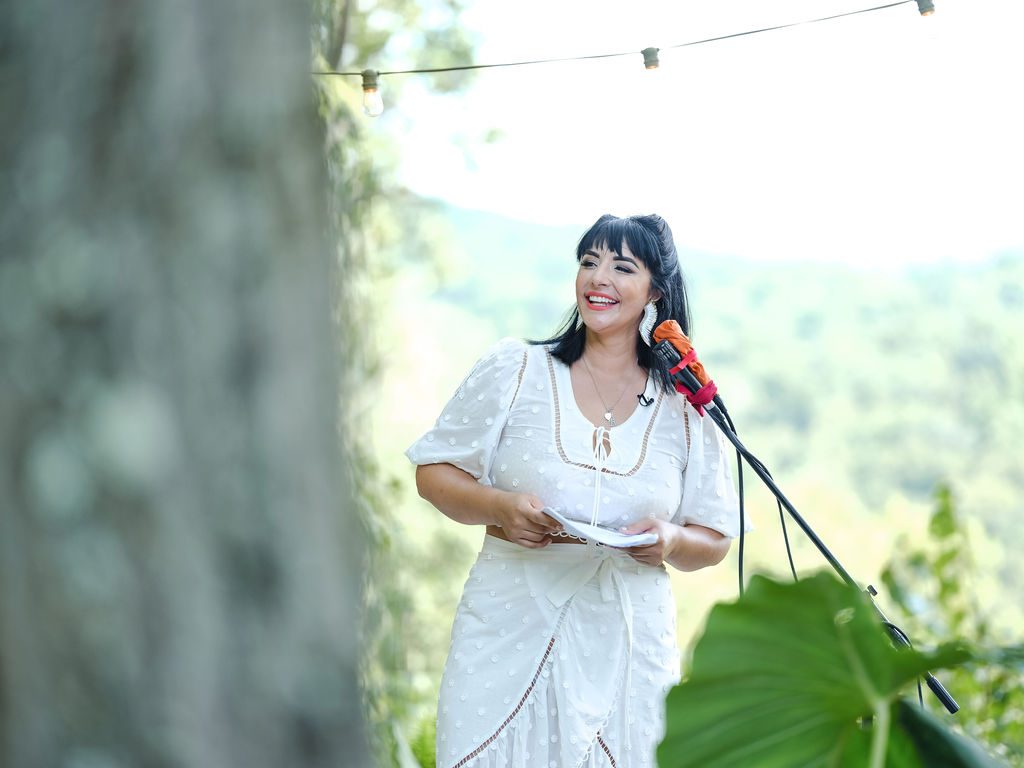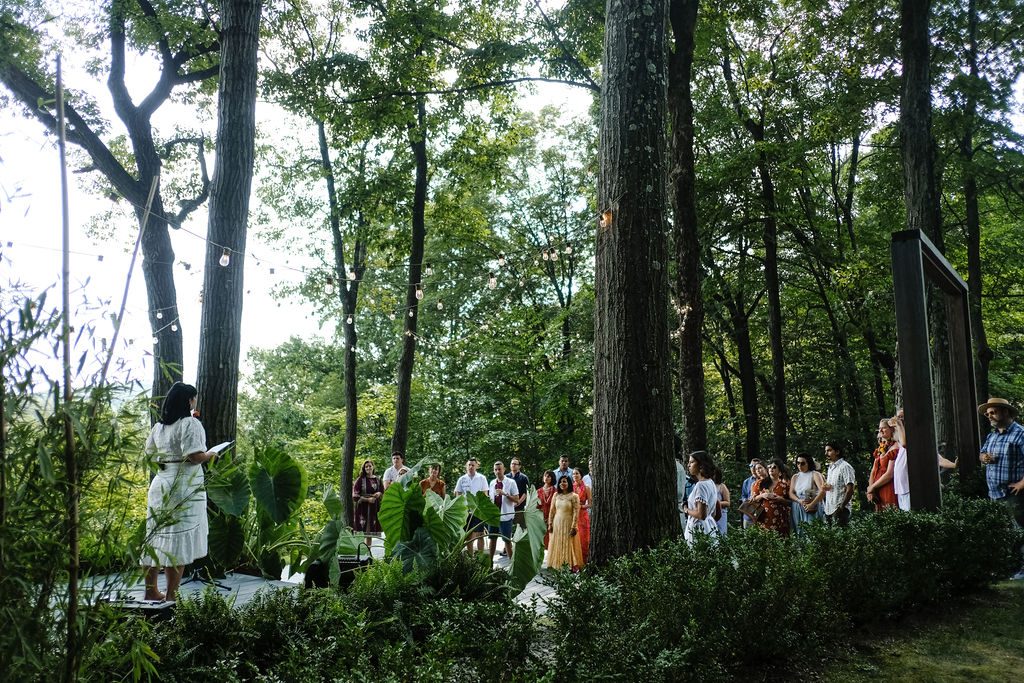 Who did you collaborate with?
I have an incredible team who works with me when we design events. This was so fun to put together. Balancing the design from one side to the other, and working with each other to determine how best to layer in the blooms. It truly was a collaborative process. We also gave ourselves a full day just to play with the design. In a highly deadline driven design field, having that full day to "play" felt like such a luxury.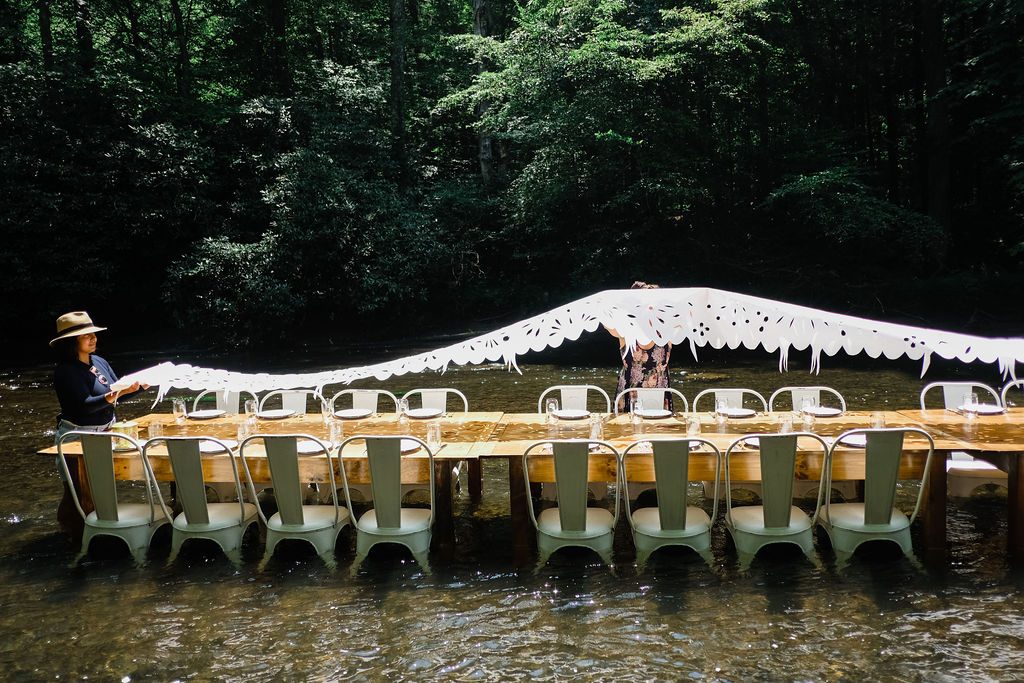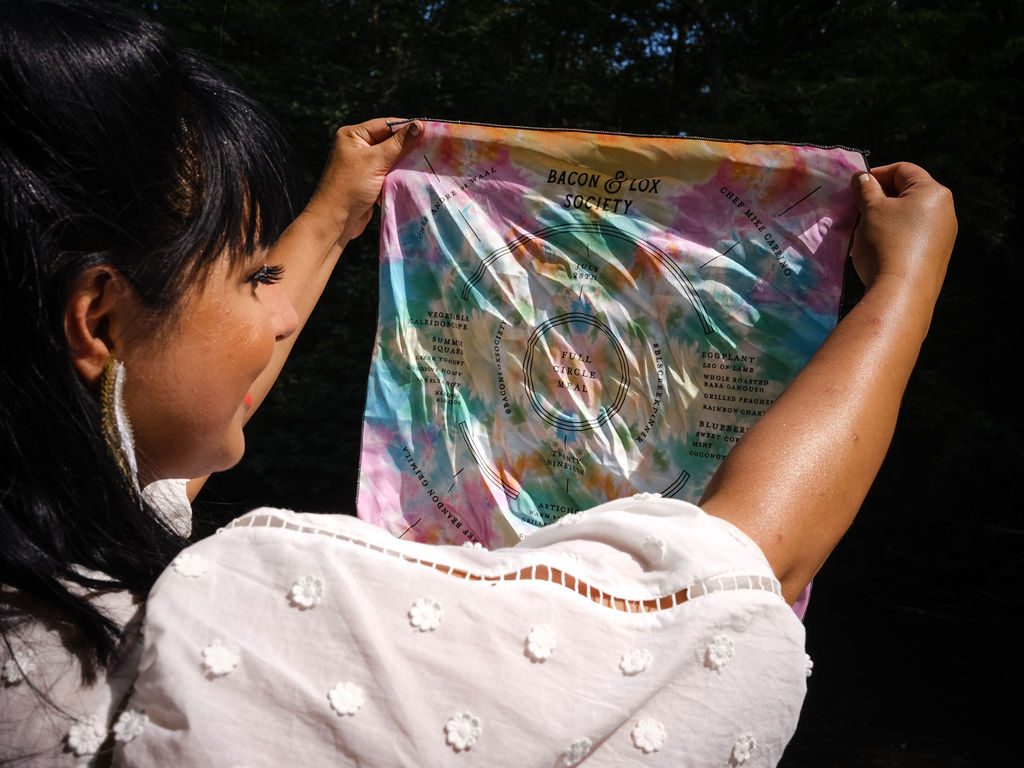 Please share some details about process. What was involved in bringing your vision to life?
I've been working hard to eliminate floral foam in our design practice. Obviously foam would have been the easy choice to build this flat design on, but since we make a point of not harming the creek, we chose not to use the microplastic. Instead we build a table that would hold water, hydrating the flowers directly from the creek itself.
Did anything inspire you in your creative process?
We worked with some really incredible local flower growers on this project, and their stunning blooms really were the key to making everything look incredible.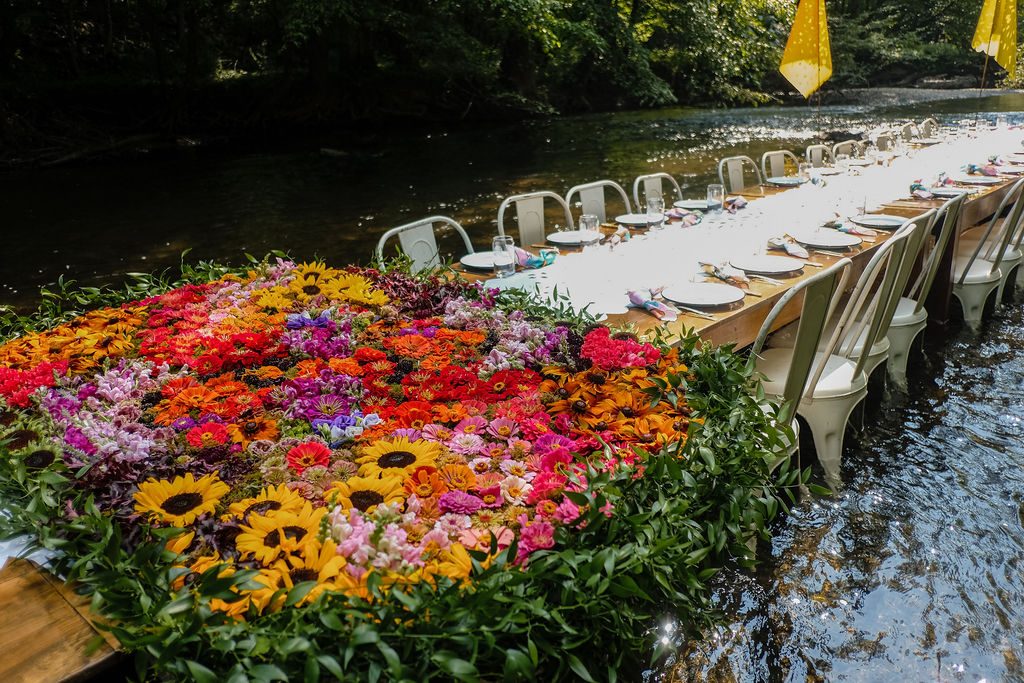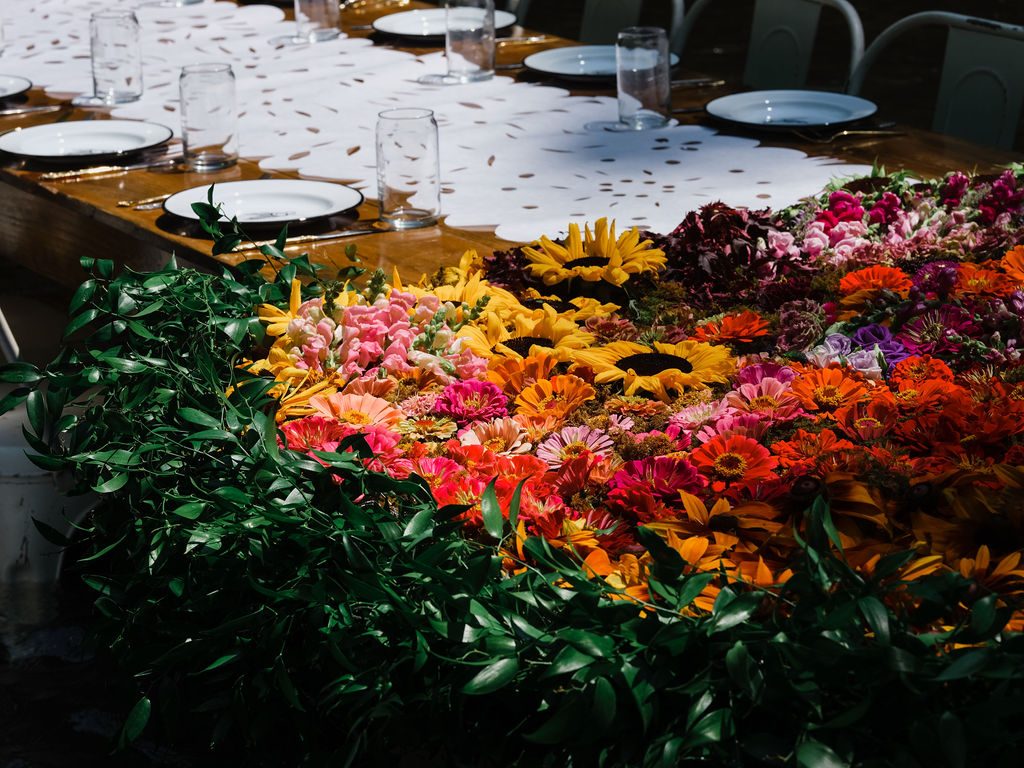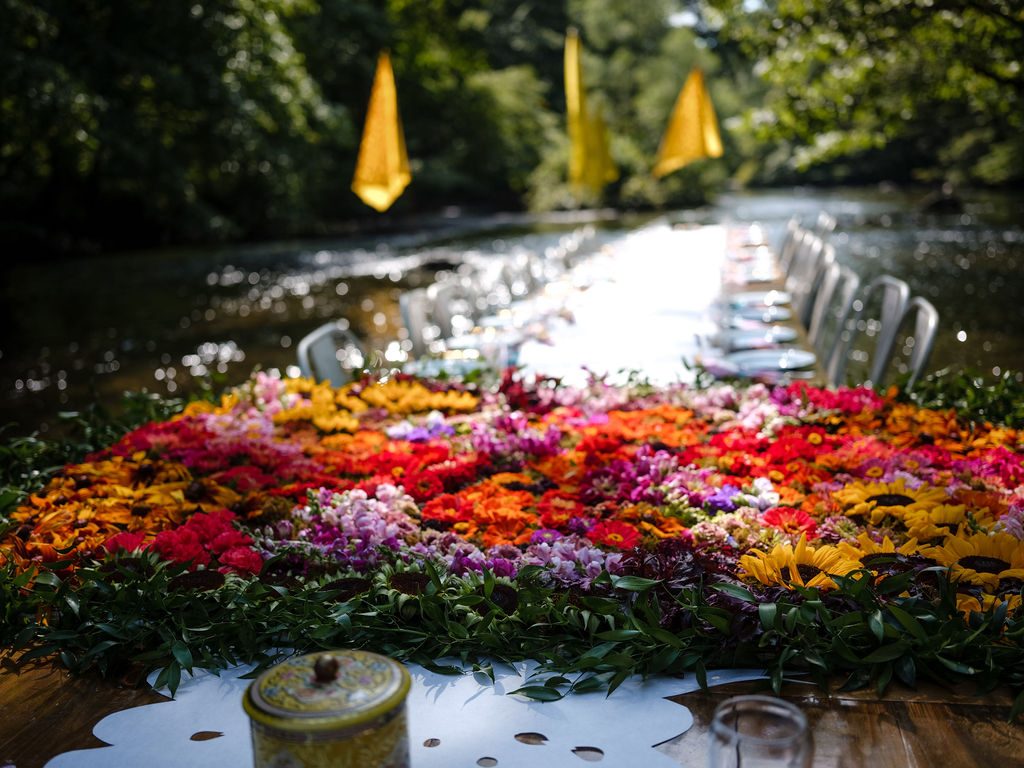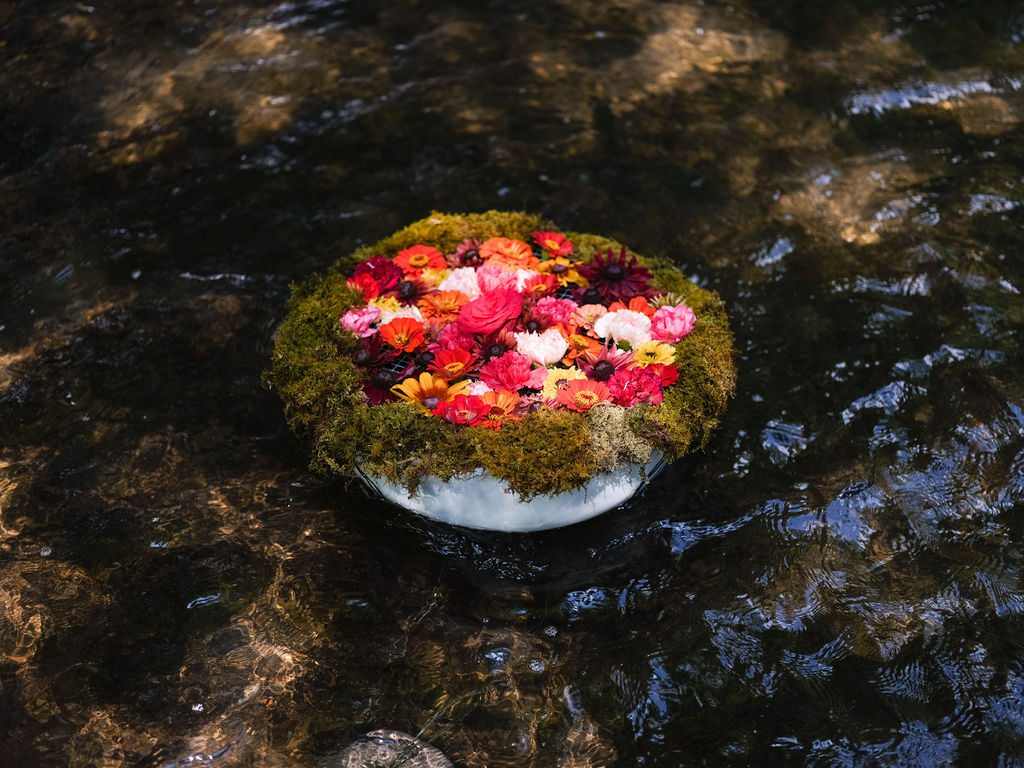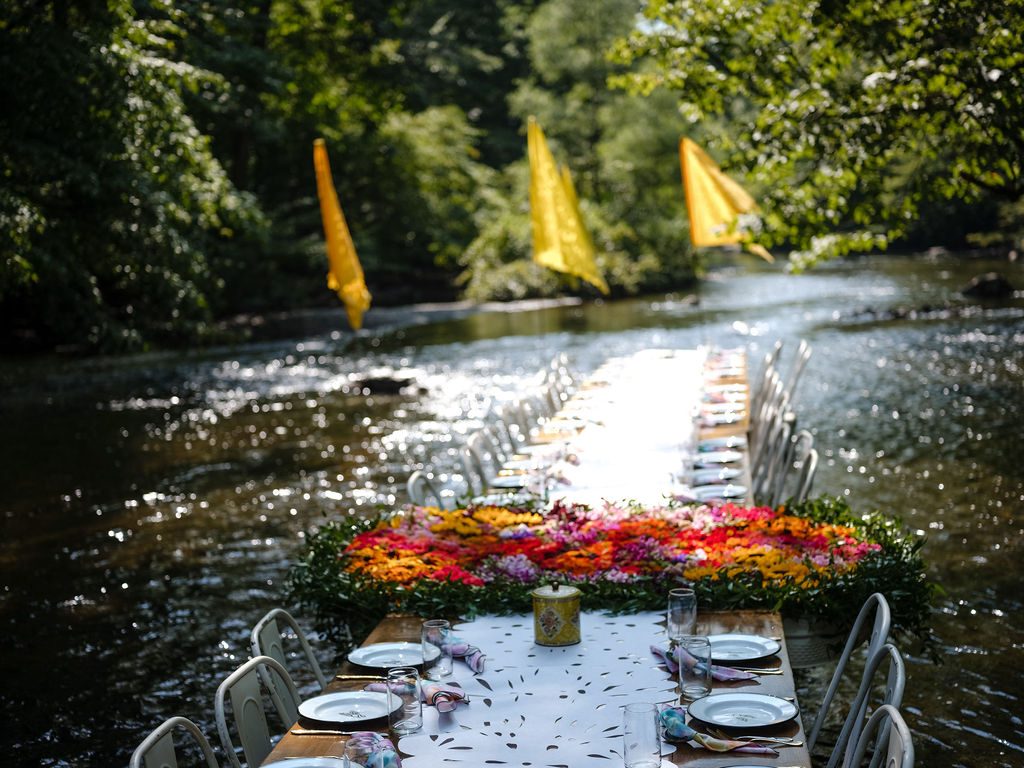 What was your favorite moment?
I always get to take a risk at these creek dinners and create something that I can personally enjoy and experience. Often I'm working with mechanics that I haven't used before or pushing myself to try some sort of new technique. We talked for a long time about these floating flower circles in the creek, and we went back and forth about the best way to create them. It was a busy week of weddings prior to the creek dinner, so I didn't get to test our final design out to make sure that it would indeed float. You can only imagine my joy and relief when we popped them into the water and lo and behold….they sat perfectly on top.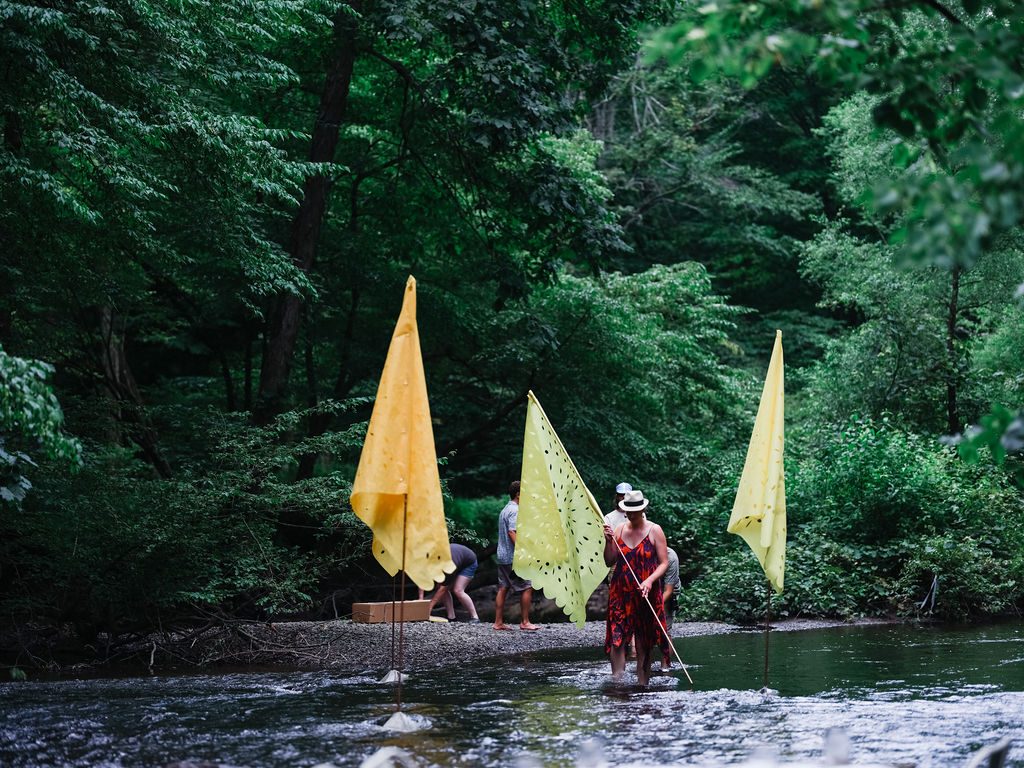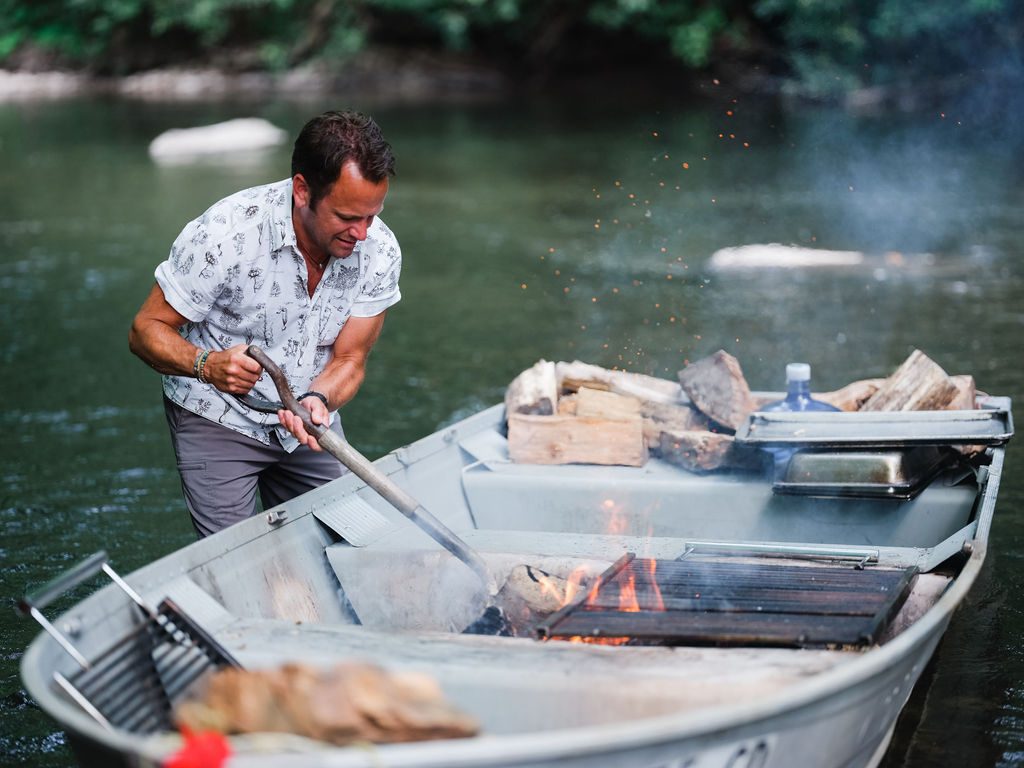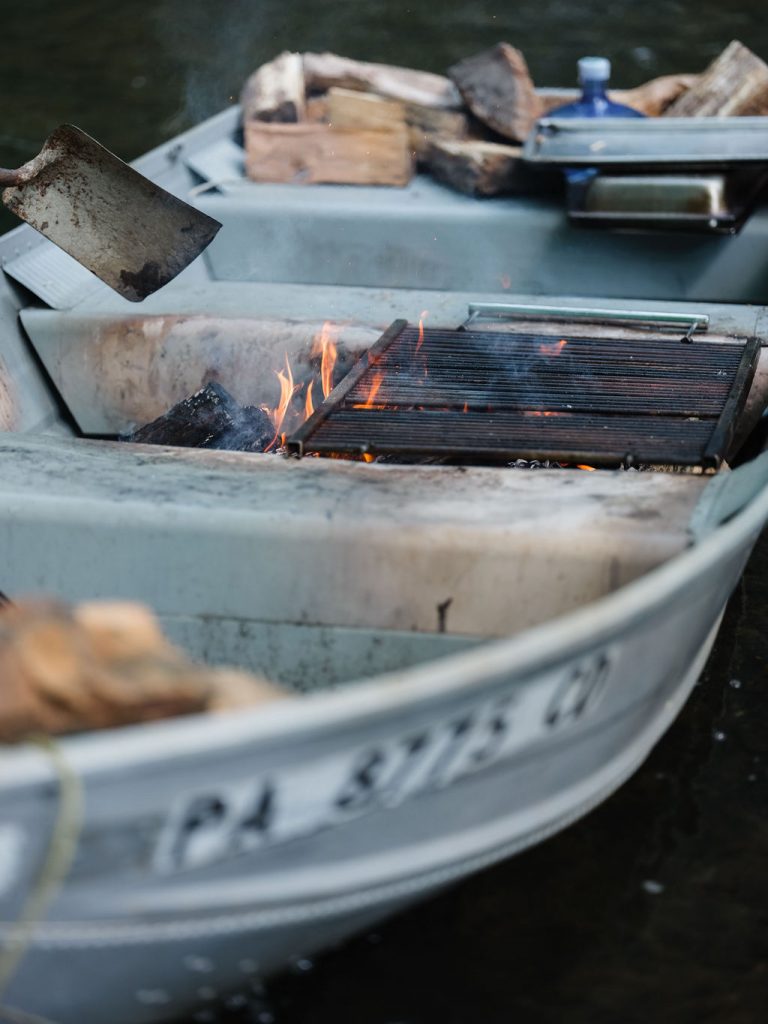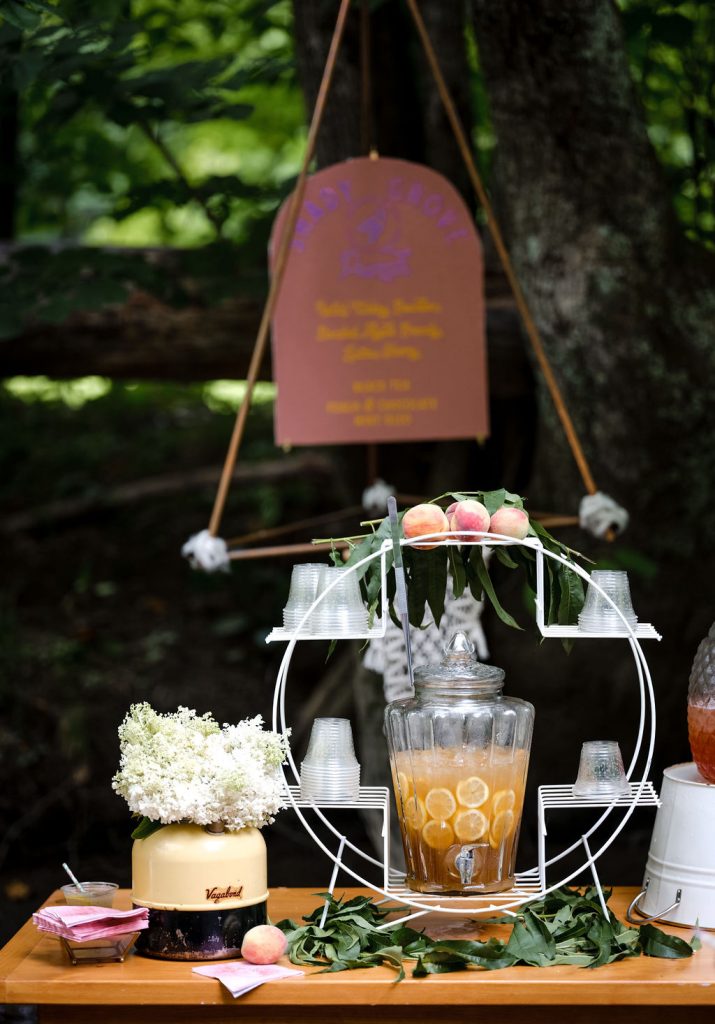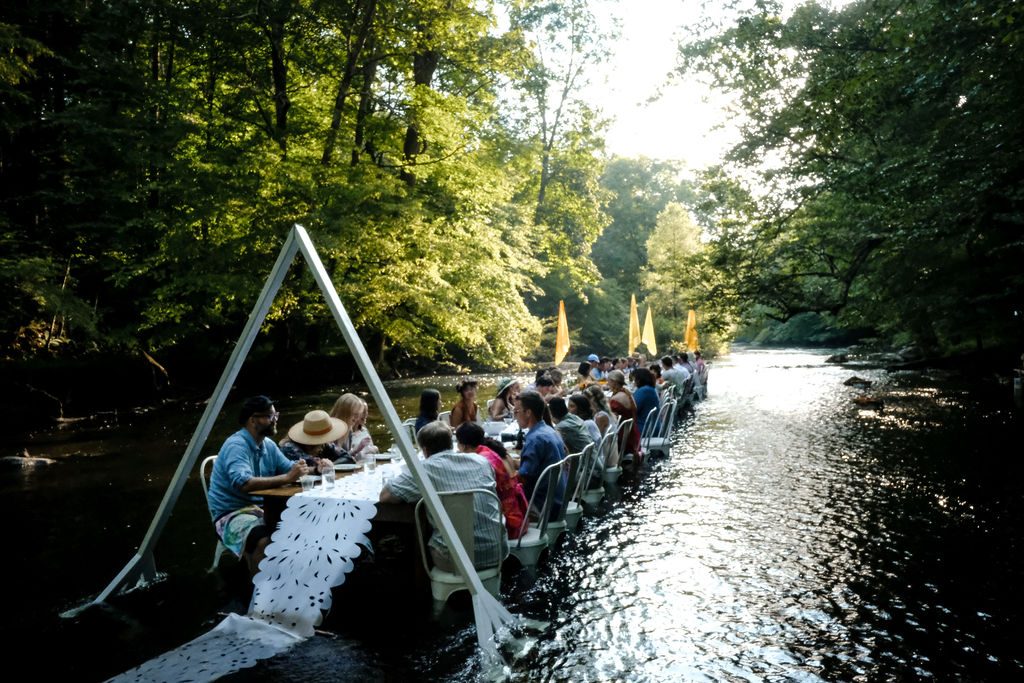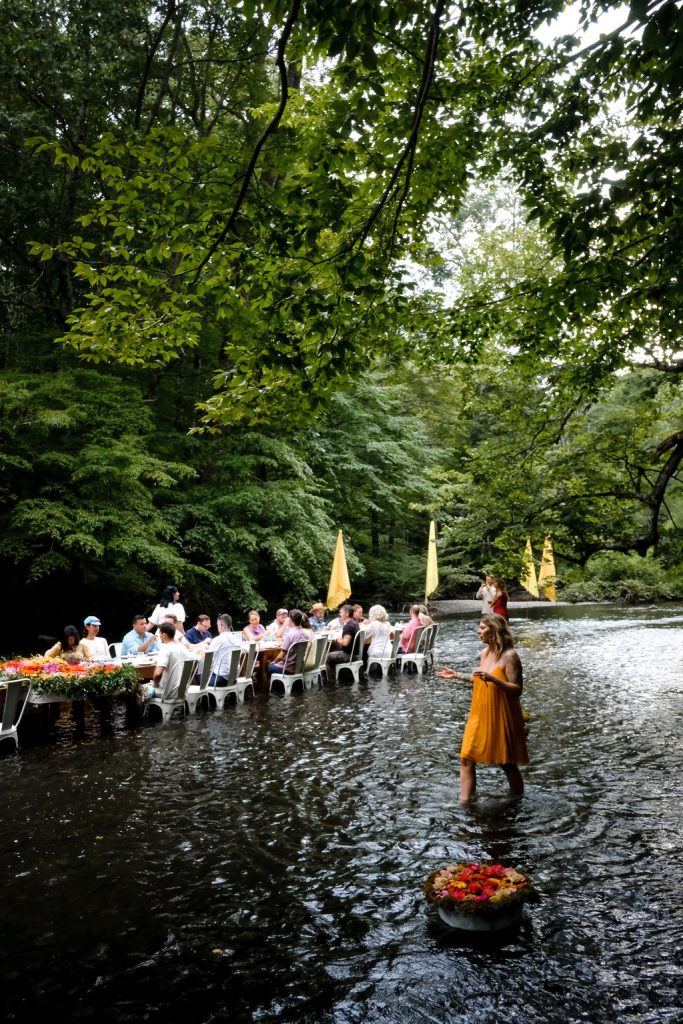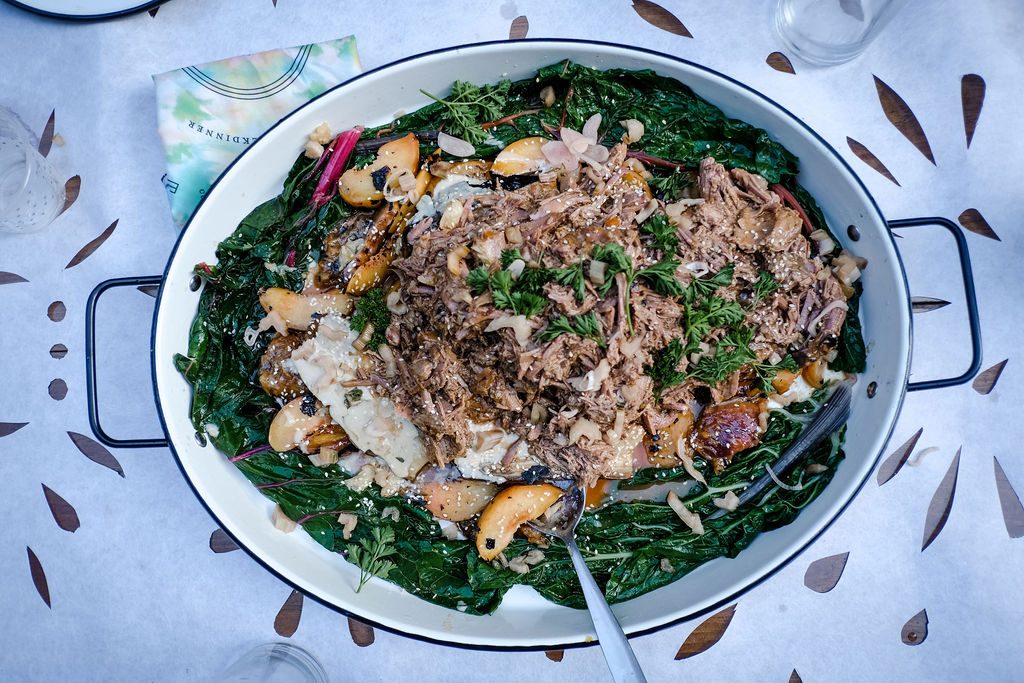 What are you hoping your ripple will be?
I think as creatives, it's really easy to burn out. We do a lot of the same kind of design on repeat for weddings, because it's what our clients really want. I want to encourage designers to take a moment to design just for themselves….to take risks and find new ways to remember what you love.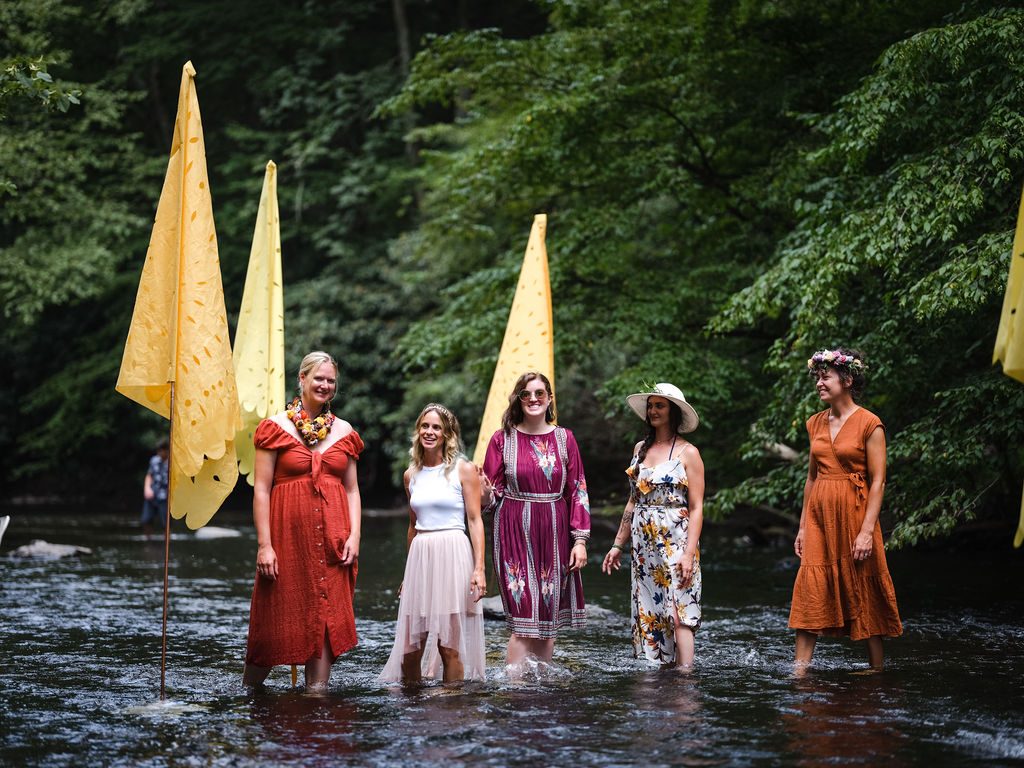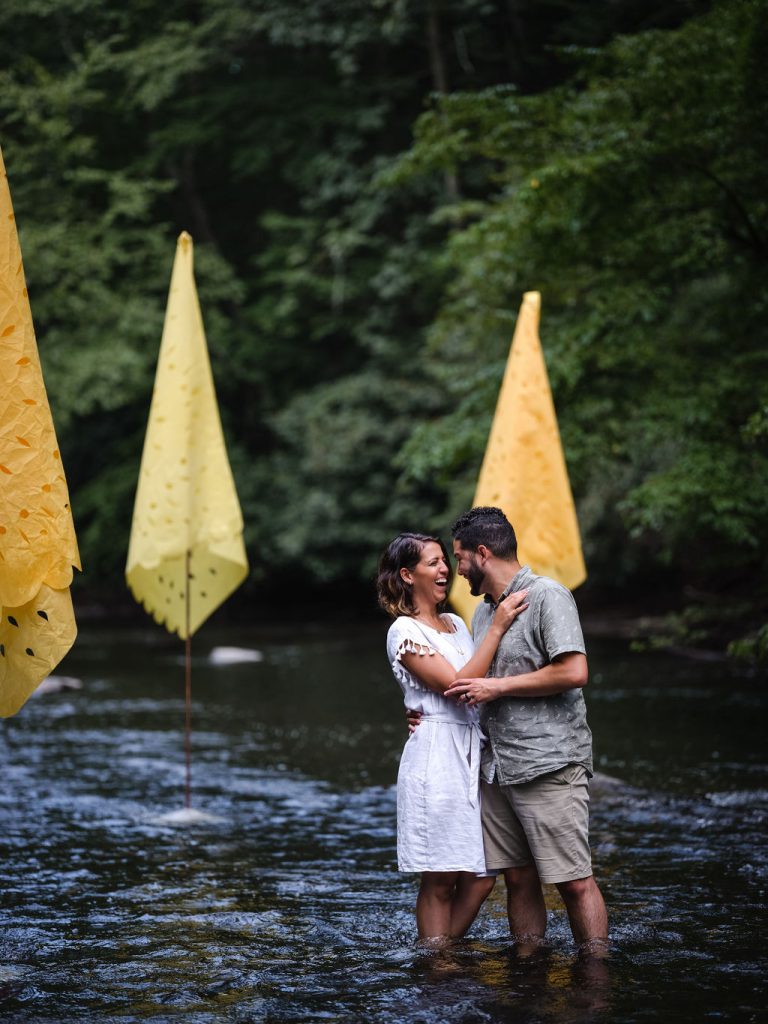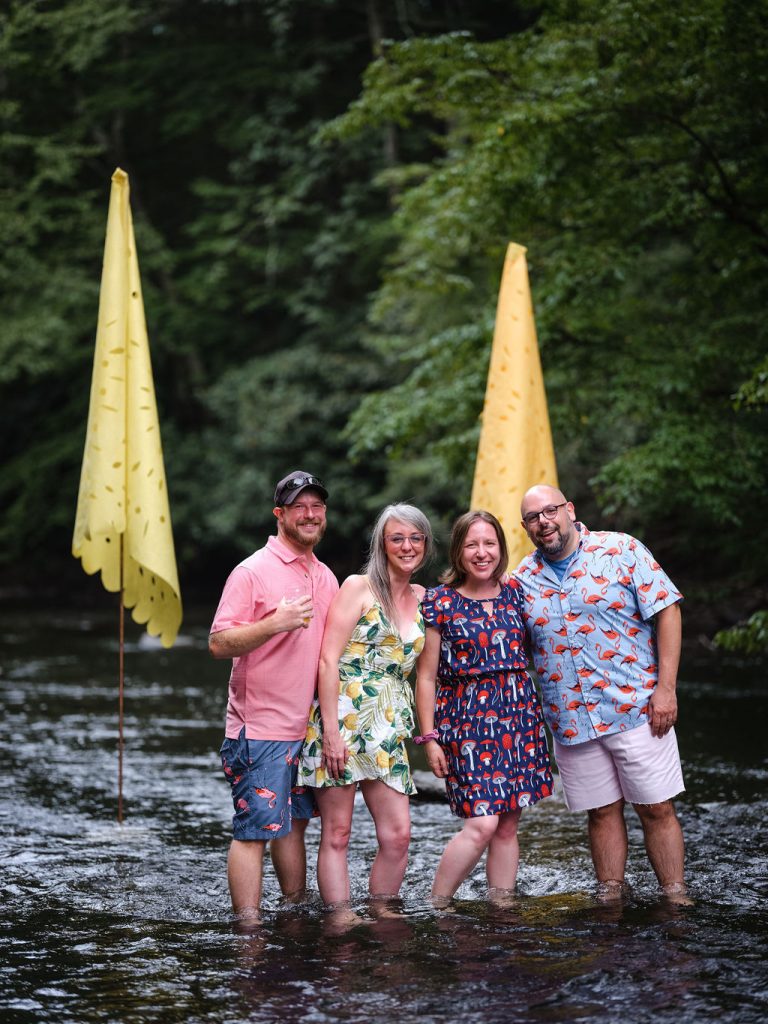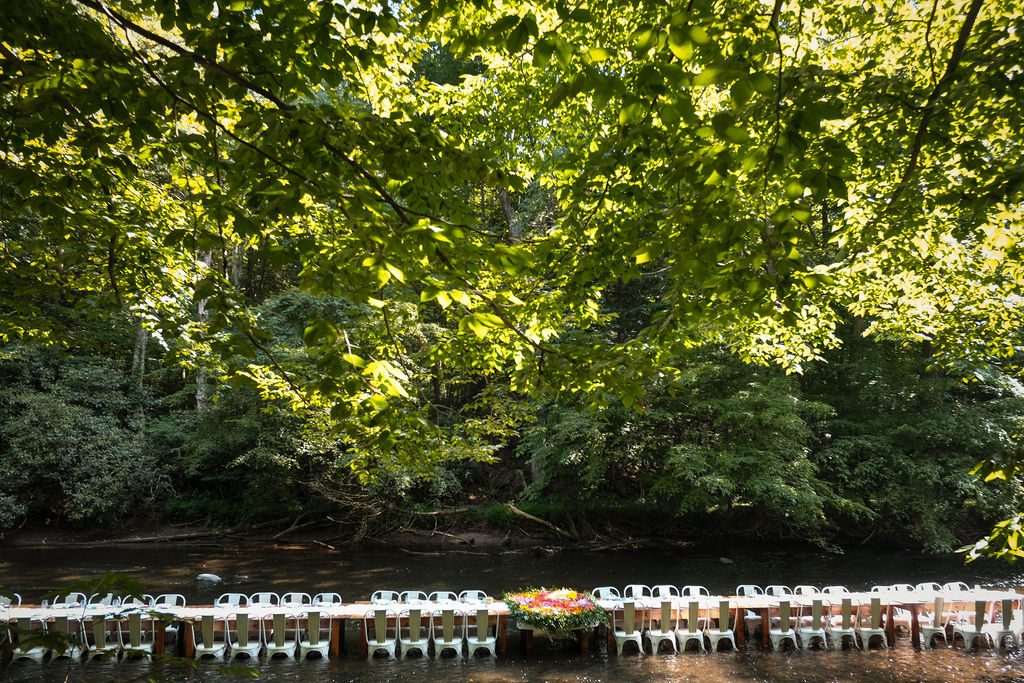 || Bacon & Lox Society Full Circle Meal || Celebrant, Founder + Producer: Alisa Tongg || Visual Direction, Planning & Invitation Design: Nicole Hutnyk, Rabbit Rabbit Crew || Floral Installations: Sarah Petryk, Allium Floral Design & Event Styling || Event Photographer: Alison Conklin || Film: Christian Lopez, Dearly Beloved Weddings || Papel Picado Installation: Karina Puente || Custom Builder: Abundat Inc || Communal Tables: Hand Sawn LLC || Creek Seating and Lounges: Chippy White Table || Water Portraits: Rob Yaskovic || Chefs: Andre de Waal, Mike Carrino and Brandon Grimila || Venue: Promise Ridge || Menu Napkins Collaboration: Ken Jones Jr. X Two Paper Dolls || Atomic Cocktail Experiences: Jason Lonigro || Glow & Glisten Station: Tia Jones || Ice Pops at Promise Ridge: Chef Erika Urso || Live Music: Honeywatts || Activation Station: Ken Jones Jr. || Shawnee Craft Brewery || Local Flower Growers: Periwinkle Flower Farm X Flores Temporis ||
For more similar inspiration: Annual Creek Dinner, Ice Dinner and Frozen Lake Elopement, and Annual Holiday Wreath Making Workshop.