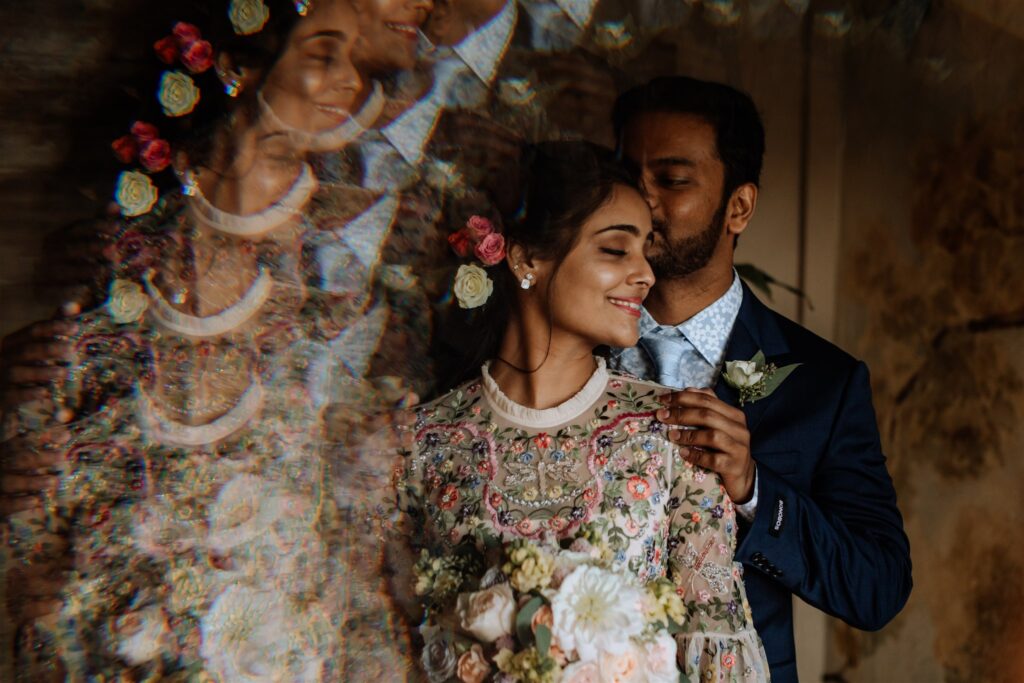 How do you design florals for a wedding that is saturated in lavish patterns and colors? Of course we love designing weddings where the florals are the center of attention. But what really showcases a designer's craft is when they are able to recognize that the "wow factor" of a ceremony might be something else. Like an intricately embroidered wedding dress, or the rich aromas of carefully crafted Ayurvedic teas. Maybe it's the bright pink pastries, dusted lightly with sugar, or the painterly and mystical wallpaper, like that of The Mural Room at Promise Ridge in the Poconos.
When we sit down with you to design your wedding florals, we are focused on YOU. This bride has so much personality. She wanted to combine traditional cultural elements with modern themes. Her wedding wove together like a tapestry that delights the senses and draws us in. By curating florals that have a softer, more ethereal feel, it brings to life the other elements. You can't help but feel transported to a world of wonder and enchantment by this tea-inspired micro wedding.
What really made this wedding unique, beyond the potpourri of patterns? The Chai and Little Bites reception, hosted by Cardamom and Curry. Their hand-crafted custom Indian Chai and Wellness teas using an exceptional blend of fresh-ground traditional Indian spices. Paula, founder of Cardamom and Curry, along with her husband, Nick (of Bombay Nick's Chai Bar), are inspired by the holistic and spiritual practice of the Original Bowen Technique and Ayurvedic Medicine. "Bowenwork as it is called is a gentle soft-tissue technique in which the body is relaxed and thus returns to a healing state" (bodymindbowen.com). Paula and Nick's wellness teas leave the belly calm, and the mind delighted. Paula describes her tea as "joy and health in a cup." Cardamom and Curry's rich, Ayurvedic, robust chais paired with their unique hand-crafted finger pastries create a both delectably delicious and uniquely fragrant experience unlike any other!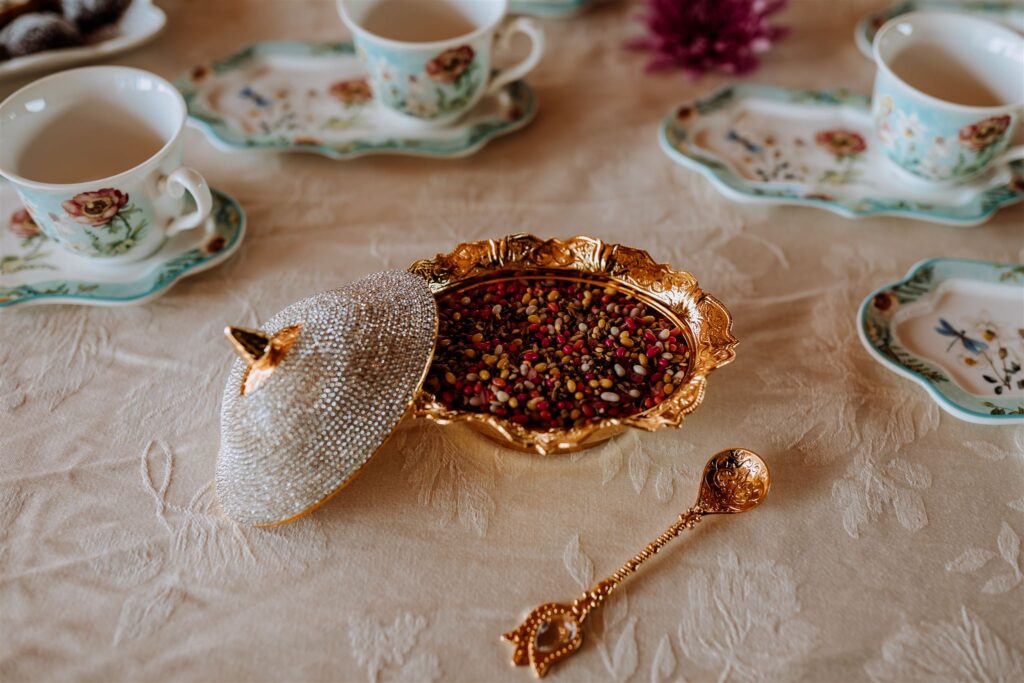 The florals in Leena and Sai Praveen's wedding compliment the bold textures, robust aromas, and decadent flavors with soft, dreamy whites and pastels. Her bouquet features shades of cream, pale yellows, lavender, and light green. The pop of pink from her hair piece gives the bride an aura about her that brings out her natural beauty. Her floral embroidered dress adds so much interest to her look. We can't help but become mesmerized by the intricate details and ornate patterns and colors! Adding a bright, but simple pop of color to her dark hair, completes her look without distracting us from her embellished attire.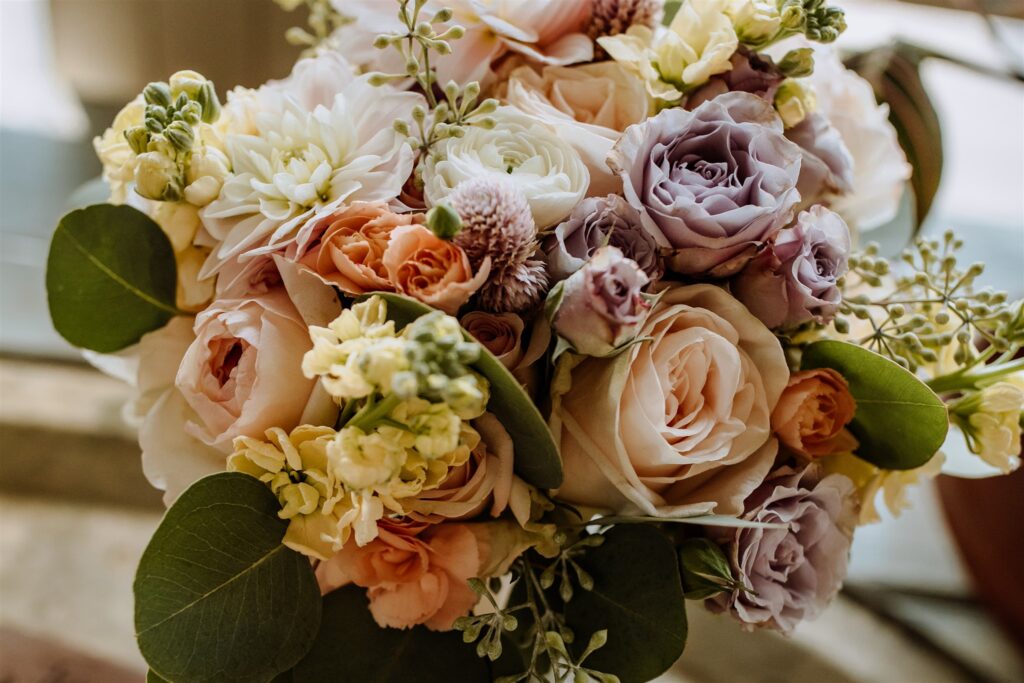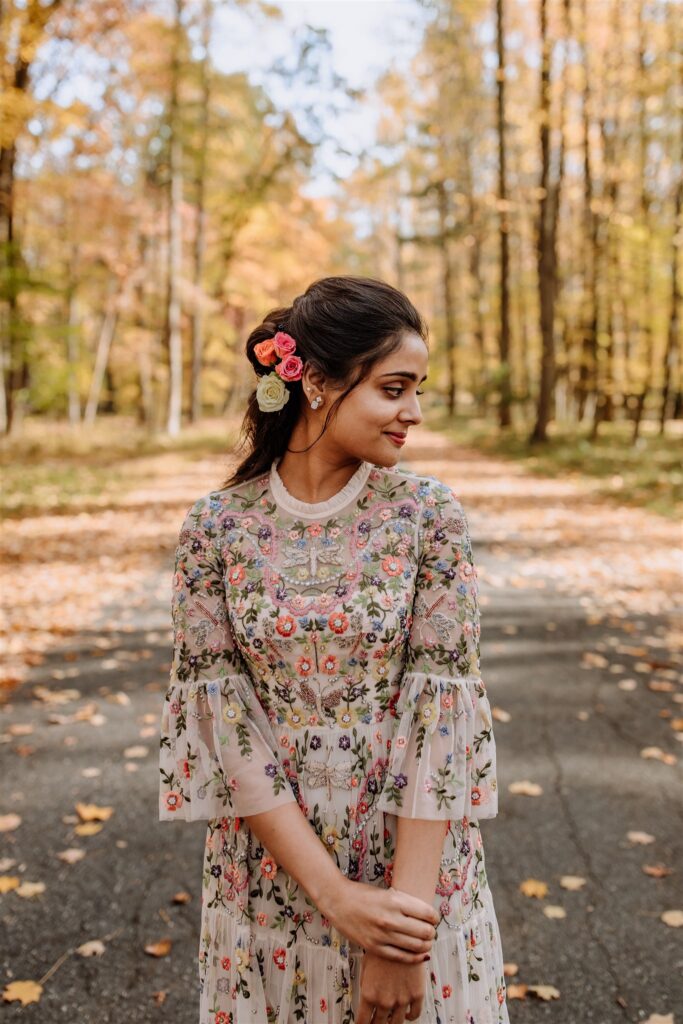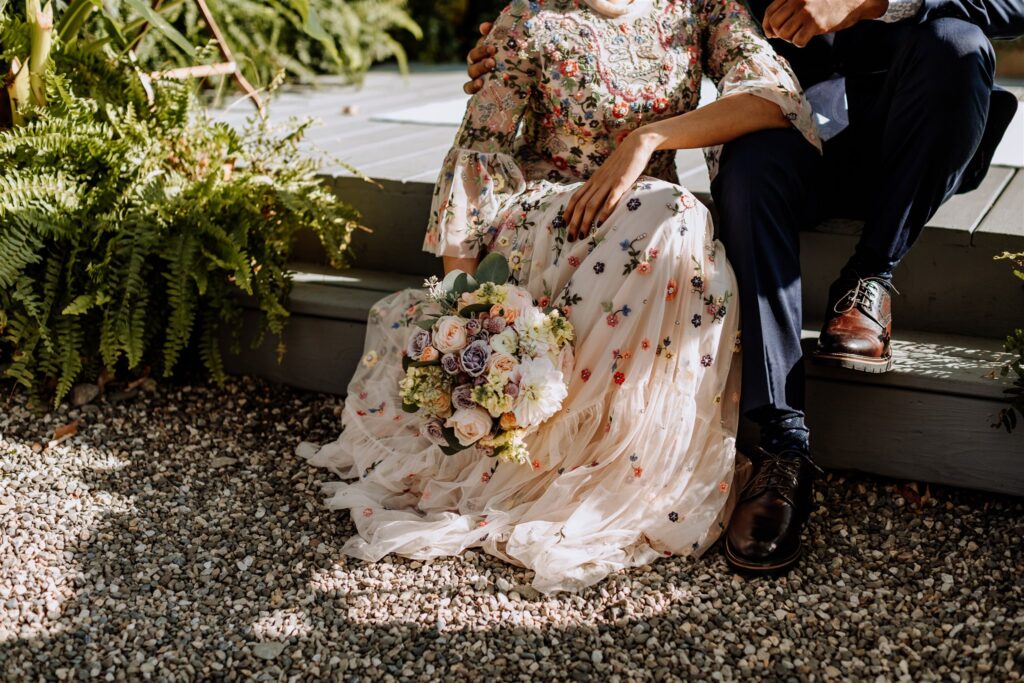 Leena and Sai Praveen exchanged their vows on the infamous Infinity Deck at Promise Ridge in the Poconos. Their cake was hand-crafted by the very talented team at Kitchen Chemistry, with florals added by yours truly! Hand and Arrow Photography perfectly captures the bold colors and rich textures from this wedding.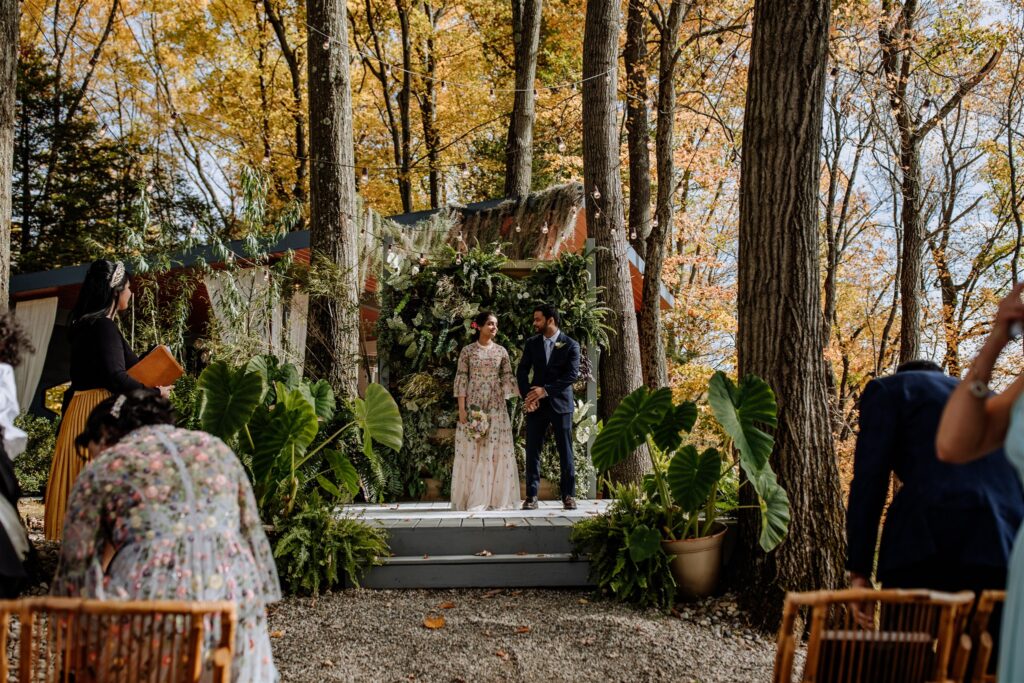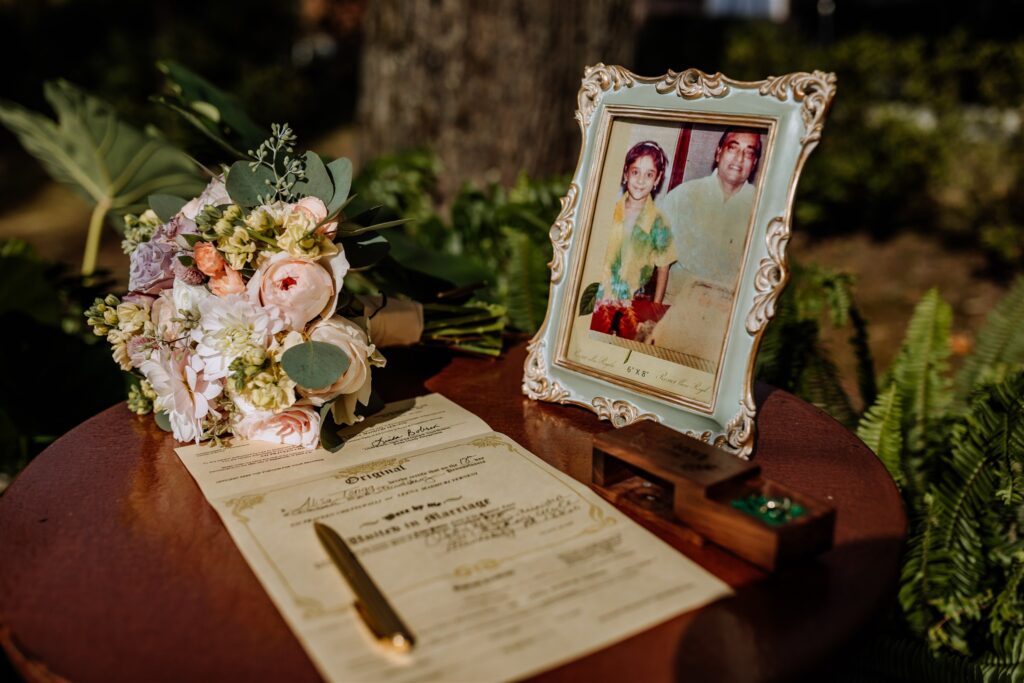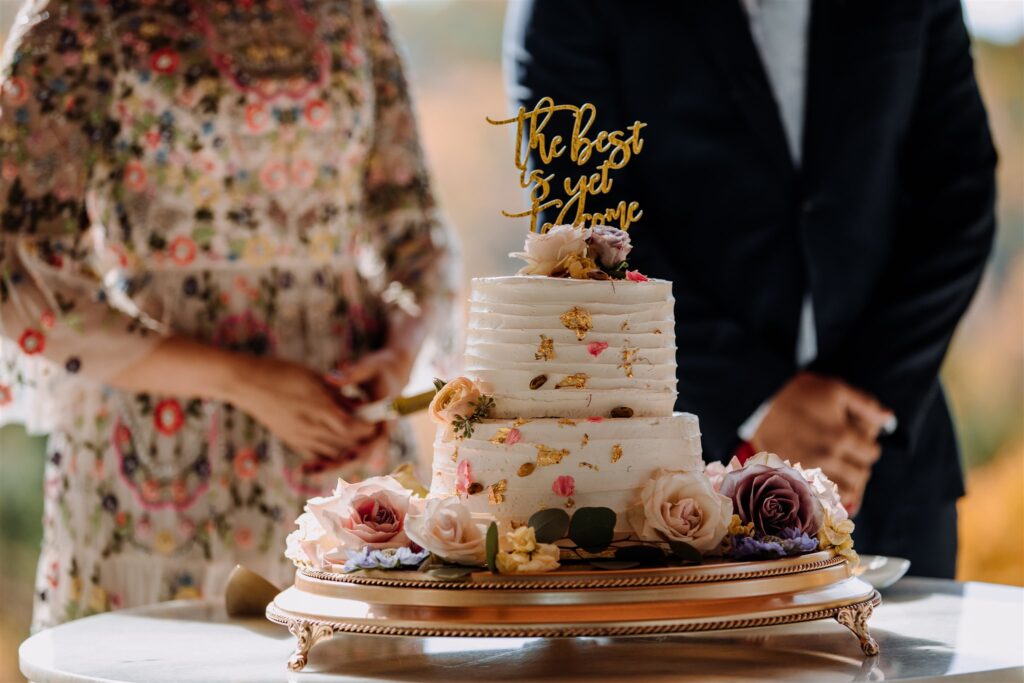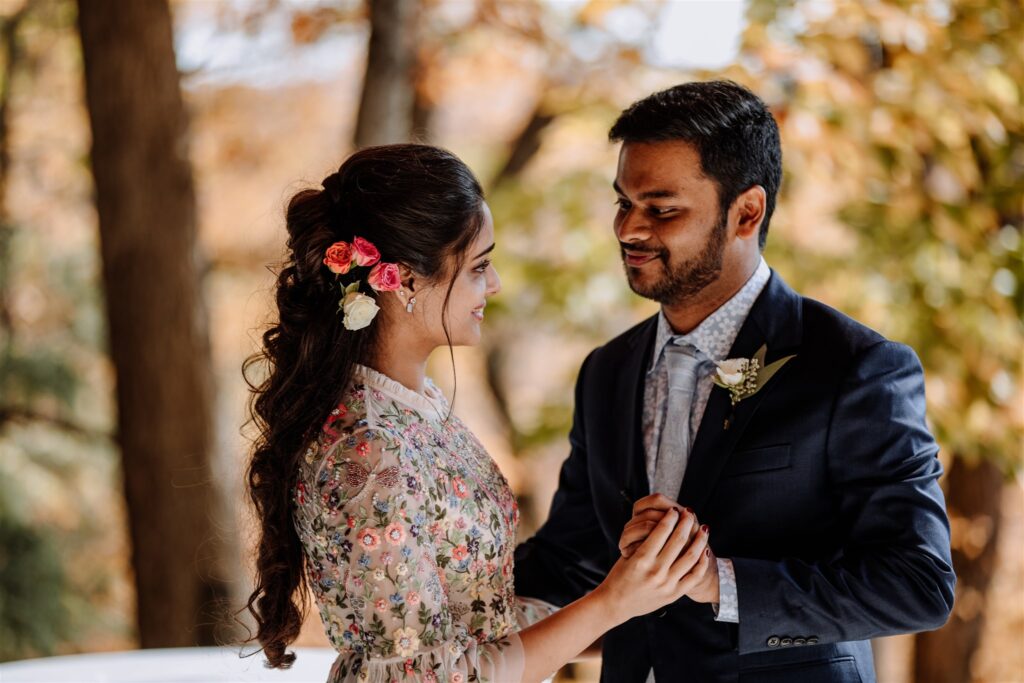 || Photography: Hand and Arrow Photography || Venue: Promise Ridge || Baker: Kitchen Chemistry || Videographer: Roslyn Films || Tea: Cardamom and Currey and Bombay Nick's Chai Bar|| Celebrant: Alisa Tongg || Floral Design: Allium Floral Design ||
More Inspiration:
Autumn Jewel Tones and Endless Joy
Romantic Folino Estate Wedding
Ice Dinner and a Frozen Lake Elopement
A Blushing Bride and a Blush Bouquet: Perfect Combination
Intimate, Whimsical, Summer Microwedding